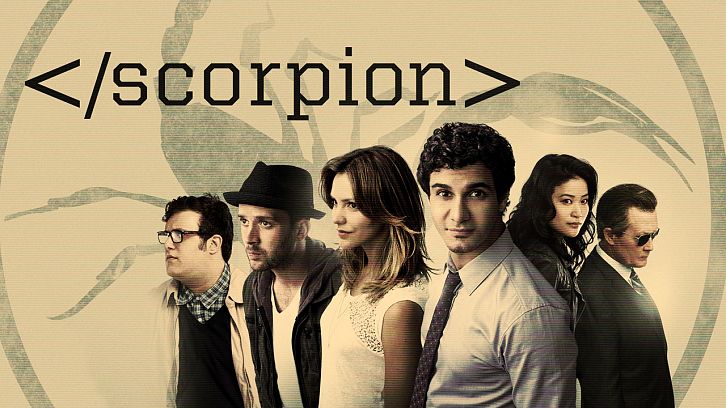 Is it possible to stop a tsunami? According to Scorpion, yes it is.

At the Garage, Walter and Paige are practicing a couples' trivia game that they plan to beat Happy and Toby in. This brings up a big dispute about their first kiss. Paige thinks it was in the closet at Kavelski's. Walter thinks when they kissed each other to test their attraction much earlier counted. Cabe points out that actually, it was when Paige kissed Walter in the hospital after the car accident.

As the team gets ready to head to Mexico to fix the cracks in a nuclear plant caused by a recent earthquake, Toby says he's going to stay back and rest, because all the baby-making has apparently caused him to slip a disk and he doesn't want to be "riding the bench" for too long. Sounds believable, right?

Not so much. The second the team leaves Toby jumps off the couch and lets Amy in the backdoor...as in ex-fiance Amy. She explains that she's in desperate need of help. Quincy stole her identity to make some money when she left him and since Toby seemed to know every scumbag criminal in the world when they were together and he was gambling, she's thinking he might know what to do.


In Mexico, the team sets out to seal the cracks at the nuclear plant. But right as they get started, an aftershock hits. Although the quake in itself is quite mild, it triggers a huge tsunami that's now speeding in to hit the coast in 38 minutes.


In order to prevent another Fukushima, Scorpion constructs a pulley system to patch the cracks faster, while Maria, their liaison with the town, goes off to try and evacuate everyone. Back at the Garage, Sly, who'd originally stayed behind to go to a book-signing by the Chair of Blades author, attempts to cover for Toby, who drove right past him with Amy in the car.

Toby and Amy head over to one of Toby's old gambling spots in Koreatown, where Toby attempts to get a favor out of his "old friend" Rhonda. Except Toby apparently has a lot of unpaid debt with Rhonda, who kindly describes him as a "conniving, scheming, backstabbing little creep." It doesn't look like they're going to be getting anywhere far with her when Toby points out that he can tell one of the players is cheating. At this, we see Toby gamble again for the first time in years, as he proves the other guy is cheating. Afterwards, Rhonda comes through and finds them the name of who has Amy's identity - another old "friend" of Toby's - Pinto "The Gooch" Goochelli. Although formerly an East Coast guy, The Gooch is apparently out in L.A. "franchising" now. Not only has Toby had multiple run-ins with this guy that led to him being locked in the trunk of a car, but he also so happens to be the guy Rhonda sold Toby's bad debt to.

As the team finishes sealing the cracks, Sly is forced to admit to Happy who he saw Toby with. While they wait for a helicopter to take them back home, where Happy plans to kill Toby, they find out from Maria that the bridge leading out of town has been toppled over by the tremor, leaving no way for the town to evacuate.

At this, Walter declares they're simply going to have to stop a tsunami. He's read a theoretical paper about doing just this. They're going to, in Paige's words, "create a giant bubble that'll knock down a giant underwater wall that'll make giant sound-waves that'll destroy a giant tsunami." However, when they start this stunt, they find a blockage in the pipe that stops them in their tracks. Happy, pissed off and reckless to begin with, decides to go down into the pipe and open the baffles, where she'll be exposed to the steam when it gets unblocked. To survive this, she has Paige coat her in the plant's silicon-based oil dispersant, which should act as protection against the steam.

In L.A., Toby and Amy arrive at The Gooch's offices, which are located in a funeral parlor. Although Toby offers to use his genius skills to help The Gooch get the upper-hand in all of his gambling operations, he decides just to throw Toby and Amy in a casket (where Amy decides it would be a good time to kiss Toby) and then bury them alive.


In Mexico, Happy is able to open the baffles and not be roasted to death. (Though she does have Albert Einstein hair now!) The team stands at the shore. Unsure if their plan worked or if they're about to be swept away, Walter and Paige makeup and agree that it doesn't matter when their first kiss was. It just matters that they kissed. Thankfully, the plan works, and when the wave comes in, it's "a weenie wave."

Once back home, Happy and Cabe use the "Atta-Boy" tracker to find Toby and arrive at the graveyard just in time to keep him and Amy from getting put in the ground. Happy's still furious though, and storms off.

At the Garage, Sly gets the surprise of a lifetime when the Chair of Blades author stops by to personally sign his book, saying he understands why Sly had to leave the book signing early, to help save lives and all. After making sure Sly's (and his) books are signed, Cabe quietly promises not to have the IRS looking into his appearance fees! The old man has a trick or two up his sleeve still...

Finally, Toby tries to make up with Happy, promising her that he'd never step out on her and that he didn't want Amy to kiss him. Happy explains that she knows he'd never cheat. That's not what she's mad about. She's mad that he went back to gambling for a day because if they're going to have a family, she can't be worried about him becoming an addict again. He promises that will never happen.

Random Thoughts:
-I loved the scene of Happy "spider-maning" around to fix the cracks.

-Rhonda was funny!

-Best line goes to Happy about how she knows when Sly is lying. "You're lying. I can hear it in your voice, like when I caught you ordering that poster with all the girl superheroes on it, and you said it was for your cousin."

Do you think Toby will be able to stay away from gambling? Have we seen the last of Amy? Let me know below!