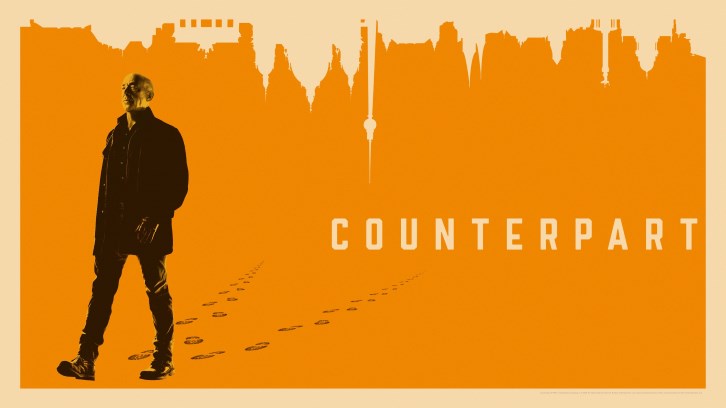 Counterpart 1.03 "The Lost Art of Diplomacy" - Review:

What do you do with a Baldwin-sized problem? It turns out that the best way to solve this would be through diplomacy, rather than resorting to violence. Both sides agree to meet to discuss terms for her handing over to the Other Side, but Other Howard wants them to stall the talks so they can learn more about what she knows before sending her back. However, there's a catch, Baldwin will only talk to Howard, who doesn't know that the doppelganger of his wife Ellen, has just walked from her world to his.

The world-building on Counterpart continues to be excellent as we learn about both sides through various means. When Peter for example, gets a phone call at the diplomacy table, he apologises, and it's not an apology for being rude, it's an apology for showing them the phone. Also present at the negotiations table were Roland Flancher and Claude Lambert, who were engaged in a war of words in an attempt to get her home. There was a lot of back-and-forth in this regard which suited the slow-pace nature of the show, but it's refreshing to see a diplomacy approach tried first rather than just going all in for the action-heavy narrative. Of course, that didn't stop the action-heavy narrative from happening anyway, as it turns out the whole negotiations in the first place may have just been used as an excuse to get Baldwin out into the open, where she could be captured in a quick, ruthless assault.

Baldwin and Howard also got some great interactions this week as he tried to get her to talk to OS Howard with no luck. Baldwin reminds Howard that although he thinks he's better than the other Howard, he's not really, as nobody can escape who they really are. Just like Baldwin shared a common connection with Nadia in the time that they spent together, she believes that everyone does with their other.

Other interesting segments of world-building that we had this episode was the vast amount of levels of misinformation that both sides resort to in order to give each other the maximum advantage possible. It's almost like a Cold War-type scenario here between both sides, which makes sense, given that things are taking place in Berlin. The cars used to drive the negotiators to the table came in the form of older models, suggesting that the side from our Earth wanted to hide their use of advanced cars and technology. But there's no way that the other side don't know about that to a certain degree, especially as at the end of the episode, we saw Baldwin's kidnappers come for her in modern, high-tech SUVs. I love just how much detail this show pays attention to, it's a series that clearly knows where it's going and is well thought out, and well planned.

We learn more hints about the other side too and their history, and how they might have experienced some sort of devastating pandemic. On the surface it doesn't have appeared to affected them dramatically, but then we've only seen small glimpses of their world. But one of the biggest revelations that we had this week was to do with Emily, who we learned in this world, was also a high-ranking operative who was presumably hurt because somebody wanted her out of the way. Her message to other Emily was to instruct her to prevent Howard from knowing the truth about her, and to look after him as he is still a newcomer to this world and knows virtually nothing. It's going to look as though both worlds are going to collide for Howard sooner rather than later as Other Howard comes up with a risky plan with his Visa licensing revoked following this latest disaster that resulted in the death of Nadia and Baldwin being handed over to police custody. His plan is to switch the places of both Howards so he can effectively continue the operation.

And he's going to a world where the other Emily has just been put in severe jeopardy, which means that her fate is now left open-ended going into episode four. Is she dead? It would be a shame to lose not one, but two Olivia Williams-portrayed characters so early on. And it would hurt all the more for Howard, who would arrive in the other Earth only to find a different version of his wife is dead, just after learning that she was actually alive. He wasn't the only one kept in the dark by Other Howard however, as Other Emily is also curious to know about the fate of Howard and Emily on this world.

What did you think of The Lost Art of Diplomacy? Do you think Emily is alive or dead? Let me know in the comments section below and be sure to check out the next episode of Counterpart tonight on Starz.