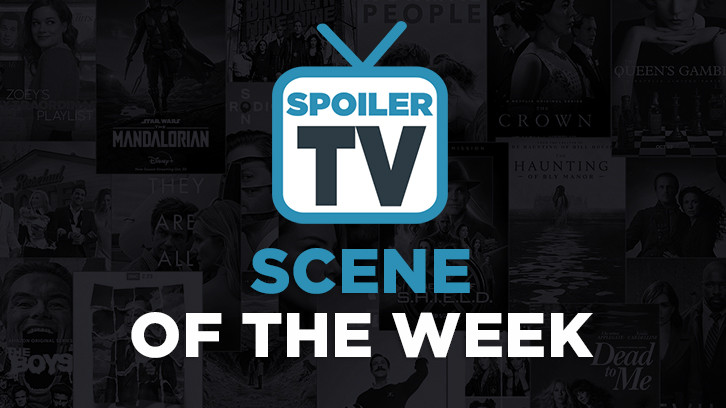 A weekly feature in which we're trying to find the most compelling, best acted, written, directed and just generally great, memorable scenes that we've seen in past seven days on TV.

BASKETS, "A Night at the Opera", February 13, 2018, Actors: Zach Galifianakis, Louie Anderson and more, The Scene: The ending scene
Claire: Mama Baskets has gone overboard ordering expensive fireworks for her big night at the rodeo. Dale rushes to the stage to stop them. It is in slo-mo with operatic music playing. He knocks them over, almost hitting the tenor and dropping a mess into Christine's 'friends' laps. It was a beautiful night that you just knew was going to end badly. But it was nice to see Christine's snarky girlfriends get what they deserved.

BLACK LIGHTNING, "And Then the Devil Brought the Plague: The Book of Green Light", February 13, 2018, Actors: Cress Williams, Nafessa Williams, Marvin "Krondon" Jones III and more, The Scenes: The Opening & Anissa goes shopping for a superhero costume & Tobias Whale leaves his father for dead
Justyna: Another great episode of the show. I'm so glad I decided to watch it because it continues to be a powerful journey with a number of interesting characters and an engaging story. This week, I wanted to highlight the beginning of the hour when Jefferson finds his new favorite thing and watches over the city using his new power - flying. I loved the effect, Jefferson's reaction and pure joy in learning how to fly. He made me think of Iron Man in both the look and the short training session, which made the scene even better for me. But that's not the only lesson happening in this moment. Back on the ground, there's a young man, clearly under the influence of the new drug, fighting with the police. When they reach for the gun, Black Lightning appears and manages to take down the man without killing him. His words to the police officers, to try using the taser first instead of the gun, can't go unnoticed. I love how much the show is trying to raise awareness and start discussions with little things like that. It may not be much but it's a start and it means a lot to many people. Kudos to cast & crew for their great work on the show!
Luana: Anissa goes shopping for a superhero costume. Also picked by Laura
Jaz: Tobias Whale is by far the best DCTV villain I've seen in a loooong time! He does everything with a violent sophistication but with an understandable motivation, which to me is the most terrifying thing. This scene truly exemplified that point.
Zandarl: Tobias confronts his past and the hugging it out with his father who still seems like a mean drunk turns deadly. He walks away leaving him with a broken back on the floor.

CRAZY EX-GIRLFRIEND, "Nathaniel is Irrelevant.", February 16, 2018, Actors: Rachel Bloom, Donna Lynne Champlin, Scott Michael Foster and more, The Scenes: Rebecca pleads "guilty" & Paula finds out that Rebecca lied to her & "Nothing is ever anyone's fault"
Laura: Oh, there's so much I could say about this decision but I'll just let that mere sentence simmer in the minds of everyone reading this. What could this mean? Isn't she the main character? Was she so crazy that she committed crimes and is now going to jail? Yes. To all of that. But at the very least it had nothing to do with her mental illness. Her "craziness" was not her decision, she was born with it and she has to live with it, but while she is still figuring things out she still knowingly committed the crime at the end of the day. I love the looks between Rebecca and Paula here. Their story has always been at the forefront and every good episode of CEG remembers this. Rachel and Donna were so fantastic and I am going to miss this show for a while. Until then, I will continue to analyze what this finale did. Jeez.
Saloni: Paula's reaction to finding out Rebecca lied to her. Donna Lynne Champlin was powerful in this scene. Every emotion that Paula was feeling, the hurt/betrayal/shock/disappointment, was so palpable in every way. Strong stuff.
Luana: Rebecca and Nathaniel sing "Nothing is ever anyone's fault".

DIVORCE, "Breaking the Ice", February 11, 2018, Actors: Sarah Jessica Parker, Becki Newton and more, The Scene: Jackie and Frances meet
Claire: At Lila's skating birthday party, Frances invites Robert's new girlfriend, Jackie. Jackie seems nice, but... She introduces herself to Frances, solo. And the claws come out. She mentions that 'Robbie' told her that he slept with Frances and that it meant nothing. Frances looks crestfallen, but holds her composure. She is a class act. It was a very uncomfortable scene, but important.

HERE AND NOW, "Eleven Eleven", February 11, 2018, Actors: Holly Hunter, Tim Robbins and more
The Scene: Audrey talks about her husband at his birthday party & The therapy session
Claire: At Greg's 60th birthday party, Audrey talking about her deep love for her amazing husband, but also wanting to slap his face with fish, at the same time. Holly Hunter is fabulous.
Luana: The therapy session.

LEGENDS OF TOMORROW, "Daddy Darhkest", February 12, 2018, Actors: Caity Lotz, Dominic Purcell, Wentworth Miller and more, The Scenes: Mick shows management potential & Mick and Leo say goodbye & Leo tells Sara that Ava is into her
Jaz: Mick shows management potential. Mick Rory is the drunk uncle we do or wish we had. Mick sorting out the dysfunctional family complete with those classic Mick nicknames was the funniest scene of the week and exactly what Legends is all about.
Milo: Mick and Leo's final scene. This was a great farewell to Wentworth Miller from the Arrowverse as his character returned home to Earth X. The quieter farewell worked just as well as a more emotional, louder scene would have and played out perfectly.
Jamie: Leo tells Sara that Ava is into her. This entire scene was so great. Sara is usually so great with flirting but when actual feelings are involved she becomes a total dork. Loved Leo and Gideon giving an in depth analysis of their conversation. Hope we see more of Leo in the future.
Winston: Leo points out to Sara that Ava was flirting with her. One of the high points of the episode. I love having Earth-X Snart on the show, and I love how much fun Wentworth appears to be having playing him. I laughed for about two minutes straight at his "Gay, not Blind" line and while I don't ship anyone on this show, it was a fun nod to those that are shipping Sara and whoever.

NASHVILLE, "Can't Help But Wonder Where I'm Bound", February 15, 2018, Actors: Hayden Panettiere, Jonathan Jackson, The Scene: Avery goes to visit Juliette
Beth: The acting between Hayden and Jonathan was amazing. Between her face conveying a complete void of feeling and his look of heartbreak and bewilderment, I was mesmerized. This was so devastating to watch as the two characters had a chasm between them, but both actors brought it.

STAR TREK: DISCOVERY, "Will You Take My Hand?", February 11, 2018, Actors: Sonequa Martin-Green, Michelle Yeoh and more, The Scenes: Michael stops Emperor Georgiou & Discovery's crew is rewarded for their actions & Discovery's crew meets up with the Enterprise
Laura B: Michael stops Emperor Georgiou from detonating the bomb. For me what made Star Trek Discovery so great was the psychological approach, a spectrum of dysfunctional or broken characters whose identities were even further pushed, and much more realistic, albeit overlapping, war story, which I have little doubt has to do with the EPs upgolding Bryan Fuller's draft/ideas, which he wrote coming off of Hannibal. This particular exchange and relationship dynamic was so fascinating for me, because of the fact, despite everything, including that the Federation and/or Discovery will likely pay a price for her freedom later, I really liked that this other Georgiou admitted to liking Michael, picking up the mantle of Mirror Lorca, and didn't just revert to a ruthless villain. Michelle Yoeh was also just great fun and it was so nice to have the actress start and end the season in wonderfully written full-circled way. I hope so much that the series continues down darker, more complicated, and "fringey" paths and resort to the kind of the Treks we've seen before.
Milo: Discovery's crew is rewarded for their actions in ending the war. This was a great way to end the season, giving the crew their justified recognition after all the hell they had been through and the posthumous medal awarded to Culber was a nice touch as well. The show has been all about reaching the utopian nature of the classic series and this finale took a massive leap in that direction.
Zandarl: I am sure a lot of fans, myself included, loved the fact the Discovery met up with the Enterprise and Captain Pike at the end.

THE FOSTERS, "Mother's Day", February 13, 2018, Actors: Teri Polo, Annie Potts, The Scene: Stef's panic attack
A.D.: This show has had powerful scenes but for me, this is one that will stick for a long time. Stef is having a talk with Sharon and she's starting to experience a panic attack. Sharon follows her around the room trying to find out what was going on but realizes what was actually happening. She calmly guides her; for two minutes that felt like forever until she settles down. I suffer from severe anxiety and I have had several panic attacks and many times no one around will know what to do. I applaud the writers for this scene, it was brilliant and true to how panic attacks happen and how out of control one feels.