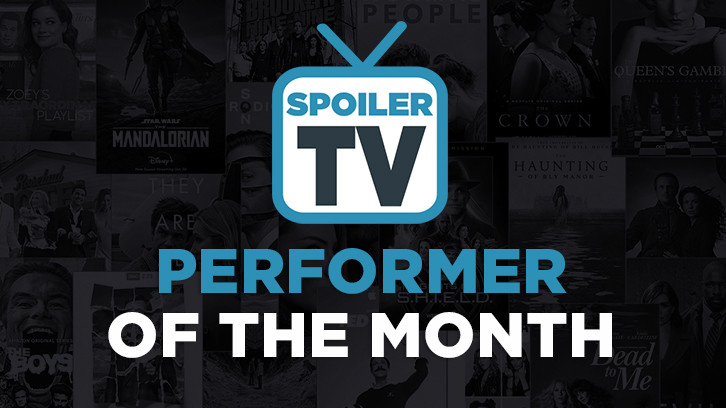 Results:

Our first round of 2018 Performers of the Month has produced two exceptionally deserving winners. Both portrayed very sensitive subjects in powerful ways. They each showed their character as vulnerable yet strong beyond measure. Each actress brought to life these very real situations and did so with profound respect to those who have in real life had to deal with what their characters are going through. In the case of both winners, it was a tight race to the very end. They both gained and lost the lead multiple times in their respective categories until the last twelve hours when they were able to surge ahead and secure their wins.

Reader's Choice Performer of the Month of January:


Camilla Luddington from
Grey's Anatomy
is our first 2018 Reader's Choice Performer of the Month. In January she took her character, Dr. Jo Wilson, on an intense journey of dealing with the reappearance of an abusive ex. Her performance was raw and intensely powerful, but what made it even more impactful is that under all the fear and bad memories she showed just how strong Jo is. Despite everything, she made sure to show that Jo wasn't going to just sit back and let her ex hurt another woman. She faced her own issues to try and help save someone else. It was a poignant story that was beautifully written, but it was Luddington's performance that really made the story even more powerful and impactful. Through her eyes and body language, she showed the raging flood of conflicting emotions Jo was facing throughout the episode. Luddington put a lot of care and heart into her performance and it is a true honor to be able to honor her for her work on such an important episode.
Staff's Choice Performer of the Month of January:

Justina Machado from
One Day At A Time
is our first 2018 Staff Choice Performer of the Month. Throughout the second season, Machado took Penelope Alvarez on a complex journey that involved laugh out loud moments as well as deeply emotional ones. It was her portrayal of Penelope dealing with a resurgence of her PTSS (Post Traumatic Stress Syndrome) that really hit home for so many viewers. It was a powerfully real portrayal that was gut-wrenching and inspiring all at the same time. Depression and PTSS don't get covered nearly enough in the media, but when it is it rarely gets portrayed in such an intensely real way. The extra added element to the story was how Penelope was finally able to ask for help and how that request was met with nothing but love and support. The way Machado portrayed Penelope's emotionally intense journey through the pain of depression and PTSS is simply unparalleled. Her emotionally raw and intensely powerful performance makes it an honor for the site to be able to recognize her for the great effort and heart she put into this storyline.
Look for Camilla Luddington and Justina Machado's winner articles later this month. In the meantime please feel free to use the comments to discuss these two incredible winners and their equally impressive competition.
Original Post:
Thank you to everyone who turned out to place your nominations. Your nominations have produced a list of 10 very talented performers. The nominations round went relatively smoothly. There were some people who tried to nominate the same person repeatedly and I had to disqualify all of their nominations. We also hade a few performers who had enough by name nominations, but they weren't all for the same episode so they ultimately ended up missing out on a spot in the poll. Every valid nomination counts and can determine if someone gets a shot at winning or not.
Now it's time to determine who will be our very first Reader's Choice Performer of the Month. The results will remain hidden for the duration of voting. The results of this poll and the Staff voting will be revealed after the poll closes.
2017 Staff's Choice Performer of the Year: Tatiana Maslany
2017 Reader's Choice Performer of the Year: Sam Heughan
December Winners:
Outstanding Actor: Iain De Caestecker (Leo Fitz) - Agents of SHIELD
Outstanding Actress: Chloe Bennet (Daisy Johnson) - Agents of SHIELD
Please remember that whoever wins this month will be ineligible to win again in 2018, but they will secure a spot in our year-end Performer of the Year contest.
Now comes the hard part where you can
only vote for 1 performer
. The poll will be live until
Sunday, February 11th at 6 pm ET
.