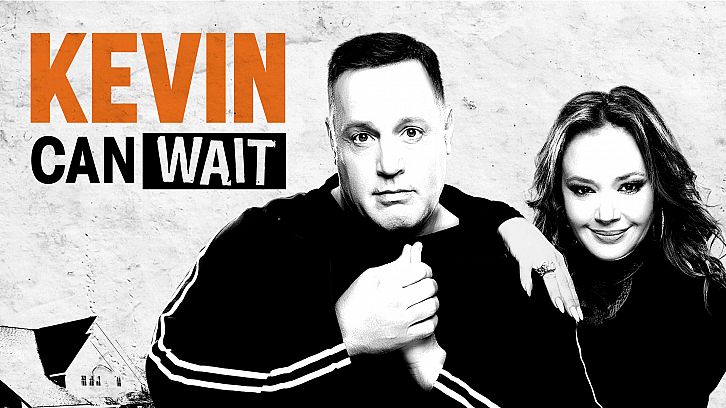 This week's episode, written by Annie Levine and Jonathan Emerson and directed by Andy Fickman, finds Monkey Fist Security flying to Florida for a business trip.

Kevin decides to take the kids for some'family time' and Chale and Kendra come along; on their way to Italy for their belated honeymoon. Their seats are scattered throughout the plane because Kevin made the reservations, at the last minute.

Rootger shows up at the Gable house with all of his religious medals and a very definite fear of flying: "the thought of a big metal tube flying at 30,000 feet into a mountainside will not enter my mind." He wanted to take a van; only thirty four hours travel time.

At the airport, Vanessa tries to get her seat upgraded to first class, en gratis. Saying that she and Kevin are a honeymooning couple and that he suffers from 'angry colon', scores her some plum seats.

But while Vanessa has been working to misappropriate some premium seats, Kevin has been busy meeting a pretty woman who likes Cinnabon, the Mets, and of course Billy Joel. And most importantly she doesn't think that Kevin needs to be on a diet. She is perfect!

But you can't be a 'happily married couple' in first class and try to pick up a woman sitting six rows behind you. The overly observant (ie. nosy) flight attendant just won't have any of it.

Kevin's argument to Vanessa: "but she loves Billy Joel!" Vanessa: "we all love Billy Joel, he IS the piano man!" And Vanessa's argument is that if they are found out, they could get kicked off of the plane. "And airlines have been known to do this, occasionally."

Kevin also has to pull 'his wife' Vanessa away from the co pilot who she's flirting with: "so if the pilot has a heart attack, you take over for him?" Their 'Dr. and Mrs. Gable' charade (Kevin is a fake neurologist) is going to fall apart and Vanessa is convinced that she is a 'first class only girl.'

Rootger is seated next to a couple who have been through their fair share of airliner 'incidents' and all of their talk of "losing 3,000 feet in ten seconds and knowing people on board the 'Sully flight', is not going over well.

Chale and Kendra are dealing with a fellow passenger, sitting in between them and getting 'in between them'. And he is slowly turning them against each other; fighting over underwear and sunscreen. They are only saved when the attentive flight attendant catches on to Kevin and Vanessa's ruse.

Kevin and Vanessa are escorted back to economy and the actual honeymooners get their well deserved first class seats.

Sara is sitting next to a woman with a service dog and keeps making more money (Kevin's only allotted her $40. and that will NOT go far at Disneyworld) for their Disney trip; by doing errands for her and selling her food.

Jack lies to a girl, sitting next to him; that he is a football star at his school. When he asks his dad for advice, 'Dr. Gable' advises him to always tell the truth, Jack does and, of course, the girl thanks him and then puts her headphones on, game over.

When the plane is diverted for weather, the gang ends up in Louisiana at a hotel with no bar; to Vanessa's dismay and a hurricane blowing outside their window. Kevin is determined to get to Florida.

And as he leaves his beleaguered family behind to drive there, we see him fighting the wind and rain, losing his suitcase as it goes flying by the window.

As he crawls on the ground, we come to the realization that Kevin can't fly, but his luggage can.


Favorite moments: Rootger screaming out: "this is it, we're going down!"; as the plane is simply getting ready to land, so funny.

Another great episode!

My one problem with the episode is that they keep hiring actresses that resemble Kevin's deceased wife, Donna, to act as his romantic foil. I actually thought that she was Erinn Hayes for a split second. I would urge them to avoid this in the future. There are many fans still upset about Donna's 'death.'

Just a thought, what did you think?