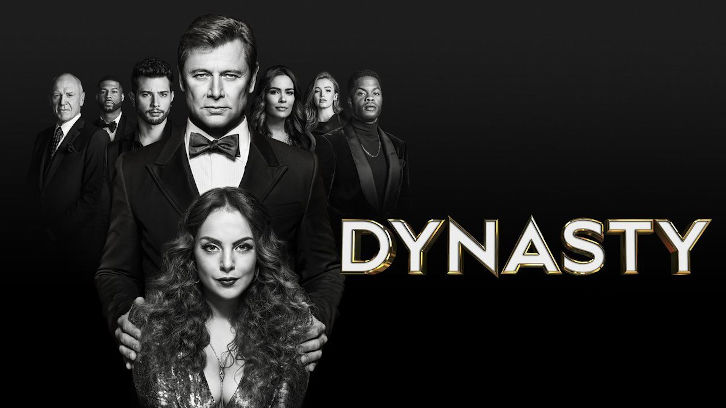 This week Dynasty returned to its core; long gone was the in-fighting between step-mother and daughter, so too the father-son tension (to an extent) and the show once again focused on the dynasty against others.

Single Ladies

Monica and Fallon were back together this week as BFFs (falsely), and in some ways I couldn't be happier. This totally leaves room for a Sammy-Jo / Fallon brotp. Enough about potential friendships and back to the betrayal. Enlisted by her brother, Monica spent the episode pledging her allegiance to her family. We saw her visit her father in prison for the first time in almost a decade, and despite my protectiveness of Fallon etc, I can't help but love the Colby family reunion and dynamic.

Far from the strategist that her brother is, Monica spent the episode with one job in the sibling's grand scheme. Assigned the difficult task of hanging out with her (ex)BFF Fallon, the female Colby sibling at first found this hard, especially when her father is rejected parole. Reminded of the bigger scheme by Jeff, she eventually concedes and gets the shock of her - Fallon says she's purchased Monica her own club; her dream for years. "I know you think I don't listen, but I do" she reveals, as a tear streams down my eye (jokes, maybe). It's wonderful to see Fallon like this, and sad to see Monica hurting and conflicted deep down. I'm curious to see whether Monica turns on Jeff at some point, as she clearly does love Fallon (which Jeff never did).


Monica's future actions are perhaps irrelevant in many ways now as Fallon ultimately knows something's up. Proposed to by Jeff (and seemingly unsure of whether to accept), Fallon faces the dilemma of choosing between her independence, Jeff and Michael Culhane! The latter finally admitted his love for Fallon this week, when he expressed his concerns over Jeff's chilled transfer of Morell-Corp to Fallon. Thanks to this concern, and Sammy-Jo getting caught snooping / being ill-informed about technology, the youngest Carrington heir discovers voicemails from Monica to Jeff about their scheme. She knows not what it entails yet, or its endgame, but she knows (and we know) they're about to go down - cause she's not taking any prisoners! So where does this leave Fallon and her dilemma? Well, independence will always win. She's a professional businesswoman, successful, determined etc, the list goes on. That being said, this doesn't mean she doesn't have room for a relationship, if she compromises. Jeff is surely out of the picture, which leaves one candidate ... Culhane! I'm not complaining ...

Partition

Of course, Jeff's plan primarily involves helping and avenging his father. Locked up for a crime he (supposedly) didn't commit, this week seemingly resolved this plot. Framed by Blake for an attack on a prison officer, it seemed as if all hope was lost for Jeff's father to get parole. But ... Jeff is a smart one and before long he was sleeping with those in power himself (literally). If we've learnt anything from the show it's that it's not what you know, but who you know - and surprise surprise, Jeff's father was magically granted parole! Happy days ... unless you're a Carrington!

Halo


After last week's announcement by Steven that he's running for local office, Dynasty this week showed us the first steps in this goal for true martyrdom. No seriously, I think Steven does believe in his ideals, I'm just dubious that it isn't ultimately all going to benefit the family. With Fallon by his side, the male Carrington sibling explained his plans to his father and step-mother only to be criticised by Blake. Rightfully so, in many ways, his father was concerned about his ability to handle public scrutiny and pressure, particularly with his scandalous (yet currently hidden) past including an accident at work which killed a man. Crystal, on the other hand, doesn't share her husband's concerns and supports her step-son. It's great to see her more naturally integrated into the family and her relationship with Steven is something we haven't really seen explored yet (all the focus was primarily on Fallon and her new step-mother in the first few episodes).

With Crystal setting up an exclusive interview with last week's journalistic hero, Rick Morales, Steven was able to impress his father with some strong responses and good 'ol Carrington charm. That wasn't the only purpose of Rick's return though - the journalist ended his scenes in the episode by ... drum roll please ... kissing Crystal. 'Kissing' being an understatement. Now, I said last week their past was uncertain and I suspected a sexual history, but now I'm wondering if this is its rebirth or if she's been seeing him the whole time. Damn Crystal, I've been rooting for you!

Crazy in Love

Speaking of people I'm rooting for; Sammy-Jo ended the episode way more tragically than anyone else. Taunted by Ted, Fallon's new assistant explained that he wasn't the reason Steven had rejected the former; it was all on Steven (or more so, Ted). Under the influence of drugs and/or alcohol, Ted attacked Sammy-Jo, ripping out his ear-ring (more on that in a second) and jumped out of the window. HOLY SH*T! By ripping out the ear-ring, Ted makes things look like a fight, rather than a suicide - and now poor Sammy-Jo could go down. Damn you Ted - you crazy, loved up fool!

Quote of the Week:



Culhane to Fallon: "I love you".
Dynasty is taking a few weeks off but will return March 9th (US) and March 10th (UK). In the mean time, the CW are feeding our need for its return with an exciting promo for episode 14. Check out the promo below and make sure to share your thoughts of the show, and the latest episode, in the comments section.