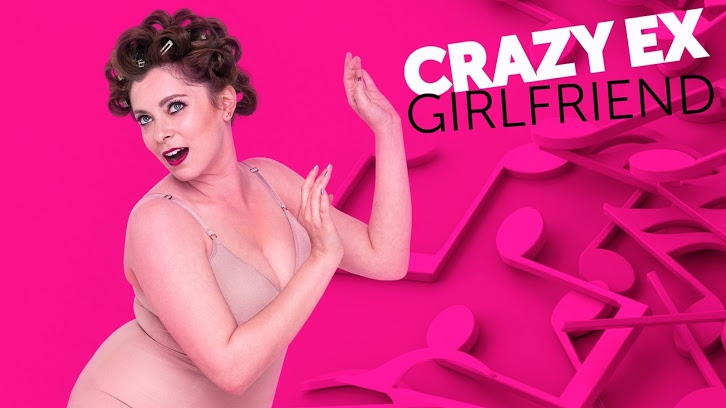 Crazy Ex-Girlfriend for me has really had a so-so season this year. There were moments when characters hit lows that the show was on a high and there were times were the characters were on supposed highs that really felt like the show was on it's low. I was pretty much willing myself to see the season through to end and now that I have, I'm not quite sure how to sum up how I've felt about Season 3 as a whole. I didn't love it, I didn't hate it, but it wasn't just "okay" either. Before I start working on think piece to share about the season, I should get right into why we're all here; to review how Trent?! And Nathaniel is Irrelevant played out.

Trent?!
I'm going on record to say I've never had as much with Crazy Ex this season than I did when watching Trent?!. (I LOVED THE TRENT SEASON 2 OPENING!) This show has such an ensemble it's not unusual for characters to come and go as needed, but I didn't realize how much I missed and how much the show needed Trent. Trent has always been the male-Rebecca in terms of crazy, so it kinda make sense that when she finally starts to come to terms with learning herself and being alone (Minus the F***ton of Cats) that Trent rolls himself into the picture from under the bed to blackmail her. Trent quickly fills us in on what went down when after he handed Josh all the dirt on Rebecca and essentially set everyone on the path for season 3.The fact that his appearance this time is essentially doing the same thing for season 4 is not lost on the viewers and while other shows couldn't pull something like this off, in the world of West Covina, it works. Trent having been hit by a bus trying to claim his princess, tortured for months with bad comedy and nursed back to health by coyotes just wants one thing, to finally be with Rebecca. So, He does what one would do when you've ruined someone's life and want them to love you despite that, he blackmails her by threatening to out the fact that she put out a hit on the dark web on Nathaniel's girlfriend Mona.
Rebecca failing Trent's love test and her coming clean to him and his later reaction is what really sets the two apart in their realms of crazy. Trent, while fun to have a round, seems to get what Rebecca is saying when she tells him that she doesn't want him. Rebecca doesn't empathize with Trent at all, not owning up that her obsessions are what led to Trent turning her love her kernels into his own obsessions. Paula is relieved, and Heather just wants the dates, but I still felt kinda bad for Trent, Rebecca and Paula as I knew that this wouldn't be wrapped up as neatly as this. West Covina has too much flair to end things so simply.
Nathaniel is around whining to Whi Jo about losing Rebecca and her magic vagina, but decides after seeing her with Trent to give things another go with Mona. Nate admits to sleeping with Rebecca, but Mona surprisingly wants to give this thing a real shot because she does have feelings for him. (Is she the female Greg in this love triangle? I did hear some settle for me in the finale…) All in all, while it was a fun episode for about 3/4ths of the A-plot, the way things wrapped up left a lot to be desired with Trent. (I watched this back-to-back with the finale but am trying to judge as if didn't know what's coming next) The Valencia and Josh thing was a snooze and Nate and Mona simply seem like filler. The songs had very little impact on things this week, so it's hard to say this, but taking off the Trent-colored glasses. It's most certainly a
B
.
Grading the Songs
Buttload of Cats
- I wish I liked this one, but do we really have to play into cat lady stereotypes? My best friend has 3 cats and is happily married. It's fun with the visual, but it's not really interesting either.
D.
I'm Just Boy in Love
- I love this theme. I miss this theme, and it's even better hearing it with Trent.
B
Back In Action
- This is another song that works better with the visual. It needs more Paula too.
D
Nathaniel is Irrelevant
Well… the show went off the rails. Something the theme song has been preparing us for sine the onset of season 3 and I honestly didn't hate it. I'm not the biggest fan of everyone thinks Rebecca is insane bit, but I am a fan of how things ended this season and I am really pondering what a 4th season of Crazy Ex-Girlfriend will look like,
especially knowing that should it get a 4th season, it will be the final season
. I originally wanted a Greg-Rebecca endgame, but aside from the fact that her sleeping with his dad makes that extreme ick, I was too foolish to see what the real relationship at the center of this show is, Paula and Rebecca. Nothing reminded me more of that fact that Nathaniel is Irrelevant, because at the end of the day, his opinion was irrelevant, and Rebecca is ready to throw her life away for Paula's forgiveness. A True OTP!
The best part of the episode for me was when Rebecca does what I never could've imagined her doing when she first stepped in West Covina, coming clean about her indiscretions to her friends. The best part is that it wasn't Josh or Nate's reactions that got to her but Paula's. Paula's heartbreak learning that Rebecca lied to and manipulated her into scheming again was devastating to watch, and when she told Scott (Oh! Hey, Scott!) she was done as Rebecca was calling for help, I teared up. Trent wanting to kill Nathaniel was just a little too much for me, but thankfully he's not dead, just kind of back to where he was after getting hit by that bus. This season has really been a journey of realization and acceptance for Rebecca, so I think that where she ended up was a great reflection of that. She accepted her fault for things with Josh, her new diagnosis and her betrayal of Paula. I wish the show didn't go the "Guilty" route at the end, but I think it's a nice setup for the potential final season. She's accepted things on a smaller scale, but it'll be interesting to see how that plays out on a much larger scale. (Loved the hint of I'm a Good Person playing)
I've been really frustrated by this show this season and I'm not exactly satisfied by the finale, but I am content. There was a lot to love, a lot of references, and a lot of questions about what's next. Josh punching Nathaniel was great, because he was ready to be a pretty ruthless person to Josh's family when Rebecca asked and no one really ever called him out on that. I really hope that in the event the show gets picked up, we get a shorter season that is a bit more focused on Rebecca's final lap of her journey, restores her relationship with Paula and finds her happy with herself. I want to see all our ensemble get a little more to do outside of orbiting around waiting for the next zany b-plot, because it's clear they are capable of delivering as well as evidenced by how much they give when given the chance to shine. If you ask me to grade this finale, I'm giving it a
B
. If you ask me to grade this season, I'd give it about a
C+
.
Grading the Songs
The Miracle of Birth
- Maybe it's because I've been at the center of birth talks for what feels like an eternity at my current job, I couldn't help but find this so hilarious and pretty accurate from the knowledge I've gained. I'm never not in the mood for a Paula solo either.
A.
Nothing is Ever Anyone's Fault
- I don't hate the song. It's clever and insightful for the characters, but to me it just highlights how Nathaniel holds back Rebecca's progress.
C.
Songs
1. The End of the Movie
2. A Diagnosis/After Everything You Made Me Do(That You Didn't Ask For)
3. The Miracle of Birth/My Sperm is Healthy
4. The Buzzing From The Bathroom/The Moment is Me
5. Where's Rebecca Bunch?
Episodes
1. Josh is Irrelevant
2. To Josh, With Love
3. I Never Want to See Josh Again
4. Trent?!/ Nathaniel is Irrelevant
5. Josh's Ex-Girlfriend is Crazy.

What did you think of Season 3? What are your hopes for season 4? What were your favorite songs? Do you think the show when off the rails? Sound off below!