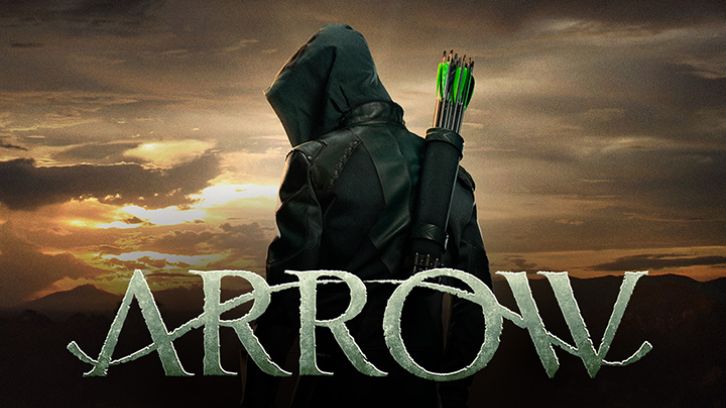 Arrow
"All for Nothing" was written by the team of Beth Schwartz and Oscar Balderrama and was directed by Mairzee Almas. Is it just me or is it weird that Arrow episodes always need TWO or more people to write them? This isn't normal – and frankly, I think contributes to poorer story-telling. I have to say that I thought the title of this episode was particularly appropriate because if feel like watching this show has been all for nothing lately. We keep re-treading the same old storylines over and over. All that effort on getting us to like the new team is now torn down. Dinah (Juliana Harkavy) is now right back where she started. If we dispense with Harkavy and Echo Kellum (Curtis), I won't be sad to see them gone. I feel badly for Rick Gonzalez (Rene), who I think has done some good work on the show – always assuming we are getting rid of Team Two…
I did like the use of the five year flashback to reinforce the fact that Dinah and Vincent (Johann Urb) were making exactly the same mistake with Cayden James (Michael Emerson) in the present as they did in the past with Sonus (Steve Bacic). The two are completely unprofessional undercover, showing no restraint and letting their relationship expose them. In both instances, it ends with Vincent's death – this time for good, no doubt – and Dinah's turning her back on the law. Harkavy is simply annoying and didn't convince me with her mascara-streaked-grief or her unjustified anger, coming across as a petulant child.
Thea (Willa Holland) and Quentin (Paul Blackthorne) are left to try to find the money to keep James at bay. There is a funny moment when Quentin is watching the news and the ticker contains this headline: "Conservation Officers subdue an overly friendly walrus." I'm going to be sure to read them all the time now! Quentin also notices that Laurel (Katie Cassidy) is following him – and has been for a while.
Quentin tells Thea and thinks that he and Laurel made a connection and that she wants to reach out but is afraid too. Thea suggests that the find a way for him to reach out to Laurel.
Quentin leads Laurel into a warehouse where he turns and approaches her. She says it was a mistake, but Quentin refuses to believe that she would have followed him repeatedly if it was a mistake. While it was a bit over the top, I liked the effects of Quentin projecting pictures of his Laurel all over the room and its various surfaces. He tells Laurel that this is his Laurel and he sees hero when he looks at what she did with her life. Now he wants this Laurel to see herself the same way. Of course, the real problem here is that it's not what Laurel looked like that made her a hero but what she did. So far, Black Siren has not done many good deeds – quite the opposite. Although, she does hesitate – quite a long time – when James tells her to kill Vincent.
In the end, the pictures are all too much for Black Siren, who screams and runs away. Thea thinks it's ended in disaster and asks Quentin if he's ok. He says yes because he thought he saw his daughter in Black Siren's eyes. In the end, Thea is ready to write Black Siren off for killing Vincent – but again, she didn't see her hesitate. Thea tells Quentin they may have been wrong about Black Siren. While I like this Quentin/Black Siren storyline – which surprises me! – I really want to see Quentin back in charge of the SCPD or playing a more active role with the team – Blackthorne is more than up for the challenge!
The main plot really revolves around trying to stop James and get the bomb. Alena (Kacey Rohl) returns to help go through all the data that they get off of James' server after Vincent plants the sniffer – something that Dinah is vehemently opposed to him doing – really at every turn she puts their relationship above everything and everyone else! I really liked the scene in which Vincent mostly fakes out James with Felicity's (Emily Bett Rickards) help.
I really hated what a jerk Rene was every time he was in the Arrow lair: "We have the inside man, you have the tech. It's the ONLY reason we're here." "I'm getting PTSD here…." "You save the city, Hoss." Aargh! In the end, the entire team of babies goes off to help their "family" – Dinah – get her boyfriend back – which is of course a trap. Chances are good that if they'd followed Oliver, he would have had enough people to search for the bomb and stop James – and Vincent might have been tortured but would not have been killed. Idiots!
The team (and I don't include the babies in this) discovers the footage sent to James. It's clearly fabricated and happens to be the same footage sent to the FBI, so however fed it to James also fed it to the FBI. So, there is yet a bigger bad out there somewhere. I'm really hoping it's going to turn out to be Diaz (Kirk Acevedo) because so far, they've given Acevedo nothing to do. And what a waste of David Nykl as Anatoly too!
We do get one nice moment between Oliver and Felicity when she asks about a honeymoon – Aruba! I also liked that when Oliver went to check on Dinah – you can bet none of the babies would be checking up on the team! I mostly liked that he told her he wasn't apologizing! Good for him! Because he had nothing to apologize for.
I'm finding this show increasingly frustrating. It's nice to see the main team seeming to move ahead and get past the same old problems, but why bring in these new characters and work so hard to try to make us like them only to then make them UTTERLY unbearable? What are your thoughts? Who is the most irritating character for you? Who is the mysterious big, big bad? Was Dinah right to go after Vincent? Should Quentin give up on this Laurel? Let me know your thoughts in the comments below!