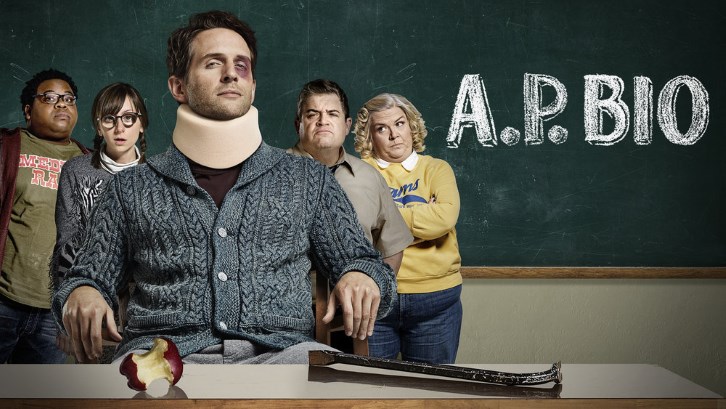 I really, really wanted to give "A.P. Bio" an A+. Instead, I think it gets more of a C. I was tempted to give it a D, but there were a few moments that I appreciated, so I'm grading on a curve.

My biggest issue with the show is that, so far, it seems very predictable. It feels like a story we've seen dozens of times: unlikely teacher comes into a classroom as a disaster, seemingly less mature than the students he/she is supposed to instruct, only to eventually find his/her place and become a virtual Teacher of the Year. Maybe the writers will surprise me and change things up a few episodes in, but going by the pilot alone, it's not much different from every other TV show or movie with the same plot. That's kind of surprising, considering Seth Meyers, Lorne Michaels and other SNL legacies are behind it.

Glenn Howerton plays Jack, a philosophy scholar who lost his job at Harvard and moved to his hometown of Toledo, Ohio. While he's living in his late mother's apartment, he's teaching A.P. Bio at Whitlock High School. Jack's students are abruptly introduced to their new teacher when he slams into the school sign and accosts someone with a crowbar. Things only go downhill from there. Predictably, he says he doesn't plan on teaching anything during the year, and doesn't plan to learn from his students, either. His entire purpose in life is getting back at his nemesis, Miles, who has Jack's dream job at Stanford. Jack's first official lesson of A.P. Bio: having the students help catfish Miles on his Facebook page.
What follows is why I wasn't too impressed with the pilot. Jack becomes worse and worse at his job by the day, even getting arrested after a bad date with his high school ex-girlfriend who, unsurprisingly, has moved on from him. When one of his students is also arrested after seeing Jack's stunts, Jack has a sudden change of heart. By the end of the episode, he's trying to resolve an ongoing bullying issue between two students. It just all seemed so predictable because we've seen it play out countless times before.
There were a few things I did like about the show. The timing was great, especially between Howerton and Patton Oswalt, who plays Whitlock's principal. Some of the comedy was subtle, which I appreciated. As Jack and Devin (the bullied kid) have a heart-to-heart, Jack sends Principal Durbin, who's sitting in one of those stair lifts, up to the second floor. Durbin is slowly and quietly going up the stairs, pretending not to be there, while teacher and pupil have a serious talk. Speaking of the stair lift, the set decorators deserve kudos. Jack's mom's apartment was classic, from the stair lift to the bowl of candies that only grandmothers seem to know where to buy, to pictures of religious figures and JFK to a kitchen drying rack that I haven't seen since my grandmother was around. It was perfection, like an untouched time capsule. There were also a few sound effects in the episode, which you don't see in many shows, and the show even seemed to be shot a bit differently than your average sitcom.
All of that said, I'm not sure the subtle things I enjoyed are enough to get me to tune in regularly. While I appreciated all of the things I mentioned above, I didn't really laugh at all, and the plot seems expected.
What did you think of the pilot? What were your favorite parts? Will you watch again when it returns after the Olympics?