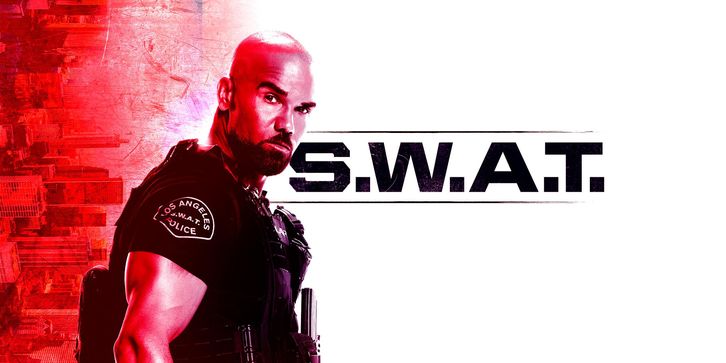 What an entrance S.W.A.T makes. Rappelling down a building where a man's taken co-workers hostage, the team kicks off the wall, Luca blows the glass, and in they swing to take the man out in two shots and save the day.


All except for Hondo. Landry Belmont has filed a complaint against him, for
"Unlawful search and seizure, theft, excessive force while off-duty."
"That's a load of bull, commander,"
Hondo replies, speaking my thoughts.
Still, it has to be investigated, so Hondo's benched during the process. Deacon's leading the team in the meantime, and it's a blow watching it all go down in front of everyone.
It's a hell of an opening to this episode, and it only gets better.

"Which one's our guy?"
Street asks as they enter the scrap yard.
"What the hell are you doing here?"
Ally asks from behind a bike she's working on.
So... His CI? Not a guy.
We've seen family stories, through Luca, and Street, and had some insight into Chris' past. But it's through Hondo, Jessica, Deacon, and now Tan that we watch how these characters navigate romantic relationships. Some, like Deacon, find a balance. Some, like Hondo and Jessica, are in a tricky situation and making it work as best they can. But Tan's young, he doesn't have the separation between work and home in place yet. Watching him and Ally discuss their past makes me wonder if he ever will.
She isn't pleased to see Tan again, isn't thrilled to see the man who promised her a relationship and then disappeared on her.
By coming back he's only confirming what she expected: that she'd only see him again if he needed something.
ALLY:
"You said there was a plan for us. Just didn't know it was this."
TAN:
"If we became a thing people would have put two and two together. They know you helped me on the case so there would have been blowback. For both of us."
He split, for her, and for himself, but Ally isn't keen on helping him, so it's up to Street to win her over. She's hesitant to trust him, to trust Tan again, but she gives them three names, not expecting to receive anything in return. She knows better than that now.
Deacon's been learning from Hondo these past few months, and he sends the team off to get some rest. Tan has a funny idea of the meaning of the word rest, and heads back to Ally's.
TAN:
"I never forgot you."
ALLY:
"Then why did you disappear?"
TAN:
"When the case ended, you and I were in different worlds. You wouldn't have been happy in the place I was in. Vice cop's life's a twenty-four seven black hole. I had to get out. Thought the only way was alone."
Tan and Ally spend the night together, and in the morning she passes on the information of where the crew's been hiding out, and where they're currently located.
"It's like you're not even here anymore,"
Ally tells him as he snaps into work mode and prepares to leave. Before walking out the door Tan promises he'll make up for the last three years once they finish the case, but Ally doesn't seem convinced, and a sad smile plays on her lips as she says,
"Okay."
She doesn't buy it, but, more than that, she recognizes an opportunity to help herself to finally move forward.
To keep us guessing, the scene cuts to Hondo taking out his anger in the ring, with a little too much aggression. But I'm not buying it.
"I'm worried,"
Jess tells Hondo.
"As my girlfriend or as my boss?"
To be honest, she should be worried as both. Because they had dinner that night. Jess is his alibi.
And that's all kinds of bad.
If Jess comes forward, it's her job on the line. If she doesn't, when IA investigates they'll uncover it anyway. But Hondo won't allow her to come forward, not just yet.
She gives him until the morning to clear his name. Hondo starts investigating, trying to connect this guy to cases he's worked on. Probably against his better judgement, he even pays Landry a visit, and it's not looking good for Hondo.
Until one informant comes through. Landry has a girlfriend, who's currently behind bars, and she's serving her time at the same prison as someone Hondo does have a connection with…
Hondo's timing is perfect. Just as Jessica's about to admit the relationship to Hicks, in he walks, interrupting at just the right time. This relationship will live to see another episode. As will Jessica and Hondo's careers.
Tan's story this week ends with him feeling a little karma for the way he ended thing with Ally. She's taken over $140,000 from the house the crew had been laying low in, and she's left town, to start fresh. She knows Tan, knows about his own blind spots in relationships, when it comes to his job, and knows she needs to fully get away in order to finally start her life.
Pamilya
, when more about Street's background was revealed. With the best intentions, Hondo paid her a visit at the end of the episode, trying to do what he felt was right for Street, without Street's approval, or even knowledge.
"I'm not going to let him get played anymore,"
he told Karen back then. It's in
Blindspots
that we start to see the consequences of this visit. Because Karen's serving her prison time at the same facility as Landry's girlfriend, and Karen's been vocal about not letting anyone come between her and her son – especially not Hondo.
Street has, over the course of eight episodes, started to become a part of this SWAT family. He's bonded with Luca, when the man needed a place to stay. He's growing something with Chris, a friendship for sure, and although there are sparks of more, it's very much one-sided – at least for the time being. He's found someone within the group to compete against in Tan: a friend he can push a little, and who can push him back, laced with recklessness as they one-up each other. And he has a mentor of sorts in Hondo, but there's fissures in this relationship now, because while Street may have SWAT, he has the remnants of another family in his mother, and he's clinging to that. She isn't at all convincing as she lies through her version of the events and manipulates him, but he's blind to it, loyal to her. With parole – and now Hondo – in her sights, conflicts we're just starting to see may soon be hard to ignore. These hints of fissures between Street and Hondo are threatening to widen, and it all suggests that Street, further down the line, might just have to make a decision between his mother - and SWAT.
How are you enjoying the season so far? And how do you think this episode's events will affect Street and Hondo's relationship?