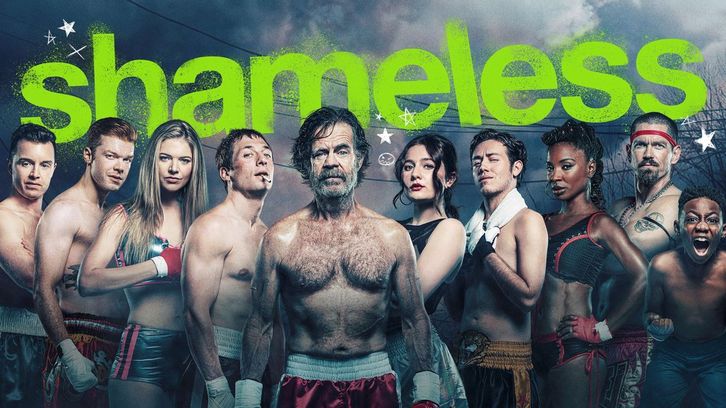 Shameless this week had nothing truly special stand out, but the character storylines seem to be progressing nicely. Shameless is slowly getting back towards what it once made me feel , shock and slight discomfort as I watched the episodes. These last few weeks, the show has just kept me wanting more than what they delivered. And, if I'm being honest, in "Fugees," I missed the soundtrack that defined last week's episode.


"Dominance. Boom." -Kevin
Ian seems to be feeling better. There was no more mention of the church he could have gotten for the youth shelter, nor of his fight with his sister. Thank God.
(Pun intended)
. This season has set the motion for a couple of potential storylines which they never really delivered on. I'm talking about Ian and his altered mental state for one, and Debbie's Derek coming back for a couple of seconds in an episode. What was the point in any of that?
Ian's altercation with the pastor in last week's episode, and his Youtube fandom got him a following, some of them even members from the house of God. He is well on his way to starting a church that preaches inclusion. It was great to see him feel like he belongs, he almost seemed happy. On the plus side, standing up for gender non-conformist kids makes the red head irresistible to Trevor, and they are back together, not that I give a damn.
"That kid is doomed." -Kermit
Cassidy has a problem, Cassidy is a problem and Carl is in trouble. She becomes super needy because of Carl's impending voyage to military school. Wanting to do something nice for the girl he thinks he loves, Carl ends up in even more trouble. His intention was to give her a promise ring, but without any context when he presented it,
(Dumb. Dumb, move kid.)
Cassidy thought Carl was proposing. He's going to have a hard time getting out of this one without getting stabbed by the psycho. This really is, though, the type of storyline I have come to expect of a show like this, the kind of dynamics that make me want to continue to watch, like watching a trainwreck.
It turns out everyone at the Gallager Super 8 is having sex except Fiona, and while I enjoyed Fiona flying solo, it seems all good things must come to an end. She
is
a catch, and Ford
is
really hard to follow.
But things are going a little too well for Fiona. She's getting sued isn't she? Doesn't every one sue everyone in the States? At 500$ for a roofing job, the guys are for sure non-union, and for sure uninsured by their employer. Things are about to come crashing down for her.
And I can't wait.



"She gets to have American dream while I have to stay here and get shit on by two ex-lovers who still treat me like a prostitute slave, who make me wear a vampire blouse just to strip me of the last little bit of dignity that I still have." –Svetlana


The character breakthrough of the week has to be Svetlana. It was strong acting on Isidora's part. They managed to make me feel for her, despite how bad she treated Kev and V. (And still does under her breath.) This episode made you understand her more, her tough exterior and what motivates her. It's easy to forget about where she's from. But she's been through hell. She deserves her happy ever after. I'm so happy she is getting a storyline. She's one of those characters that is totally unpredictable.

One character which is extremely predictable is Lip. Sierra is a mess when she learns that Charlie has another baby, and Lip is there for her, and for Charlie (quite surprisingly.) What was not surprising at all was that Lip ended up sleeping with Sierra. Everything surrounding the eldest boy kind of just fell flat, whether it wase his case with Youens or his simili bromance with Charlie.

Debbie is still on the path to becoming a mature adult and parent, but sometimes you have to take detours before getting to your destination. Being a couple of hundreds short on her welding school tuiton, . Debbie finds her golden goose in Todo, the drug dog that belongs to the hipster couple down the street. Why not?



What's more Shameless than a panicked Frank punching a 8 year old girl in the face? Not much I'll tell you. Frank's, aka the scout master, peril was hilarious as the show continued to show the highly stereotypical side of Canada. After being arrested on the trail to cheap meds by two Mounties, Frank and his side kick are saved by the moose. Let's just pretend that hitting a moose wouldn't have completely destroyed the truck. These beasts are HUGE! Handcuffed with a man whose name isn't Mohamad, Frank tries to get back to the US of A while not Mohamad wants to get to the Promised Land. After punching a kid, falling down a horse and stealing from a man who was asleep, Frank finds his way back to the land of Costcos. And he's back to running away from people he owes money to. What were the odds?



What did you think of the episode?


Ford? In or out?

How should Carl get out of his little predicament?

How much did you love Svetlana in this episode? Because it can't just be me.