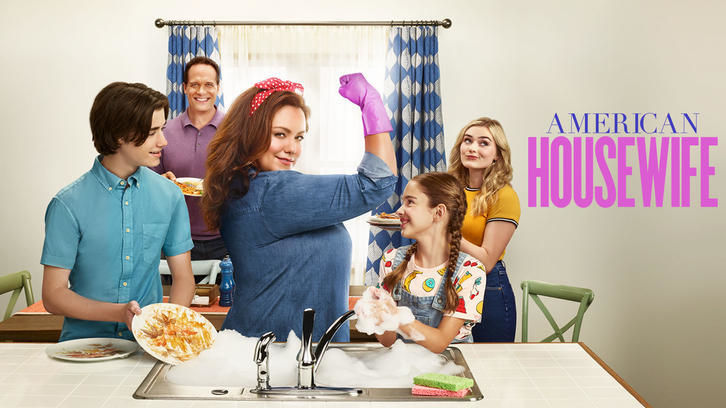 Unlike the rest of Westport, the Otto family actually has to worry about money, particularly this week, as Greg's book comes out and if it fails he might not get tenure. Professors who don't get tenure "end up substitute teachers moonlighting as hosts at the Cheesecake Factory." Not knowing how his book is going to do, Greg starts spiraling and picturing the worst. (And when he declares "If you're food, you get eaten," Anna-Kat gets the mistaken idea that this means he plans to eat Hans Gruber.)

To lift his spirits and stop him from freaking out, Katie has Angela and Doris leave positive reviews of his book on Amazon. This works, a little too well. Not only does a newly carefree Greg encourage Taylor to go out with a new boy they don't know anything about (much to Katie's horror), but he runs out and buys a new car!
Katie explains to Greg that, "We're not a new car family. We're not a new anything family. You know why our pillowcases are so soft. I bought them at the Peterson's yard-sale. That's right, we sleep on dead people sheets!" As Katie and Greg argue about the car, Taylor arrives with her new boyfriend, who, it turns out, is a complete idiot. ("My parents promised to buy the car if I got straight Cs!") And in Greg's wave of over-confidence, he decides he likes the guy because he has a red sports car! In Angela's words, "Bright-side, Taylor gets to be the smart one in the relationship."
Greg's publisher calls and Katie prepares to console him about his books not actually selling. (They're gonna play "General Washington comes home from the War.") When Greg gets off the phone, Katie gets the shock of her life. His book has actually sold out!
When Katie goes to the garage "to sit in the new Camry and enjoy that there are no sticky pennies stuck in the cup holder," Hans Gruber escapes and runs off. (Anna-Kat has been teaching him to hide to avoid being eaten.) As Katie chases Hans Gruber, he ends up running into Spencer's garage, where Katie finds another surprise.
In Spencer's garage is all of Greg's sold out books. After Oliver decided to do his school project about a successful person he knows on Spencer instead of his dad, Spencer went online to by a few dozen of his books so Oliver would admire his dad. Since's Spencer's been behind bars for the past 20 years, he's unfamiliar with online shopping. ("Have you seen this Amazon.com thing?") And because he's banned from trading stocks, buying a crap ton of Greg's book and watching it climb up the sales ranking is as close to his criminal good old days as he can get, thus he ends up buying them all. (Not to worry, Spencer's decided he's going to use all the books to "disappoint trick or treaters for the next ten or so years.")
Katie goes home to break the news to Greg but instead finds Oliver showing him the report about how much he admires his dad. This changes her mind, and she decides to keep Spencer's secret to herself. Later that night, Greg admits he knows the truth and apologizes for letting his supposed success get to his head. He wanted to do a book tour, and when his publisher went to track which cities had the best sales, he discovered that Spencer bought all the books. Thankfully, the university only knows that Greg's book sold out, not that it sold out to one person, thereby assuring him tenure.
Random Thoughts:
-Why am I not at all surprised that Greg's day was made when he thought he saw Bill Nye at the farmer's market?
-Doris flipping off Greg was hilarious.
-Hans Gruber sleeps with a lavender night mask? I love it!
-The scene of the kids all piling out the window was great.
-Best line goes to Katie "We're here. Time for you to bother other grown-ups. Love you!"
-"Yeah, she doesn't need school. Let her embrace her future. Take her to the nearest Lancome counter." Oliver, you're really mean to your sister, but you're also hilarious.
Do you think Greg's book will actually sell? Will Trip aka Mr. Straight Cs stick around to continually horrify Katie? Let me know below!