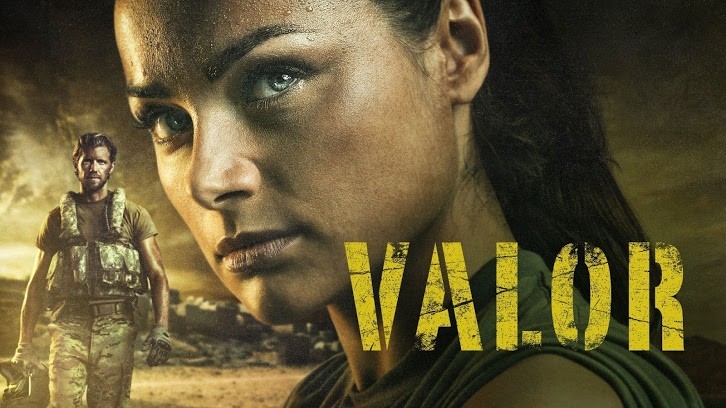 Considering current buzz I would say that Valor is the most underrated show on air considering it's solid quality. Even though the show is a bit wooden in its storytelling and acting, it still carries out the story well and keeps me engaged in what is about to come.

I Got You Six

The episode directed by Ruba Nadda was written by Celine Geiger, whose previous credits include 2 The Vampire Diaries episodes, brought my favorite bromance to an end and brought Nora's situation to a boiling point, which eventually boiled over.

First and foremost REST IN PEACE Sgt Hendrix. Mac Brandt being listed as recurring throughout was a sign for me not to get comfortable with him being around. Sadly he passed away and left a big hole in my heart. The exit wasn't dramatic but very emotional and heartbreaking. The escape attempt was ill-fated from the get-go as Hendrix apparently broke his rips while jumping off the truck that was carrying them to the new location. Jimmy saying the prayer for Crank was a beautiful end to their story. Will miss the two of them on my screen.

The only faulty part of this story was them stopping by that house. They are on the run and despite the intention to show that there are more than drug lords in Somalia it just felt out of place.


I like how the show accepts to deal with their storylines and doesn't just brush over them. They do handle them swiftly but they still use their stories well. In this episode the exploited the consequences of Nora sharing her pain pills with the wounded soldier. It put a lot of tension between Nora and Leland and gave the actors a lot of space to shine. But how long do we have to see them handle trust issues? It really gets tired to bring it up every once and a while.
Giving Leland's pov focus¨¨during this episode was a nice change and showed how much consequences Nora's actions and his loyalty could have on him. Him being that pushy and cocky shows just how much he cares cause he is the type that otherwise wouldn't bother.
Leland seeking advice from Jess was another great moment. Corbin Reed is killing it as Jess, she gives the show so much humanity considering how abstract that military live looks to us from the side. Still, Jess wasn't there to comfort Leland in this episode. She decided it is time to enter the major league and play the game the best she knows. As her attempt to put pressure on the government via Ian's mother failed she decided to go the dark route and start leaking classified information.
Ian seemed slightly more useful this week as he went on a solo mission on his own in an attempt to discover Kam and Hendrix location. Charlie Barnett is a lot better than the material he gets during his current Valor run. Hope they find some time and space to let him shine more during the remaining episodes. I do love seeing him interact with his pushy Mom. I feel like she has his nuts on a leash and just waits for an opportunity to parade him around. She obviously loves him but her obsessive need to push him to be there where he can help her as well.
Nora eventually sharing everything with Ian was a beautiful scene. And while I'm all for the hot Nora-Leland sex we all are waiting for, Ian's commitment to her and vica versa is really strong. They are really trying to demonstrate the struggles of their relationship, it would've been more convincing if I was feeling some strong chemistry between them.
P.S. Christina Ochoa looked so fine at the Fundraiser ball. Breathtaking.
Blurred Lines
Episode 7 of Valor's freshman season was written by Army veteran April Fitzsimmons and directed by Mark Haber. The episode overall was a great outing filled with a strong rescue mission and some nasty mind games, and I do love those.
Jess didn't back down from her intention to leak the information which put some pressure on all of our other players. With the news out, people started questioning the efficiency of the Shadow Raiders. Again I have to give kudos to Corbin, her reaction to this whole situation feels so real and still creates some emotional attachment between me and the show. Her feeling the consequences of the leak on her skin was a smart move from the writers and I love how quickly it escalated. Nora discovering Jess secret was probably the best scene of the entire show. It turned the tables and put a lot of pressure on Nora who was pushed into another major moral dilemma, just as she was surviving her addiction. I really hope they didn't just forget about that one.
The team finding Hendrix body instead of Jimmy was a clear shocker. Really didn't expect it. I've got goosebumps and teary during the "funeral" scene. It was really gripping, very well shot and a decent performance by all actors involved.
Sebastian Roche appearing in this episode was another very welcome surprise. The cat and mouse game between his character, Orson Lavoy and Thea and Ian was very enjoyable. Ian being so PG13 was really funny as Thea made him look like a toddler with all his safe options. I liked how they introduced some backstory on Ian and that his reluctance towards torture wasn't just because he is a too good guy.
And while I loved Thea and Leland bonding, I wasn't pleased with the decision to make them hook up. It is so CW-ish and unnecessary they had great fun just being the two of them. Why did they need to hook up? Yes they are hot and it was hot but really didn't do anything for the story. Leland going down a substance abuse story just after Nora wrapped her is unnecessary. It just seemed out of nowhere considering how after all that time they've spent creating his strong character. The good believable part was using Ian for this situation to escalate as the tension between them is obvious ever since the pilot.
Thea going full force painful interrogation was surprisingly convincing. Her screaming at Orson and the whole set up worked very well. And after stating a couple of times that Melissa isn't convincing me in this "tough" CIA agent role, she certainly convinced me this. I was glad to see Ian do it his way and succeeding but it was way too easy. The story coming full circle with Goundry working for Khalid was a nice twist and I can't wait to see how they will explain this whole story. Nora's face after Ian told her that they are going after Goundry was priceless.
So what are your thoughts on the show so far and the previous two episodes. Leave your impressions in the comment section down below and don't forget to tune in Monday 9pm Central.