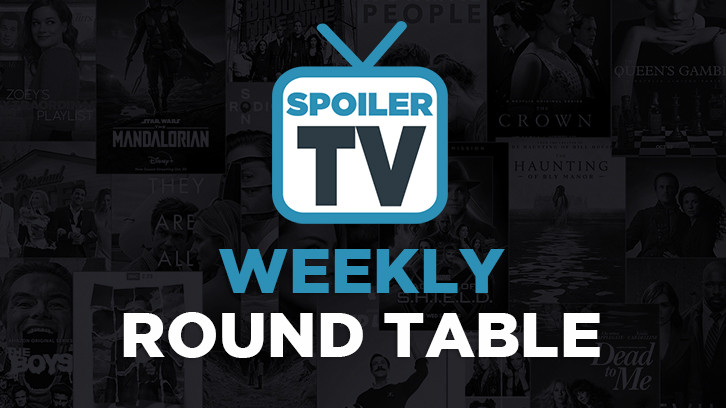 Hello everyone and welcome to a new edition of STV's Weekly Round Table. This week I'm(MK) joined by Milo (MI), Samantha (SB), Shal (KG), Laura Markus (LS), Laura B (DL), Lisa (LM) and SpoilerTV's newbie Katherine Meusey (KM). As always sit back, enjoy the read and share your thoughts in the comment section below. Just sit back, enjoy the read and feel free to join the discussion in the comment section down below.

1.Netflix grabbed itself a Witch. The streaming service gave out a straight to series order for the Riverdale Spin-off, The Chilling Adventures of Sabrina (working title), snubbing the show right in front of The CW's nose. What are your thoughts on this turn of events? And what will this mean for the Sabrina series?


KM:
Given the articles I've read, it looks like the Sabrina showrunners want to explore a darker side of that world, with a horror and occult bent. Given this, I think Netflix is a better fit. They'll be able to push the boundaries more there than on a standard television channel like the CW.
MI:
I don't watch Riverdale but all the same, I'm kind of interested to see where Netflix takes Sabrina, Netflix and the CW have worked together closely in the past and there's still potential for plenty of crossovers. Netflix will probably give it a bigger budget than the CW as well as the ability to not be constrained by normal network habits. Hopefully, this leads to a better series, whilst still allowing for the crossover that fans of Riverdale would want.
SB:
I think this will turn out to be for the best. Regardless of the ins and outs of reasoning, The CW would've struggled to find a place for this show on their schedule next year. They're already struggling with all the shows they have! It's the first time I've seen this type of headline and actually been happy about it. The CW is good for what it does, but unfortunately, most of their shows are bogged down by romance, and storytelling sometimes takes a backseat. Not to mention their casting department on occasions leaves a lot to be desired & the shows can come across as cheap. Then there's the anxious wait every year for renewal & hoping a show that is in danger hasn't ended on a cliffhanger.
In theory, the 2 season order from Netflix should give the showrunners plenty of time to map out their storylines, and there shouldn't be too much filler. Netflix also tends to do pretty well casting wise, their visuals are quite good due to the ability to film on location instead of being predominantly confined to the studio. Netflix also tend to do well with their casting, directors, and cinematography, and not being constrained to Broadcast may allow for deeper story arcs.
KG:
I was shocked Netflix picked up Sabrina but I'm glad it turned out this way. I also don't watch Riverdale but I love witch shows *and* Sabrina Spellman. At least the show won't be constrained by CW's budget and ratings, and can get as dark as they want. That's pretty exciting, and I'm definitely looking forward to the show! I'll always hold a special place in my heart for the Melissa Joan Hart sitcom but I absolutely cannot wait for the new show. And the fact that we get two seasons right off the bat is amazing - at least they can pace themselves and not have filler or anything.
DL:
That was a pretty shocking move! I think it mean great things for the series, not being limited to CW's network and/or brand limitations. I liked part of what I saw of the first season of Riverdale, but thought it could of been so much more. This has the chance to be that IMO.
LM:
Netflix will be able to do a much better job - compare Stranger Things to Riverdale - 'nuff said? The will spend more money on production and writing and push the boundaries more than the CW would have time or scope for.
MK:
I'm quite thrilled to see this happen. I am sad for CW cause this certainly would be a decent rating performer but Netflix will certainly make this amazing, visually and story-wise I hope. I mean I'm very skeptic about this one. I mean this is the same writers behind Riverdale and that isn't that good. Is it cause of the broadcast limitations? I don't think so. But then again I have hope Netflix will let the go all out and delivers some spectacular s#it.
2.CBS gave out a straight to series order for SUMMER 2019. The show from the brains behind Limitless got a 13 episode order to air in about 18 months. Does planning so much ahead could provide better quality (longer post-production time) or is it just out of place.
MI:
Hopefully planning this far ahead of time will lead to better results. There should be no excuse for a poorly planned season with this news, and given how much I loved it, I'm certainly down for more shows from the Limitless showrunners. My only hope is that it lasts a bit longer...
SB:
I'm honestly really surprised by this. The show isn't my kind of thing at all, and I just can't work out why you give a series order for a show to start in 2 years. Maybe it's so they can get a cast, writers, and directors together, along with the post-production time of course. Maybe the show will surprise me and be a breakout hit, but I'm extremely dubious considering the Network. They have a hard enough time promoting their current roster, shows in development for consideration next fall doesn't exactly blow my mind, and there's always the worry that people will forget this show exists.
LS:
I don't know but I hate that these talented humans are stuck in CBS hell for eternity because their work deserves so much more than this trash network that clearly never gives a shit about them.
DL:
I'm pretty excited, because Limitless was such a rare treat being able to genre blend a crime dramedy sci-fi & a bit of action-adventure together, while also being a spin off from a pretty great film AND being a decent hybred of SOTW and serialized. CBS just tends to have crime-drama brands with very little sci-fi, fantasy, or thrillers and shows like this often don't do well on it. It's why Braindead didn't make it and Supergirl was moved. So even though I'm excited, I am worried about it--I would feel better if it was for ALL ACCESS---I'm not sure if this advanced planning is going to really help it.
LM:
Long lead times are fantastic for building quality. Look how far in advance movies or shows like Game of Thrones are scheduled. This is a smart move on CBS's part, and I think we'll see the entire industry moving to this kind of model. I've heard those in the know in Hollywood say that the days of "star power" are pretty much over. Consumers want quality storytelling more than their favorite stars, so studios will look more to that than jumping on the latest teen heartthrob - thank Heavens!
3.Fear The Walking Dead announced some strong casting additions for their upcoming 4th season. Can a good casting announcement bring you back to a show and encourage to catch up?
KM:
If the casting announcement relates to an actor or character I like, then I'm going to give it a look-see. I will even watch shows I consider awful for awhile if someone whose work I enjoy is in a reasonably large role. I'm interested to see how Fear the Walking Dead handles Morgan's appearance and integration into that world, and how Morgan reacts given how much his character has changed on The Walking Dead. I've never watched FTWD before, but I will now. I've also been keeping an eye on NCIS: Los Angeles for additional appearances of (former) Admiral A.J. Chegwidden, who starred in JAG and has appeared as Gibbs' attorney in a few episodes of NCIS. I love the character, though I'd lost him, and find I still enjoy him over a decade later.
MI:
Depends on the casting announcement. I have a list of a few actors I'll watch in anything, but if I've already tuned out of the show I'm less likely to dive back in and catch up.
SB:
I am impressed with some of the casting choices on fear The Walking Dead. Then I've been impressed ever since Alycia was first announced because she was brilliant on The 100. However, none of this will entice me to watch the show, simply because I don't watch anything horror related. And from what I've read, the castings seem to be a last-ditch attempt to save a flailing show.
LM:
See comment on #2. Taking Lennie James out of The Walking Dead - especially at this moment when they've introduced such a parallel story with Negan is just plain stupid. I love Lennie James and I love Morgan, but nothing will induce me to watch Fear the Walking Dead. The show has floundered since the beginning - mainly because all the characters were irritating! Imagine an entire cast of Loris and Andreas. Blerg. I watched the first season and a half. I gave it a shot and I won't go back... however, that said, I am a little intrigued that Scott Gimple is heading there to "help"....
4.The Midseason break is ahead of us, which shows/movies will keep you warm during the break? What is your must-see recommendation before 2018?
MI:
I have a lot on my plate to watch over the Holidays. Obviously, I plan on re-watching the best Christmas movie ever, Die Hard, during the winter period. Barnes and Noble recently did a sale of Criterion films so I'll be watching most of what arrived in November (I have Rebecca, Jabberwocky, The Philadelphia Story, La Dolce Vita, Barry Lyndon and Tokyo Story all to watch), as well as others in my collection that I haven't seen yet. TV-wise my main goals will be to catch up on Outlander, The Deuce, The Man in the High Castle (around 4ish episodes of each left) and Mr. Robot (I've heard good things about Season 3) as well as Twin Peaks Season 2 which I've been meaning to get around to for a while. Plus of course, there's a new Star Wars movie to look forward to this month! Recommendations wise, if you're looking for shows to watch over the Winter Break - I'm going to nominate Search Party, Peaky Blinders, Godless and The Exorcist as five shows you should definitely check out. There's not much catching up required and they're all must-see shows.
SB:
I have so many shows/movies on my watchlist from way back in the summer it's not even funny. I want to finally finish watching El Internado since I paused halfway through season 6. I wanna get the first season of El Ministero Del Tiempo watched. May Netflix be successful in tempting me back to cable Girls with a pretty trailer accompanied by nice music? Possibly. Also need to get through Good Behavior's 2nd season, finish the first season of Beyond, I've just recently started watching Schitt's Creek which is fabulous. Then there's The Bold Type which has been sitting on my computer for months, I watched the first 2 episodes of Absentia and that is really intriguing. I need to catch up on Speechless, Kevin (Probably) Saves The World, The Gifted, Criminal Minds, The Good Doctor and The Orville. I've also got Glitch, Alias Grace, Mindhunter, Crazy Ex-Girlfriend, Dirk Gently, ASOUE, Glow, Bo Jack, Trollhunters, Queen Of The South & Inbobernable to start. And Jessica Jones, Santa Clarita Diet to finish watching. On the movies front I want to watch Brooklyn, Girls Trip, The Hitman's Bodyguard, Off Course The Incredibles and a bunch of other stuff. And before anyone points out there's not enough hours in the day, plus Christmas break is not that long, I'm leaving University in 2 weeks and have a 9 month break before I join a new one so this list is theoretically achievable. If you're not already watching The Goldbergs then you're missing out because the show may have its bad patches, but it never stops being funny and of course start watching Runaways. Finally, if the Daily Discussion thread hasn't already tempted you into sampling some Spanish shows, let me use this here to further convince you. Yes they are all stupidly long. No you don't get answers right away. But what you do get is stunning scenery, great storytelling and your eyes opened to actors such as Luz Valdenebro, Yon Gonzalez & Blanca
LS:
Before 2018, you have to watch
Brooklyn Nine-Nine
. I don't care how you do it or why you've been hesitant in the past, now is the time to watch it. After FOX will put the show in hell-atus for god knows how long, there has never been a time than now to join the 99th precinct on their hijinks and worlds of fun. This is the one show that is the single most consistent program of all time. They have never made a bad episode. Each episode is crafted with so much love and talent that every moment feels like you're being transcended to a realm of pure happiness, even they're talking about serious issues like police brutality, women's rights, and the prison system. You have to watch this show. You just have to. Please watch it. We need you.
It
needs you.
KG:
I'm looking forward to the second season of *Trollhunters*, 3B of *Fuller House*, and season two of *The Crown* this month. Plus, I absolutely cannot wait for *The Last Jedi*. I've been excited about this movie ever since The Force Awakens. It's definitely going to be amazing. As always, I'll be getting several movies for Christmas and will end up enjoying them before my shows start coming back in 2018.
DL:
I've gotten a bit behind so there are a few things I'm looking forward to catching up on or continuing with. Frontier, Dark, Mr. Robot, The Crown, finishing a rewatch of The Good Wife, & The Last Jedi are some things I'm really looking forward too!
LM:
I'm just trying to clear my pvr/dvr!!! I am looking forward to seeing the Shape of Water and am seeing Three Billboards tonight!
MK:
I hope to finish my SPN binge over the holidays but also to watch some 2017 movie highlights and The Marvelous Mrs. Maisel awaits. As for shows if you haven't seen Good Behavior, You Me Her and This Is Us you should do it right away.
That is a wrap from us here, it is your turn now. The commment section is your vessel so feel free to use it and share your opinion with us. Looking forward to reading them, till next week.