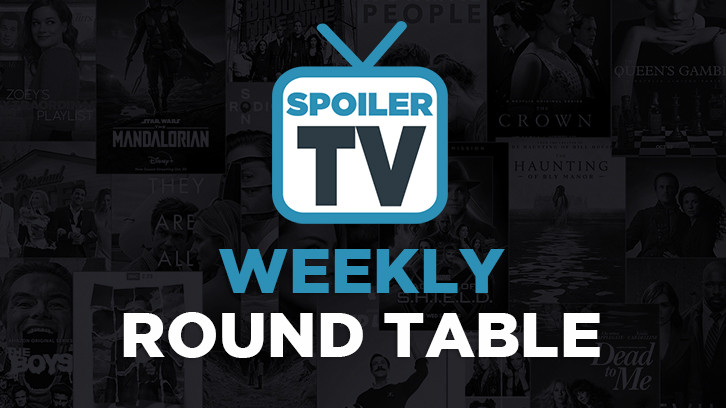 Another week another WRT we prepped for you guys. This week I'm (MK) joined by Samantha (SB), Milo (MI) and STV newbies Beth (BW)
and Claire (CS). Enjoy the read and join the discussion in the comment section down below.

1. CW delivered another scheduling surprise and benched SG for spring after a short winter run. Was this to be expected with Showrunner AK fired and will this hurt both Supergirl and Legends of Tomorrow.


SB:
I don't think the situation with Andrew Kreisberg has anything to do with this. There is already speculation that maybe the production could benefit from some time off to get caught up/adjust in the wake of recent events, but I honestly don't buy that. Most fall show writers rooms are probably making their way through the second half of the season. Filming will still be rolling until whenever the break for the holidays is. The show is still returning in January for just under a month. If the break really was so they could make changes in light of his departure, I don't think they're changes that can be made over a months Christmas break especially if they're to make sense. The show would need to come back at least a month or 2 later and it's not. Plus given the news on Kevin Spacey's departure from House of Cards and production being halted so the writers could rework the season in light of that, am I really supposed to believe The CW would be able to keep the true reason of the scheduling quiet? Nope. The scheduling just reaks of The CW's incompetency. It was said back during upfronts that they had too many shows on their schedule & not enough room to air them all so there'd need to be quite a few cancellations to fit in the renewals & new shows. That didn't happen and this is what you end up with.
It reminds me of back in the day when The CW had just been created, and they pulled a similar stunt with One Tree Hill and an American Next Top Model spin-off. There were rumors for weeks that One Tree Hill was going to get shafted to make way, but The CW refused to say anything and I don't believe the cast or crew knew either. Then after 4.15 which ended on a brutal cliffhanger, the show went on hiatus for 3 months and the last 6 episodes aired from May through till June. It was completely stupid, One Tree Hill lost a lot of momentum and I see the same thing happening to Supergirl and Legends of Tomorrow. Casual fans are not going to be keeping up to date with which show is on which week. Those on the Internet may know, but even then it's still hard to keep track of and I'll be extremely surprised if both shows don't end up with record low viewing figures by the time the season's end.
BW:
Honestly, I had not thought about the situation with AK when I saw this news. What I thought was that The CW had too many shows, and not enough slots so some of the DC shows will have to take a hit. I am happy LOT will come back in February and think it has a stable base but worry about how this will hit SG. This is also a catch 22 because I am a fan of two shows that we are waiting with bated breath for premiere dates, The Originals and The 100. So my other thought was maybe one of these will benefit from this 'creative scheduling'. But I quickly crashed back to reality and realized that their other new midseason show, Life Sentence needed a slot and tag teaming Legends and Supergirl probably was the quick fix to free up Valor's spot when it ends its one and done. Either way, it is a blessing and a curse that the CW is so generous with renewals because we as fans must be patient with their schedules.
MK:
It is a messy situation and raises up so many question marks why and how the future will look for both shows. The "Era" of Superhero shows is slowly coming to an end on broadcast and it obviously shows. Is this AK related? Maybe but overall this is very sad cause Supergirl surprisingly found it's groove. A 4th season is guaranteed for both show but how many eps and how many seasons after this is quite a mystery at this point.
2. Big Little Lies officially scored the 2nd season. Does money trump the notion of Limited series or is this second season something necessary?
SB:
I don't really have a horse in this race, but I very much think the decision to bring it back is about the money and accolades. When season 1 first finished they were all very keen to stress it was a one and done, which many were happy about. Then of course with the awards and the constant speculation, the mood started to change and now we've got a confirmed season 2. They'll be a lot of pressure to maintain the same quality of season 1 and not look as those they're continuing for the sake of the accolade and for the show's fans, I hope it is a success. From my own personal point of view, I've already read 4737594395 articles on this show, which will only get worse now that season 2 has been confirmed and I'm not looking forward to it.