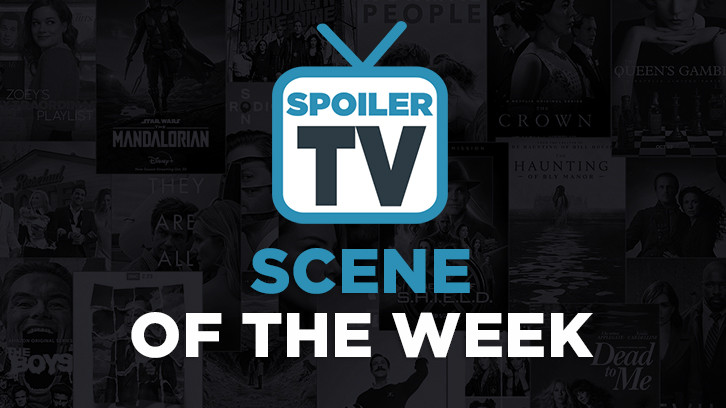 A weekly feature in which we're trying to find the most compelling, best acted, written, directed and just generally great, memorable scenes that we've seen in past seven days on TV.

BLACK MIRROR, "Crocodile", December 29, 2017, Actors: Andrea Riseborough and more
The Scene: The hamster reveal
Marko: The reveal that the hamster saw it all and can be used as a witness. Also picked by Claire

CALL THE MIDWIFE, "Christmas Special", December 25, 2017, Actors: Jenny Agutter, Anita Dobson, The Scene: Sister Julienne tells an elderly woman about her husband's death
Claire: Sister Julienne has to tell an elderly woman that her husband has passed away. The Sister believes Mabel will be a typical grieving widow, but a tale unfolds of a lifetime of physical, mental and sexual abuse. The scene is so beautifully acted by Jenny Agutter and Anita Dobson. When Mabel walks unsteadily to a mantel of pictures and gently turns her wedding picture to face down; that one gesture says everything. You can feel the pure relief. And also the grief over the lost time with her beloved children and all of the regret.

DOCTOR WHO, "Twice Upon a Time", December 25, 2017, Actors: Peter Capaldi, Pearl Mackie, Jenna Coleman, The Scene: Bill's final gift for the Doctor
Justyna: As hard as it's been to say goodbye to the Twelfth Doctor, I was really glad to see that he got to share one final moment with Clara, Bill and later even Nardole. It was a very brief part of this wonderful hour but it was heartfelt and very memorable. Not only Bill gets to be there by Doctor's side and support him through this long regeneration, but she also shows him the true power of the memories by restoring those he lost of Clara. Though the Doctor has been through so much pain and heartbreak, I always felt that the memory loss was one of the hardest goodbyes he ever went through. The ending of Donna's travels with Tenth Doctor still seems deeply sad for me and Twelfth Doctor losing Clara, in both presence and memory, is at least made better when their story is finally returned to him. Peter Capaldi and the rest of the cast did a brilliant job in this Christmas special and I will miss the Twelfth Doctor very much. His last season especially was one of the best and it's incredibly hard to say goodbye. So instead, thank you. And best of luck to the new Doctor. Can't wait to see where we're going next.
DJRiter: Bill kisses the Doctor on the cheek and gives him a final gift, she's restored his memories of Clara which leads to a wonderful scene between Capaldi and Coleman where the Doctor and Clara get to say their final goodbyes and finally get closure. In a heartrending episode, it was the scene that brought me to tears. Didn't realize how much I'd missed these two together until seeing them on screen together again.

FULLER HOUSE, "Here Comes the Sun", December 22, 2017, Actors: Andrea Barber, Jodie Sweetin, Adam Hagenbuch and more, The Scene: Kimmy announces to the group that she's pregnant
Klutzy girl: Kimmy announces to the group that she's pregnant with Stephanie and Jimmy's baby. I'm so glad she decided to be their surrogate, and I'm so excited to see what happens next season with this storyline. But Stephanie and Jimmy's reactions were fantastic, and the latter was definitely in tears. And then, Danny told Kimmy that they had always been family, which made it even better. I loved everything about it!

RUNAWAYS, "Tsunami", December 26, 2017, Actors: Brittany Ishibashi, James Yaegashi and more, The Scene: Tina destroys the pod
Justyna: This one took me by surprise. There's a lot of cruelty in PRIDE actions. Sacrificing one of their own as a punishment is not exactly something that would change one's mind about them. Nothing really can. Still, I fully expected Robert to die the moment he made the decision to give his life for Janet's. His speech about losing his daughter and the things parents do for their children was unexpectedly emotional and well done. But it's Tina who actually ended up making the biggest impression on me in that moment. She and her husband were clearly not in good place, he hurt her and pretty much left her behind. She's also generally known for her cold decisions and actions, yet she makes a different choice this time. She destroys the pod and not only saves her husband but stops the sacrifice alltogether. The shared look between Tina and Robert, their quiet understanding and interactions in that moment, truly said a lot. For a moment, their story felt different and they made me care about what's going to happen next. Kudos to the cast & crew for their work on the episode and this scene especially.