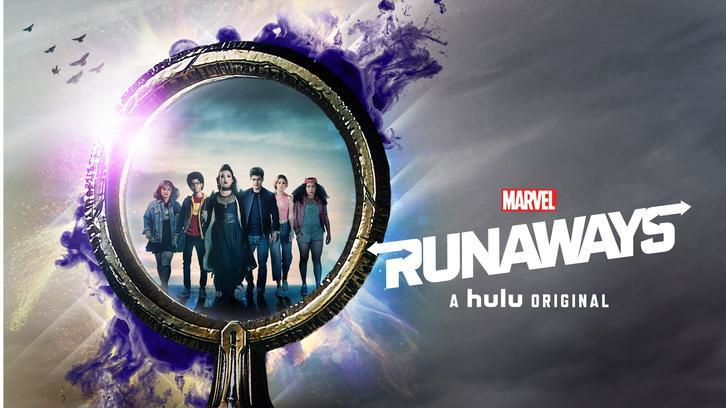 If you haven't seen the episode yet, this is as usual, a spoiler heavy review! If you want a spoiler-free preview, check out Samantha's great coverage of Refraction here.

Runaways 1.07 "Refraction" - Review:
Directed by Peter Hoar & Quinton Peeples


The most interesting parts of
Refraction
, an episode helmed by Marvel Cinematic Universe regulars Peter Hoare (
The Defenders, Iron Fist, Daredevil
and Quinton Peeples (
Iron Fist, Inhumans
) happened towards the end, in an otherwise middle of the road episode that was largely unremarkable aside from a few scenes - most of the drama concerning Molly and the cliffhanger ending, which once again made the fact that this show airs as a weekly series all the more frustrating especially when Hulu have the ability to drop entire series at once if they wanted to. We've had potential gamechanger moments at the end of episodes before turn out to be nothing more than incidents that resolve themselves in the next chapter without shaking up the status quo too much, but hopefully something is about to change for
Runaways
, pushing the show into the second half of the season.
The flashbacks have always felt like a different show in the past but the one that opened
Runaways
here served as an interesting beginning for a Victor-centric episode. The character's first meeting with Janet took us back to a college lecture where we got to see just how different he was back then, using the possibility of time travel to interact with her. We then get to see Chase sending Victor a message from the future warning him not to use the fistigons, but given Victor's current state at the start of the episode, the kind and friendly Victor, that's not likely to happen at least immediately. The two different versions of Victor that we've been presented here makes me wonder if we're looking at some kind of Dr. Jekyll and Mr. Hyde scenario - or closer to home, a Bruce Banner and the Hulk scenario. Chase knows about the affair that Janet is having with Robert too, but and it's her that he's directing his anger towards.
The affair between Robert and Janet is affecting Nico as much as it's affecting Chase. Nico is initially supportive of Robert and wants him to ask for Tina's forgiveness, but is less keen when Robert doesn't want to continue being with Tina. It's different altogether from Janet who's willing to break things off with Robert now that she's seen that Victor is changing back to who he was, or at least until Victor flips at the end of the episode, whilst Leslie is doing her best to keep everyone together with middling results. One of the real strengths of the show has been fleshing out the complex relationships of the parents, and it's meant that as a result despite these characters being essentially the bad guys, we are getting a good understanding of who they are and what they do. The fact that there are different levels of commitment in the parents and not everyone follows the same line has helped make them feel more human rather than embrace cartoonish villany. The show simply wouldn't work as well as it has been if it followed the more traditional black and white approach to its antagonists that the Marvel Cinematic Universe has used in the past.
The episode spent a bit more time with Molly in some of its more powerful storylines of the episode, giving her some needed spotlight as she's been among the more underutilised members of the teen cast so far in what proved to become a crucial hour for her. We saw her become ostracized from the group when she tells them that unintentionally revealed to Catherine that she'd seen them pull off their ritual, and the kids end up turning their back on her for letting slip something that could put them all in danger. Molly decides to join the dance team but doesn't have much luck there either, with the position of team manager turning out to be little more than just a glorified title and ends up cleaning towels. Karolina is quick to confront her and reassure Molly that they're still friends, and she hasn't ruined everything. However, things aren't looking too great for Molly as Geoffrey and Catherine tell Dale and Stacy that something must be done about her due to her knowledge of the Pride's activities. They try to bring up the idea of Molly being sent away, but when you have a kid who's super strong getting her to do something against her will is going to be ten times harder than getting a regular kid to do something that they don't want to do - but Gert is able to step in before things get ugly, and it's only thanks to her that she is able to convince Molly that yes, she it's time for her to go as the rest of the team needs protecting, and she'll always be her sister no matter what happens.
The weak link of the episode for me was the love triangle between Jonah, Leslie and Frank.
Runaways
has plenty of love triangles already and the last thing it really needs is another one. Frank has been one of the dullest members of the adult cast for a while and it's easy to see why he's been kept to the side for the most part up until recently. Frank uses his healing gloves given to him by Jonah to heal a dying old man, something that causes great concern with Leslie, as news risks getting out, but it's what Frank wants. Jonah is interrogated by Leslie about why he gave her the healing gloves and Jonah is quick to say that they couldn't care less about the Church and that Pride to them is the only thing that is important. Frank isn't part of this new version of Pride that Jonah is keen to get back together, but that hasn't stopped him from doing a side investigation of his own, and with the help of an eighth-grade photograph of Leslie, works out that Jonah hasn't changed a bit. As if the show didn't need anymore questions, it decides to throw us another thing to ponder over - at least, until Frank confronts Leslie and we're told that Jonah is the being that proves her father's religion - essentially, as close as it gets to being their version of God. To make matters worse for Frank, Leslie is ashamed of their relationship that the two shared, something that Frank knew but is devastated to hear in person.
The gradual building of tension to the episode's climax was effective when we saw Victor confront the lacrosse coach, demanding that Chase be let back on the team. He spirals out of control towards the end - ending up lashing out on Chase in the lab, revealing that working with him was all a ruse in order to get what he wanted out of Chase. The shooting is clearly not fatal - or at least it shouldn't be - it's through the shoulder, which should be fixable - and killing off someone as talented as James Masters here would be a really bad decision. This was certainly an unpredictable and interesting way to end the episode on, and hopefully we finally get to see that gamechanger shakeup to the plot that propels the series to the next level sooner rather than later.
Did anyone else notice that the dialogue was weaker this episode than it had been in previous episodes of
Runaways
? It wasn't too jarring but I hope this isn't a trend that continues going forward. The back and forth exchanges were almost too fine tuned, and didn't feel like natural human dialogue at times. But maybe that was just me. I'd say
Refraction
was probably the weakest episode of the series so far - it's also important to quickly mention the rather frustrating element of opting to leave how Alex knew Tina's password until a later date when he was confronted by Nico - but it still has enough to remain enjoyable, and even in an episode that's not as interesting as those that came before it.