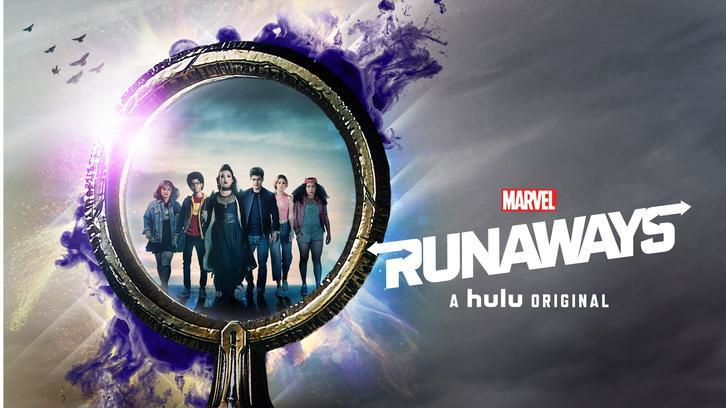 As usual, this is a spoiler-heavy review of Runaways. Haven't seen the episode yet? Want a spoiler free preview? Check out the excellent write-up by Samantha here.

Runaways 1.06 "Metamorphosis" - Review:


Runaways
shouldn't work. There's plenty of stuff going on like time travel and pet dinosaurs to take into consideration as well as family drama between the parents and the kids that's enough to take up a whole show on its own. And then there's an evil cult to take into consideration as well, with lots of different storylines packed into one episode. It's a miracle that the show works so smoothly as it does, balancing all the characters nicely and allowing them to shine with great results. The decision to spend most of the episode at a fundraiser for the Church this episode was a welcome one, bringing all the main characters under one roof for an exciting hour of events.
The episode itself largely focused about reintroducing Jonah back to the scene after the final sacrifice restored him from his previous state. Jonah himself spends much of the episode trying to reintegrate himself into the Cult which is problematic considering the nature of Frank and Leslie's relationship, and the fact that Karolina doesn't even recognise Jonah. Jonah couldn't have picked a worse time to get involved again at the fundraiser too, because Leslie knows that if he tries to stir up a fuss it will reflect badly on the whole organization, especially with multiple celebrities in attendance including a Kardashian, noticed by both Molly and Gert.
In this case, Victor overhears about the affair whilst spying on a conversation between Janet and Robert. Janet is finding it harder to leave Victor now that he's seemingly become a nicer person, but Robert isn't willing to risk her safety and decides to hand her a gun just in case. Janet says that it's a bit extreme, but they both know that Victor's capable of. This is a good time to bring up Chekhov's Gun, the trope where if a gun is seen it must be fired further the line. The question remains - who will do the firing? What will be the after effects of this decision? We'll have to wait and see. Regardless, The main focus of this episode for the teens at least was essentially using the gala as cover to try and steal the video file from Wizard's servers. Gert tries to distract the security guard by asking him what he's reading, it turns out to be Franz Kafka's
Metamorphosis
, and Alex and Nico make their way into the server room. Unfortunately they're no Danny Ocean but they decide to come up with a new plan that involves sneaking up to Tina's office to use her desktop computer. Nico accesses it, allowing Alex to do what he does best.
And then to make matters worse, Victor, suffering from a headache, reveals the truth about Janet and Robert to the entire audience, creating a scene in the worst way possible. He ends up passing out on the spot and Chase reveals to Leslie that he has brain tumour. Leslie decides that they need Victor as the Pride is fracturing around them (Flashbacks to the Pride's first meeting where we got a glimpse of Molly's parents revealed that it wasn't exactly an organization free of infighting then). Jonah has the ability to cure cancer it seems, prompting Chase to be forced out of the room against his own will so he doesn't discover Jonah's powers. It's something that seems to work as Victor is cured, but not before Tina ends up breaking down in her office about the revelation of the affair, something that both Alex and Nico are there to witness.
Molly meanwhile ends up slipping up to Catherine when Catherine talks to her, saying that she didn't see a thing, which is a very bad thing to say in those circumstances. Stacey shows up in the nick of time to take her home saving from Catherine interrogating her further. So far Molly is the only one who Catherine knows was present at the meeting and doesn't know that the whole group was there, and she also doesn't know how much of the event Molly saw. This creates an interesting cliffhanger as we're not quite sure what she'll do next, and as usual with Hulu, the wait for the next episode just became all the more unbearable.
Metamorphosis
was an improvement over the previous episode -
Kingdom
- even if the soap opera elements did drag it down in places, the heist drama was there to make up for it. With only four episodes left until the end of the season it remains to be seen where the show will go from here.
It's also worth mentioning the recent news concerning the Fox/Disney sale and I wonder if this will have any repercussions on
Runaways
. Obviously that won't affect this season, but looking forward, will this mean that the show will be able to work in mutants? It will give it more connection to its source material, but given how far away
Runaways
has stayed from the rest of the Marvel Cinematic Universe so far it remains unlikely that we're going to get the X-Men cropping up anytime soon. On a side note - I loved the choice of LCD Soundsystem's
Oh Baby
in this episode!
American Dream
is one of my favourite albums of the year and it was chosen really well as a backdrop to the spy sequence. More LCD Soundsystem please,
Runaways
!
What did you think of Metamorphosis? Let me know in the comments below and be sure to check out Refraction, the next episode, which airs next Tuesday on Hulu.