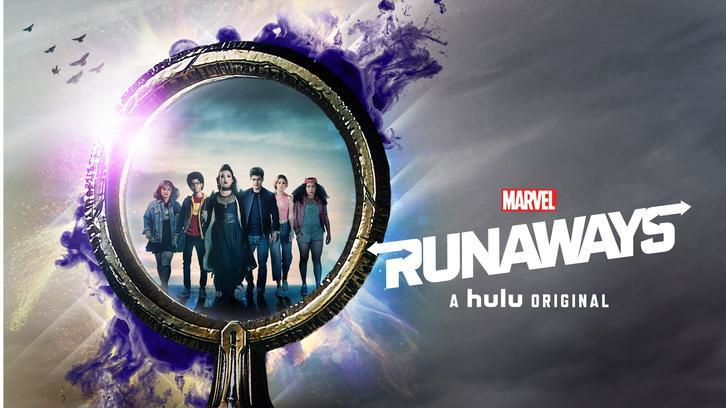 At the end of last week's episode came the reveal that Jonah is the flaky man and he wants to see Karolina, which Leslie wasn't exactly thrilled with. You can read more about that in Milo's excellent review here. You are as always free to ask questions which I will try my best to answer.


In the present Frank Dean is the centre of some storylines, both knowingly and unknowingly. He also gets more screen time than in the previous four episodes combined. We also get to see a different side to Leslie with Jonah now on the scene, as he very much begins to make his mark. Where James Marsters is brilliant at playing characters who blur the lines between good and evil, Julian McMahon is brilliant at playing the bad guy who is more than he appears to be.
Nico isn't the only one bonding with her parent this week, as Karolina gets some one on one time with Frank whilst going through a picture book. She takes that opportunity to quiz him on her grandfather and Pride. It's a conversation that leaves them both with food for thought, and plays into some of the other action happening this week. Chase and Victor also continue their recent bonding, which leads into another scene where it becomes clear Victor is very much aware of things going on.
It leads to one of them being questioned on their feelings, and it's a scene pulled off brilliantly by the actors involved. Unfortunately our Runaway doesn't take too kindly to being confronted. They venture off by themselves to drown in alcohol, and a moment happens between two Runaways in the aftermath of a scary moment that is reminiscent of a storyline involving Topher in Vol 1 of the comics.
The episodes centrepiece is the big fundraising party that the Runaways and their parents are attending. To say it's drama packed would probably be the understatement of the year. Storylines come to a head, others kick on into the next phase, seeds of suspicion are planted and a Runaway makes a massive slip-up that spells big trouble and will once again leave you cursing the wait for the next episode.
Metamorphosis is available to watch this Tuesday on Hulu and below are some dialogue teasers to tide you over.
"You're going to be doing things you don't want your neighbours to hear"
"I'll try not to be offended"
"She seems to have a lot of those"
"We're here"
"Do you mind if I steal your wife? Just for a moment"
"Fine enjoy, but just know you're not being honest over who you really like"
"I got lucky I guess"
"I messed up. Big time"