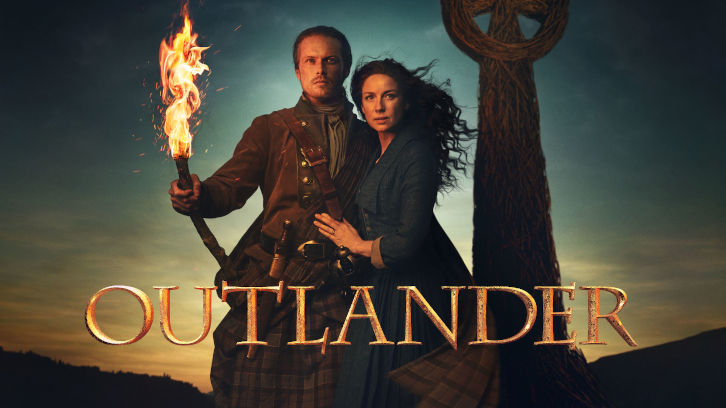 They did it! They got all that story told in 13 episodes. The finale tied up all of the story threads and set us up for season 4 (Drums of Autumn).

Jamie tasked Claire with finding Young Ian while he dealt with being arrested. She didn't waste any time. She changed clothes, left a note for Fergus telling him Jamie had been arrested, and headed for the Abernathy Estate.


When she condemns Ian for lying about why he went after the stones, Ian rather hilariously accuses Gellis of not paying attention. I think the truth serum may have still been in his system, because he doesn't mince words when he tells her to stop her blathering.
Claire started her search in the slave quarters and had a bit of a start when she sees a white boy's body under some hay. It turns out to be the two boys Ian was imprisoned with before he was brought to the Gellis' estate. It would appear that Ian is indeed lucky to still be alive.
When Claire is brought before her, Gellis attacks her for this perceived betrayal. She's convinced Claire has been out to get her for 20 some odd years. The idea that Claire, well anyone, could travel through the stones three times is enough to indicate every word Claire is saying is a lie.
To protect herself, Claire is forced to provide proof that she spent the last 20 years in the 20th century raising Brianna. She doesn't realize just yet that she's given Gellis her '200 year old baby'.
They soon learn that Gellis has taken Ian to a time portal on the island and take off to rescue Young Ian.
When they arrive, Gellis is finished with her preparations. She douses Ian with kerosene (or some other flammable liquid) and just has to light Ian on fire. Jamie and Claire, as usual, make a great team. While Jamie struggles with Hercules, Claire contends with Gellis nearly severing her neck completely.
The pool calls to Claire much as the stones in Craigh na Dun called to her. For a moment it seems as though she won't be able to stop herself from jumping in, but Jamie is there.
Ian, pragmatically, grabs up all of the gems Gellis spread on the ground in the patterns she believes is required for her to travel to the future.
I think I'll just go through some of my favorites scenes and moments. Please feel free to mention yours in the comments below.
The juxtaposition of the Africans dancing around a fire with the Wiccans dancing in the stones in the pilot was a beautiful way of tying this episode with the beginnings of the series. But it also illustrated the fact that humans are, at their core, the same all over the world. It was my favorite moment in the episode.
My favorite scene in the episode was John dressing down Lt. Leonard. That was just simply awesome. I think most of the book readers are aware of the short stories about John and Jamie's adventures prior to Claire's return. I was pleased that Jamie referenced these adventures when he thanked John for his help.
I'm so happy for Mr. Willoughby. It's really nice to know that he and Margaret will live happily ever after.
Margaret's reading for Jamie and Claire was beautiful and a little creepy. When she mentioned the rabbit, Jamie was more than slightly freaked out. I suppose that, despite knowing about time travel, Jamie didn't really believe Margaret was the real thing until she mentioned that rabbit. I loved the way Brianna spoke through Margaret.
The show has been really good about keeping some of the more romantic scenes from the book. We got the Turtle Soup scene, and this week we got the Funny Noises scene. It was sweet, sexy, and romantic. This show does some of the best 'love scenes' in film. I think because they are actually love scenes and not simply sex scenes.
I couldn't help but chuckle at the shaving part of the Funny Noises scene. Given Sam's hair color and skin tone his facial hair doesn't stand out on scene. Basically, I could barely see this beard he was being asked not to shave.
I was not really fond of opening the episode with the drowning sequence from the end. It just didn't work for me.
When Jamie pulled Claire up from the deep, my first question was 'did Claire teach him anything about mouth to mouth?' Hopefully, she will soon.
When the camera pulled back to show that they were in the eye of the hurricane, I worried that they were going to turn the end into a cliffhanger.
Happily they did not. Claire and Jamie came to on the shores of Georgia. And we weren't left wondering about anyone's fate. Mr. Willoughby is on his way to Martinique. Gellis got what she deserved. Fergus and Marsali are married. Young Ian is safely back with his family. All of the surviving crew of the Artemis made it safely to the Georgian Shores. Next season Claire and Jamie make a place in America.
Overall I really enjoyed this season of
Outlander
. The casting was spectacular. I can only think of one scene that I, in retrospect, wish they had not cut. That's the meeting between John Grey and Claire before she jumps off the Porpoise.
I'm looking forward to season 4. So, what were your favorite moments from the episode? What about from the season?