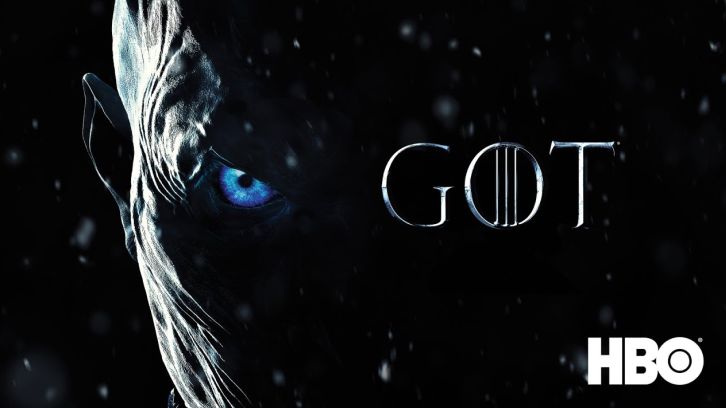 Are you looking for the perfect Holiday gift for a loved one? Maybe you need a treat for yourself? There's no better way to spend the holidays than re-watching season seven of
Game of Thrones
! The Blu-ray and DVD were just released on December 12 and as with previous season collections, it's stunning and packed with terrific special features.
I made no secret of how much I loved this season, and this collection gives you numerous ways to dive deeply into the story and the making of the series. Are you finding the series is getting difficult to follow, considering we are in the seventh season and there is a cast of thousands? Not to mention the often long wait between the seasons… and this collection will help keep you occupied during the long wait until season eight. Every episode in the collection has the option to turn on an "In-Episode Guide." These guides appear on a ribbon in the upper right corner of your screen. You can click on "Character," "Location," or "History." Each time a new character appears, their house and brief bio appears on the screen. Location is similar, appearing when the location changes.
The "History" options are more in-depth and often take you out of the episode. They provide background for the action on screen and often take you back to a previous episode. In "Dragonstone" (episode one on disc one), Jon talks about having to carry out the sentence that he makes, referring to his having to do it at Castle Black. The In-Episode Guide takes us all the way back to season one in "The Man Who Passes the Sentence" when Ned passed his own sentence on the deserter from Castle Black. It gives a lot of context to Jon's decision in "Dragonstone" to keep castles within Houses – against Sansa's wishes. My only criticism of this feature is that for "History" the icon glows to let you know there is something to click on, but you don't get a reminder for character or location.
Every episode also comes with at least one Audio Commentary and many of them have two! Audio commentaries always vary widely in content and honestly in whether they're worth listening to. Some degenerate into actors just being silly and some are very dry – neither of which happens here. In fact, my favorite audio commentary of any DVD may be the one on "Dragonstone" with director Jeremy Podeswa, Gwendoline Christie (Brienne), and John Bradley (Sam). We actually get a delightful mix of just a little silliness – they were clearly enjoying themselves – with a lot of really great insights into the production and the cast.
Christie and Bradley are seeing the episode for the first time – not unusual for these commentaries and busy actors. In this case, their excitement is catching and fun to hear. Christie also provides some really interesting insights into costuming and other elements. Podeswa gives lots of insights into how particular scenes are shot and blocked. In addition, they discuss the various actors, heaping praise on all of them, of course, but in a spontaneous, genuine way. Both really liked Pilou Asbaek's leather pants and commented on his channeling Keith Richards for a charismatic and crazy portrayal of Euron. I also loved how excited Christie is to see Daenerys come on the scene! It was particularly interesting that they commented on the song that Ed Sheeran sings – as well as commenting on how wonderful he was to work with. Podeswa says the song is about Jaime and Cersei, but the History tab says it's about Tyrion and Shae. The lyrics really lean toward Podeswa being right…
Now, in case you're wondering why they'd have two commentaries for the same episode, I can tell you that for "Stormborn" the two commentaries provide unique insights. You learn quite a lot on the second that doesn't come up in the first. One commentary is Gemma Whelan (Yara), Jacob Anderson (Grey Worm), and Nathalie Emmanuel (Missandei). They are hilarious, so if you like actors being a bit silly, you'll love this one – but they also provide lots of interesting information too! The second commentary is a lot more technical with Bryan Cogman (who wrote the episode), Prosthetics Supervisor Barrie Gower, Stunt Co-ordinator Rowley Irlam and Pilou Asbaek. My only real objection to the commentaries – and this is a general fault with all commentaries everywhere – is that you frequently can't tell who's speaking, especially if there are two people with similar voices.
"The Queen's Justice" features commentary by Executive Producer Bernadette Caulfield, Production Designer Deborah Riley and Costume Designer Michele Clapton. "The Spoils of War" also has two commentaries. The first features Director Matt Shakman, Director of Photography Rob McLachlan, Special Effects Supervisor Sam Conway and camera operator Chris Plevin. It's worth it to watch this one for all the amazing insights that Shakman provides. I felt a little bad for him as it was like pulling teeth to get the others to talk at all! However, Shakman gives nods so many of the sources he took inspiration from, like classic Westerns – wagon train in this episode remember!, Silence of the Lambs and Apocalypse Now. He also has lots to say about that magnificent sparring session between Arya and Brienne. The second commentary on this episode features Producer Chris Newman, Visual Effects Supervisor Joe Bauer and Visual Effects Producer Steve Kullback.
"Eastwatch" also has two commentaries. The first features insights from writer Dave Hill, director Matt Shakman, and Director of Photography Rob McLachlan. The second features Liam Cunningham (Davos) and Iain Glenn (Jorah). "Beyond the Wall" has one commentary with director Alan Taylor, Director of Photography Jonathan Freeman, and camera operators Sean Savage and David Morgan. Finally, "The Dragon and the Wolf" has two commentaries as well. The first features executive producers and writers Benioff and Weiss, Lena Headey (Cersei), and Kit Harington (Jon). The second features director Jeremy Podeswa and Director of Photography Greg Middleton. All great stuff!
There is a two part feature entitled "From Imagination to Reality: Inside the Art Department" which really helps to round out a lot of what's said in the commentaries. It's a very thorough look behind the scenes. The go through a lot of detail on how things are built – like Dragonstone, Highgarden, the ship – Silence, Winterfell, and Cersei's beautiful map floor. There are lots of terrific little Easter eggs in these!
The feature "Fire & Steel: Creating the Invasion of Westeros" is a really wide-ranging look at the season. There are comments from actors, effects artists, and directors. There's a really terrific through line analysis of the episodes. There's a really in-depth look at the tactics and strategies being employed as the game of thrones plays out.
Also on Disc 3, there are more Histories and Lore on things like The Dragonpit, The Citadel, Casterly Rock and more. These are narrated by various actors. While I like these additions, I do find that I'm always a bit disappointed in the animation. That said, the "History & Lore" feature has won a Clio Award! My other big disappointment is that once again, there is no gag reel and no deleted scenes. I love the bonus features we do get, but I'm a sucker for a good gag reel!
Finally, there is an entire bonus disc containing
Conquest & Rebellion: An Animated History of the Seven Kingdoms
, a 45 minute, never-before-seen extension of the "History & Lore" sequence. There are 10 chapters, narrated by Nikolaj Coster-Waldau (Jaime), Sophie Turner (Sansa) and others, that tell the story of how the world of Westeros as we know it came to be! It fills in a lot of the history.
If you enjoyed season seven as much as I did, you will get hours of enjoyment from re-watching the episodes and then re-watching again with the commentaries. There is SO much great insight into the actors and the production and the story itself. If you have a
Game of Thrones
fan on your list, you can't go wrong with wrapping this up for them. And if you've earned a special present for yourself – do it! If you've already bought the seventh season, let us know what you think in the comments below!