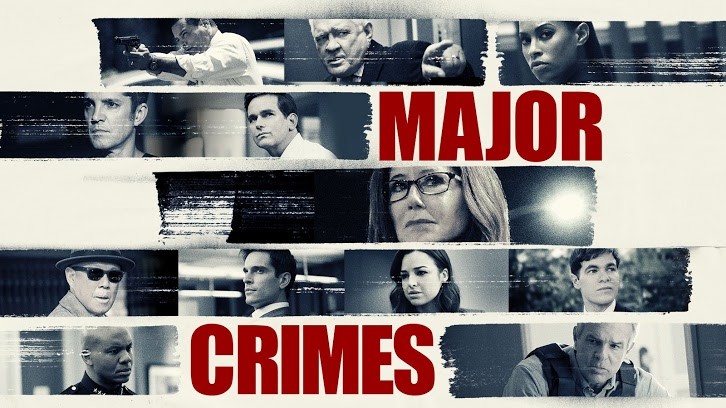 Finally, it's here; the final chapter of the Stroh story begins with the first two parts being aired back to back.

The first part opens with the aftermath of Sharon Raydor's death. Speaking purely as a fan (and not as a critique of the quality of the writing and performances) these scenes were the one thing I did not want for this show.


We learn that what she left for Buzz were several USB drives with video messages for her family. One was recorded specifically for Rusty offering some tips on his investigation of Phillip Stroh, including the recommendation that he get help from the people who care about him; a squad of very experienced detectives. These scenes have me convinced that the theories were wrong. Sharon Raydor is dead.
There were a couple of moments in all of the family scenes that worked really well for me.
One was when Emily stopped by the station to see Rusty. Rusty gives her a polite, feel free to stop by when your tour comes this way and Emily reminds him that she's his sister.
I can understand Rusty thinking that, because his connection to Emily and Ricky is gone, they would no longer consider him a part of their family. It was nice to have it pointed out that he still has siblings.
The other shining moment in this story was when Provenza stopped by to pick Rusty's brain in the Stroh investigation. Andy's outburst about standing by and letting someone "do what they wanted" was powerful.
I was trying to spot Stroh's hiding place and missed it. The baby blue diving suit was kind of genius, but how did he keep them from seeing bubbles? Anyway, Stroh held her under water until she drowned.
The Major Crimes unit is certain that Stroh is back in Los Angeles and hunting. The only problem is the new Assistant Chief doesn't have personal knowledge of Stroh that the old timers in Major Crimes do.
This means the first hurdle is convincing him that Rios' death was not an accident and that Stroh was behind it.
Gus sees a picture of Stroh and lets everyone know where he saw him. Unfortunately, when the surveillance videos prove to have been tampered with, the Assistant Chief is more cooperative but still doesn't have enough to grease the red-tape wheels.
It's pretty easy for him to get eyes into the squad room and follow the entire investigation. Stroh's plan is to use the Major Crimes Unit to find his mother.
As Stroh's protégé, Carl, eavesdrops on them, he picks up clues that allow him to find Stroh's mother first and goes to talk to her. I did enjoy watching him panic when Buzz queued up the SD card with him on video.
I was a little surprised that Buzz didn't twig to something being up with his phone. All of the bugged cellphones are losing power quickly. When mine does that, I go looking at the system tools to see what could be the culprit. I'm not nearly as well versed as Buzz. I kept expecting him to look into why his battery was low so quickly and discover the malware.
The Unit isn't too far behind Carl in finding Phillip Stroh's mother. She has dementia and is in a pretty swanky facility. Dr. Joe is able to get her to talk about her son, Phillip. She confesses to helping Stroh cover up his first murder. She even reveals the location of the body.
Her other son storms in wanting to talk to the cops that upset his mother. What he learns is enough to rock anyone's world.
Given the circumstances of Stroh's escape you can hardly blame him for deciding to trust his personal security instead of the LAPD. His security systems provide video of Carl. (Although I did spot a technical flaw here. I will let them get away with it though.)
All of this information, as Andy notes, is great backstory, but it doesn't tell them why Stroh is in Los Angeles now. Rusty also sees something missing in their logic. What does Stroh's mother have to do with the other people that have been killed? Hopefully, these questions will be answered soon.
At some point I began to wonder if these murders (revenge killings?) would be enough to eliminate Stroh's need to kill blonde women. Then we saw Stroh watching Carl as he left his blonde girlfriend's place. Something tells me she won't survive this mystery.
I find Stroh's backstory pretty interesting, but I'm waiting on his hunt to get more personal; for him to focus on the members of the Major Crimes Unit. We know he's going after Rusty, but I'd like to see the story get more intense for the all of the members of the Major Crimes Unit.
Provenza spent quite a bit of time making it clear that Stroh will not be going on trial. I'm not quite sure how I feel about that. What did you think of this?
What did you guys think of the episodes?