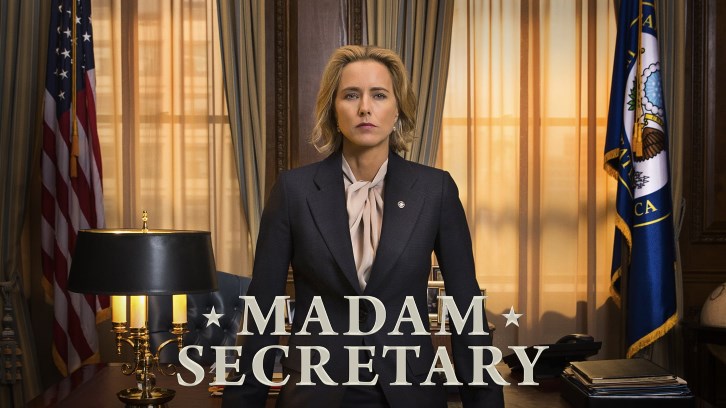 The holidays are here. Carols, parties and corruption. Just like the Hallmark Channel movies, right?

Front and center at the State Department this week are landmines. An American girl almost dies when she steps on a landmine overseas, a terrifying incident that goes viral. Elizabeth wants to use the newfound attention to help weed out landmines around the world. To do that, she needs enough votes on something called the Calgary Treaty. Seems easy enough. Of course not. It's Washington.


Russell convinces (or pressures) Elizabeth to throw a holiday party at her house in hopes of winning over votes for both the Treaty and Elizabeth's seemingly eventual run for President. Russell is thrilled about the party. Elizabeth would rather get a root canal by a monkey… and it shows. Stevie is tasked with helping (or forcing) Elizabeth to deck the halls. What transpires is a role reversal between mother and daughter. It's Stevie who organizes the entire event, even making sure Elizabeth has something to wear. It's also Stevie who calls Elizabeth out for acting like a petulant child who doesn't want to clean her room, telling her to grow up, suck it up and deal with it. I'm sure the same conversation has been carried out numerous times in the McCord household, but with Elizabeth and Henry doing the imploring to Stevie. She learns from the best.
Proving Christmas really is the season of miracles, Elizabeth and Senator Asshat come together. On the same side. For a common cause. I know. Even I felt a tingling in my cold black heart. The two run a dual interference to keep Senator Carpenter at Elizabeth's party so Henry and his cohorts have more time to sift through the senator's home. Elizabeth and Morejon may not ever be on the same side politically… or work together for another common cause… but they agree that the other may not be Satan's spawn after all. God bless us, every one!
Speaking of Carpenter, Henry (and Elizabeth's sixth sense) manages to uncover why the senator was singing like a canary to the Russians. Turns out, he was trying to save his son from bankruptcy and a possible prison sentence. Unfortunately for him (and his housekeeper), he didn't choose the best way to do that. So, that's it? He's the mole? I'm disappointed this is how the mole storyline is ending. I was hoping it would lead to Dmitri, giving us fodder for drama… and a good reason for why he's still around. It also came to a head in less than 5 minutes. Carpenter didn't even protest. He just gave up. Henry tends to have two major arcs a season, so I assume this one is, indeed, over and his second will begin when the show returns from the winter hiatus.
POTUS McCord? No fewer than three people mentioned Elizabeth running for president this episode. One of them was Russell. He's come a long way. Elizabeth has always been insistent that she doesn't have presidential aspirations, and I believe her. But I wonder if that will be explored more as the show goes on… if the show does go on. (Can we get an earlier time slot, please?) I've always been a firm "no" in the President McCord category, and I still stand by it, but I am warming (slightly) to the prospect. Do I think she'd make the best president ever? Absolutely. But the thing I love about the show is the family aspect/house scenes, and I worry those will be lost if she becomes POTUS. That said, Stevie is grown, Alison is in college and Jason is barely home. The family dynamic has already kind of shifted from what it was in Season 1. Her time as Secretary of State has an expiration date on it, ending when President Dalton leaves office. Could she stay on as SOS in another administration? Possibly. But this is something the writers will have to explore if the show continues. Again I ask, can we get an earlier time slot?
I'm kind of surprised this episode was not the fall finale. It definitely felt like the fall finale: the mole being resolved, Christmas, feelings of goodwill and harmony between foes. I remember saying the same thing last year, so clearly this is purposeful.
Other things:
--Stevie and Dmitri seemed more natural this time. That could be because their scenes together were shorter or because Dmitri is being reeled in. When he's with Stevie, for a few seconds, he forgets who/what he is. I'm still waiting for this mountain to collapse. Get your hardhats, everyone. It's coming next month.
--"My God, it's like a hostage video." I always love a good Mike B. quip. He verbally sparred with Kat upon their first meeting. "Didn't you go crazy or something?" It's like they were both trying to assert their authority… like dogs (sorry, Gordon) looking for a tree to mark. I think they both also just enjoy going toe-to-toe with someone.
--The Seventh Floor Singers! I'd book them in a heartbeat. I always love seeing these Broadway stars shine. The only thing that would've made this better: Nadine joining them. Come back, Bebe!! My other goal in life: to hear Elizabeth sing Christmas carols.
--"You got any plans this weekend?" "You know, probably put on my yoga pants, but not actually go." I feel you, Elizabeth.
--"I'm a diplomat, not a debutant." That you are.
--Another mention of "the greater good." We've turned this phrase into a drinking game, right?
What did you think of "Minefield?" Are you satisfied with the Carpenter/mole storyline? How do you feel about Elizabeth running for POTUS?