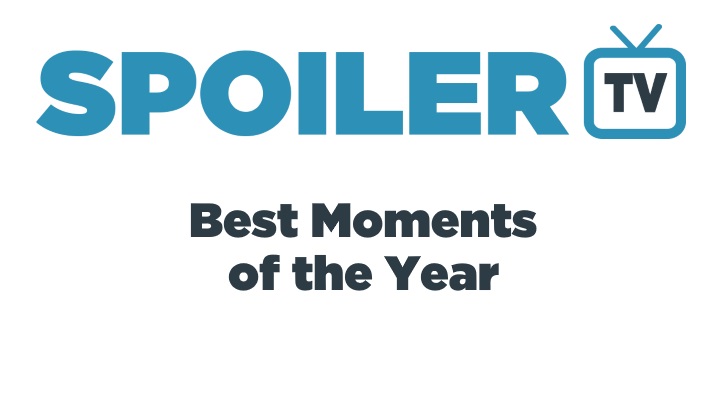 Note: The moments 9-16 had the same number of votes and their order is alphabetical. Also true for moments 5-8.
16. THE 100 - "Praimfaya" - The Epilogue
Celeste:
"Nevermind... I see you." Clarke radios Bellamy 2199 days waiting for him to return to Earth - she still has hope. These two KILL me...
Max:
When Clarke wakes up six years and seven days later.
GraceSky:
"Bellamy, it's been 2199 days since praimfaya."
15. SHADOWHUNTERS - "Awake, Arise, or Be Forever Fallen" - Alec and Magnus break up
Rianne:
Magnus breaks up with Alec because of downworld politics and wanting to protect his people. This was a great moment storywise for Malec and both Harry and Matt stepped up their acting game which made this scene all the more heartbreaking. And both the beautiful soundtrack and the way it was directed, added a lot of depth to this scene.
Laura:
As the whole 2x18 was amazing, the acting in the break up scene was out of this world. Though it was a sad time for everyone, Harry Shum Jr. and Matthew Daddario's acting made it one of the best acting scenes of the show.
14. LEGENDS OF TOMORROW - "Crisis on Earth-X, Part 4" - Martin Stein's death
Chloe Curnow:
This hurt to watch. Jax can't let him go because he's like a father to him and Stein knows he has to do it to save Jax's life. Their relationship was one of the best things on the show and this was a gut-wrenching and emotional way to close out their storyline.
That Which Dreams:
A powerful send-off to a great character.
13. HOW TO GET AWAY WITH MURDER - "Live. Live. Live." - Annalise performs CPR on Laurel's baby
Missions:
There are arguments that can be made why this winter finale of How to Get Away With Murder may have been disappointing but I don't think there is a single person who was not moved by this scene. The moment Laurel was trapped in that elevator, we knew what was going to happen. From the haunting music (also used for the under the sheet reveal) to the outstanding acting, this scene was amazing. The camera spent about 4 minutes showing Laurel collapse and struggle, which is a long time, but Karla Souza absolutely nailed it, especially having to do such a difficult scene. And then we end with Annalise trying to save Laurel's baby, which means so much to her, I felt so bad for Anna in that moment. And need I say how exceptional Viola was? Not really. I am glad the writers and directors had the balls to execute the scene the way they did despite it being very graphic.
Angela:
This desperate act encapsulated all Annalise had fought for and against this year. She's still reeling from Wes' death, she's been unable to save many people she's cared about, and this tragic moment with Laurel and her baby gave her the chance she needed to try and make things right. Hearing the baby's cry at the end of the episode is as big a relief to us viewers as it no doubt was to Annalise.
12. GAME OF THRONES - "The Dragon and the Wolf" - Daenerys and Jon get together
Andrea Johnson:
After spending most of the season flirting with one another, it was satisfying to see them consummate their feelings; however, we also learned that Dany is really Jon's aunt and that Jon is the true heir to the iron throne.
caro12345:
It's so gross it's actually kinda awesome.
11. GAME OF THRONES - "Beyond the Wall" - Viserion's death
ehart1104:
Watching one of Dany's dragons being harpooned and falling dead into the ice was heartbreaking. I cried! Then when the White Walker resurrected the dragon as a White Walker Dragon I gasped, got mad and cried again!
Simonne:
Dany was devastated.. one of her children died.
Likeausername:
We've been waiting 7 seasons to see those dragons finally kill some White Walkers! It finally happened!
10. BIG LITTLE LIES - "You Get What You Need" - The events surrounding Perry's death
Missions:
Big Little Lies was a masterpiece in every way possible but I don't think it would have been without the final ten minutes of the first season. Whether you had predicted Jane's rapist in episode correctly or were caught by surprise (like I was) when Perry was revealed to be her rapist, you cannot deny how masterfully executed that scene was. All 5 ladies outdid themselves in that scene, solely with their facial expressions, especially Shailene Woodley! And they could have shown immediately after what happened to Perry and who pushed him down the stairs right away but instead they jumped in time and showed how the women's life was afterwards. Then using the wild waves of the ocean to flashback to the death scene was absolute brilliance. And again they chose to only have background music instead of showing us the words that were spoken. "September Song" fit this scene like a glove and is both peaceful and haunting at the same time. This show recognized how silence could be more powerful than words, and I loved that.
Alice:
When everything unravels - from the moment Jane recognises Celeste's husband, to the scream.
9. AGENTS OF SHIELD - "Self Control" - Jemma faces off against LMD Fitz
Noor:
It's an incredibly acted scene where two of the most adorable characters on TV have to face off against the one they love, knowing that one of them is fake and trying to figure it out, the tension, the emotion, the supreme acting..made for one hell of a moment!
Tavia:
It was brilliantly acted out by both Elizabeth Henstridge and Iain de Caestecker. I was on the edge for the whole scene.
Arthur:
Simmons and "Fitz" have a confrontation and Simmons kills LMD Fitz.
8. THE 100 - "Praimfaya" - The rocket launches/Clarke stays behind
Nate Blank:
In the season finale Clarke is forced to stay behind on a doomed planet in order to ensure the survival of her friends, her family, the entire human race for what's left of it. The scene has both heartbreaking drama and pulse racing action.
Joy Haldar:
This moment truly signaled the true growth of Clarke as the true leader of the team and showed us how far she has come as an individual character. She was willing to do ANYTHING just to ensure her friend's safety. That's noble and heroic.
Lightwoodizm:
This moment as our six heroes leave Earth leaving behind the planet they fought so hard to survive in, leaving Clarke to her death. It was game changing.
7. ONCE UPON A TIME - "The Song in Your Heart" - Emma and Killian's wedding
Henry:
As magical weddings come, Emma and Hook's was definitely the most magical of them all. The vows, the song, the episode it was fit in... this TV wedding was definitely one of the best of the show.
irem:
Emma and Killian are one of those couples I completely adore, so watching them get married is simply a dream come true for me.
6. GAME OF THRONES - "The Dragon and the Wolf" - Littlefinger's death
blackbutterfly:
It was a bittersweet moment but I'm glad that Sansa and Arya were still bonded as sisters and nothing, as of now, can come between them no matter the disagreements that they have with each other. And it's just satisfying to see Littlefinger dead after all that scheming.
irem:
I've been waiting for this scene since season 1, and the fact that Sansa (and Arya) is the one who is responsible for his death makes it even better.
Kelly Lynch:
Finally realizing the truth about Littlefinger, Sansa delivers his sentence of death carried out by Arya.
5. BROOKLYN NINE-NINE - "99" - Rosa comes out to Charles as bisexual
Nena:
The way this was handled was absolutely beautiful. The actual use of the word 'bisexual' is so rare in media - it's as if it's treated like a dirty word - and the fact that the show gave us this amazing representation of a bisexual latina who freely uses the word really made me incredibly happy.
dotarinas:
Bisexual representation is always important!
4. THE GOOD PLACE - "Michael's Gambit" - Eleanor figures out they're really in the Bad Place
Deny:
Epic twist with a hilarious line (Holy motherforking shirtballs). Really wasn't expecting it, and it was a pretty badass move from a sitcom.
irem:
I love a good twist like everyone else. And Ted Danson's creepy laugh after the reveal is simply brilliant. His character turns from a good guy to bad in seconds.
Ivana Cvetanovic:
One of the best TV twists I've ever seen, which not just turned everything on its head but made the entire show more meaningful, and everything that happened previously made more sense.
3. SHADOWHUNTERS - "Beside Still Water" - Jace's death
Luna:
He was killed by the man he believed to be his father, his girlfriend had to watch him die and his parabatai felt him dying from miles away. It was just heart-wrenching, and the acting of everyone involved was phenomenal.
Lightwoodizm:
Jace dying at the hands of his father who abused him, Alec's and Clary's synchronous pain (Alec feeling it, Clary witnessing it), the flashbacks to Alec and Jace's history and the moment Jace pulled Alec back from the dead, parabatai rune disappearing as half of Alec's soul is ripped away, Clary begging Jace to stay awake, Jace's last words being 'i love you' and her scream as he died... All this combined in a single moment. It was heart wrenching, beautiful and epic.
darknessp:
Alec feeling Jace's death and collapsing, Clary begging Jace to stay awake and screaming. All the flashbacks to parabatai moments, especially when Jace pulled Alec back from the dead. Heartbreaking and devastating. Beautifully acted.
2. THE 100 - "Praimfaya" - The Head and Heart conversation
blackbutterfly:
Perfectly encapsulates their relationship and all that they've gone through together. It just makes my heart flutter to see that yes, this story has always been about Clarke and Bellamy, both individual and relationship development and their sufferings and triumphs as the core of the show.
GriffinBlake:
These two characters are the centerpiece of the show, and that entire conversation pulled at my heartstrings. They care so much for each other, and the way Bellamy delivered the line, 'I got you for that' broke my heart. You can see how much these two have changed and grown, and it was a nice, soft moment in a crazy finale.
clarkekomskaicru:
Clarke tells him to survive he needs to use his head as much as his heart and he says that he's got her for that. This is after they re-count everything that's happened with them on Earth and is a really touching scene. I felt like it was a scene that we desperately needed to see after waiting so long for them to talk about their feelings. They didn't kiss or become canon but this felt like so much more than that. Eliza and Bob acted out their lines wonderfully and I admit I started to tear up.
1. OUTLANDER - "Freedom & Whisky" - Jamie and Claire reunite in the Print Shop
denning1951:
After 20 years, they finally get back together. Took my heart to new heights!
MJarvis:
Reunited after 20 years, beautifully brought to life on screen.
Aase Ericsson:
Best reunion scene ever after 20 years apart. Brought me to tears.
Honorable mentions for the following shows:
12 Monkeys, 13 Reasons Why, Agents of S.H.I.E.L.D., American Horror Story, Arrow, Bates Motel, Big Little Lies, Black Sails, Black-ish, Blindspot, Blood Drive, BoJack Horseman, Bones, Brooklyn Nine-Nine, Crazy Ex-Girlfriend, Criminal Minds, Daredevil, Dear White People, Doctor Who, Emerald City, Empire, Fargo, Fear The Walking Dead, Fuller House, Game of Thrones, GLOW, Godless, Gotham, Grey's Anatomy, Grimm, Homeland, How to Get Away With Murder, iZombie, Jane the Virgin, Killjoys, Legends of Tomorrow, Legion, Lethal Weapon, Lucifer, Major Crimes, Master of None, Mr. Robot, Nashville, NCIS, NCIS: Los Angeles, Once Upon A Time, One Day at a Time, Orange is the New Black, Orphan Black, Outlander, Power, Pretty Little Liars, Prison Break, Ray Donovan, Reign, Riverdale, Runaways, Scorpion, Sense8, Shadowhunters, Shameless, Sherlock, Still Star-Crossed, Stitchers, Stranger Things, Supergirl, Supernatural, Superstore, Sweet/Vicious, Taboo, Teen Wolf, The 100, The Americans, The Big Bang Theory, The Blacklist, The Bold Type, The Crown, The Defenders, The Expanse, The Flash, The Gifted, The Good Doctor, The Good Place, The Handmaid's Tale, The Leftovers, The OA, The Originals, The Orville, The Shannara Chronicles, The Vampire Diaries, The Walking Dead, This Is Us, Travelers, Victoria, Vikings, Will & Grace, You're the Worst
These are YOUR picks. Check out the choices of SpoilerTV Team for Best TV Moments of Year 2017 here! And share your thoughts in the comments below.