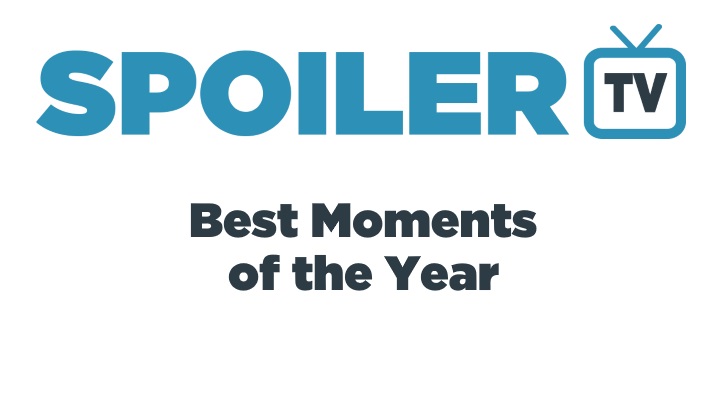 Note: The moments 3-4 had the same number of votes and their order is alphabetical. Also true for moments 5-15.
15. WILL & GRACE - "Rosario's Quinceañera" - Karen says goodbye to Rosario
Marko:
There are no words that can describe the amount of perfect that this moment had. The words Megan Mullally spoke brought me to tears and I could barely put myself together after it.
Samantha:
This scene honestly hit so close to home because one of my cats died 2 days before I watched this episode. It also allowed Megan to flex her acting muscles. Karen very rarely gets serious material. She's always the one cracking the jokes and being part of the fun. Rosario's death allowed us to see a different side to her, and talking to Rosario's coffin? I honestly get teary just remembering this scene.
14. THIS IS US - "Number One" - Kevin's breakdown over his father's necklace
Klutzy girl:
This show has provided many emotional moments this past year, so it was hard to narrow them down but this scene has haunted me for weeks. Justin Hartley absolutely knocked it out of the park and I'm still hurting for Kevin, and desperately hope someone helps him. His pain over losing the necklace and pleas/cries for help hurt and probably will for a long time.
13. THIS IS US - "Memphis" - Randall drives back home after William's death
A.D:
This scene is from the episode titled "Memphis". Randall is alone in the car after William dies driving back home. The entire scene he is alone but, you can tell he was on the verge of a breakdown. Randall stops for the ducks to cross and the tears come flowing down, and it hurt so much for me as a viewer. The duck leading its ducklings symbolized what he never had with William (even though two parents raised him), and now he was dead. It was a powerful scene that did not need any dialogue; it brought out the pain he was feeling without him saying anything at all.
Luana:
The whole journey, meeting William, falling in love with him knowing he would die soon, was bittersweet, it was heartbreaking but it was definitely worthwhile, he is missed in every episode. And the aftermath of his death illustrated that perfectly. All while we see flashbacks of William, Randall tries to be stronger than it's possible, and finally he pulls the window down in honor of his father. Sterling K. Brown continues to shine in every single episode, but the loss of William gave him all the material he'll ever need to blow our minds.
12. THE VAMPIRE DIARIES - "I Was Feeling Epic" - Stefan and Damon reunite in the afterlife
Marko:
The finale was a rollercoaster and brought up so many emotions. The final reunion brought the show back to a full circle. It was always about the brothers and the show was the strongest focusing on them. So it was the perfect way to end the show.
Justyna:
While the show clearly had its faults, as far as the endings go, this was one of the best that I've seen. In a show with immortal beings, death, destruction, pain and loss at the centre of the attention, they managed to find the best balance possible and though a little rushed the characters were able to find peace when it seemed almost impossible to reach. Everyone reuniting with the people they loved was a truly heartwarming way to finish the show and left me with a good memory of the entire series as a result.
11. THE SINNER - "Part VII" - Flashback revealing how Phoebe died
Samantha:
This scene was utterly heartbreaking. I'm never getting over the sound of her ribs breaking at the attempt to resuscitate her. All Phoebe wanted was to forget she was ill for one night and have a bit of fun. Cora was always torn between looking out for her sister, and trying to escape her control so she could live her life. It will never not be ironic that the one time Cora decides to let loose, allow herself to have fun and let Phoebe join in, throwing caution to the wind, is the one time Phoebe ends up dead.
10. THE LEFTOVERS - "The Book of Nora" - Nora's tale about the "other world"
Luana:
Nora's tale was haunting and a perfect closing to the best TV show in years. The acting, writing and directing were, as always, flawless. The whole story was mesmerizing and finally gave some closure to these utterly broken characters, this show will definitely go down in history as one of the best and sadly, also the most criminally overlooked.
DarkUFO:
Simply beautiful and very moving.
9. THE GOOD PLACE - "Michael's Gambit" - The Bad Place reveal
Justyna:
Easily one of the best twists on any of my shows. And not just in this year. There are very rarely scenes that change the entire dynamics of the show, its story and its characters, and everything just makes sense. And this one not only completely changed everything but also made the show SO much better as a result. If you go back and re-watch the entire season one, all the signs are there and that makes it even more perfect. All the actors were fantastic in this moment and I continue to be very excited for the story ahead.
Klutzy girl:
In hindsight, this was obvious since they planted so many clues but I was stunned in that moment. It changed the game and turned the whole show on its head. And Ted Danson was absolutely amazing during the split second switch from Good Michael to Bad Michael. This is one of my favorite shows for a reason, and I will always love this scene.
8. THE BOLD TYPE - "Carry the Weight" - Jacqueline takes the Scales
Jamie:
So far we'd only seen Jacqueline as strong and supportive. There hadn't been many vulnerable moments yet. But the scene where she took the scales was so important. In doing so she admitted to everyone watching that she had been raped. She'd never spoken about it much because of what it could do to her career (which says so much about our society). But it also showed that, despite the fact that she's not the same person that she was before and those feelings will never truly go away, it doesn't mean that she can't still be strong, powerful and, most importantly, happy.
Luana:
The Bold Type took me by surprise, I expected it to be only a great guilty pleasure, but there's nothing guilty about enjoying this show, it tackles complex subjects perfectly and nothing was better than Jacqueline taking the scales. That moment was so powerful, this amazing woman we'd all come to admire admitting she'd gone through something like that, in front of so many people, finally willing to open up, and show that it doesn't have to stop you or define you. It was somehow heartbreaking and heartwarming at the same time. I hope we've got more of The Bold Type for years to come.
7. THE 100 - "Praimfaya" - "Six years later" ending
Justyna:
The show has never been afraid to make a drastic change in the story, but the Praimfaya destroying the Earth sure was something. I was very relieved to see Clarke there, alive and somehow at peace. She's spent more time on the ground than anyone else from the hundred and it seems that she's finally found her place in the world. Also, she still remains hopeful that her friends are on their way back and it was very beautiful and meaningful to see her trying to contact Bellamy at the end. Especially knowing that it's something she's been doing for the past 6 years. The scene changes the entire setting and dynamics in the story and marks a new beginning for everyone. Very memorable way to finish any season. Can't wait to see the show's return.
Diana:
I wasn't surprised when I saw that Clarke survived the apocalypse/Praimfaya. Neither when the last scene showed 6 years in the future. What hit me was to see that for all that time, she's been trying to contact Bellamy - who meanwhile managed to escape Earth with the others. Clarke and Bellamy's relationship has been - and it will always be - The 100's centric story. Whether you like it or not, their bond is stronger than ever right now. Can't wait to see what season 5 has in store for them.
6. RICK AND MORTY - "The Ricklantis Mixup" - Evil Morty returns
Laura:
It's the most epic twist of the year. Done and done. The entire episode was flawless but watching it all come together to have Evil Morty take over the entire government? Haunting. Fans everywhere were shocked beyond belief after they heard the first four notes of "For the Damaged Coda." They knew what was coming. Better yet is the notion that it could've all fallen apart if any of it felt cheap, or if Justin Roiland wasn't performing. Neither of which were the case. And it was simply the best sequence I watched all year.
Samantha:
This was the greatest twist in an animated show this year. Dare I say it may be the greatest twist in any animated show ever? As soon as 'For The Damaged Coda' started playing, we knew. The Ricklantis Mixtape is still one of, if not THE best episode that Rick and Morty has produced and this reveal is why. None of it felt cheap. It certainly wasn't expected. But that is why when Rick and Morty is at the top of its game, it's the best animated comedy around. Because we have an episode that is more or less nonsensical, not following our Rick and Morty around, yet evil Morty's return left me on tether hooks wondering where the show was going with it. Unfortunately that's still a tether hook the show has to answer, but it doesn't take away from how great this reveal was and the perfect use of music to completely destroy me all over again.
Justyna:
I watched the entire show in this December and even though I knew this was coming, it was still such a powerful and fantastic way to bring back Evil Morty to the show. Haunting and so well done. Music is perfect for the sequence and everything fell into place just right. Very excited to continue with this series once it's back from its break.
5. BLACK-ISH - "Lemons" - Dre's speech after Trump wins the election
Klutzy girl:
Anthony Anderson knocked this scene out of the park as he shares his fears and worries in the aftermath of the election. Unfortunately, we're still experiencing the terror and this moment hits so close to home. It was a fantastic scene.
Prpleight:
The reasons this scene touched me so much are so numerous and emotional that I am having trouble articulating what made the scene such a powerful one for me. I suppose that's a darn good reason for it to make my list. For me, the message was made more powerful by playing "Strange Fruit" under it. It's a song about the lynchings in the south during the fight for Voters Rights.
4. GREY'S ANATOMY - "Who Lives, Who Dies, Who Tells Your Story" - Meredith Grey wins the Harper Avery award
Marko:
The perfect way to capture the 300 episode run this amazing show has behind it. They were preparing this from the moment season 14 premiered and it paid off in an amazing way. Mer seeing her mother applauding in the gallery was a perfect touch and Mer deserved this so so much after her path.
3. AGENTS OF SHIELD - "Self Control" - Simmons vs. LMD Fitz
Justyna:
Of all the shows that I watch, this one was probably the hardest to choose from when it came to selecting one best scene of the year. They've had so many of them. Season 4 was probably my favorite of the series and "Self Control" is one of my all-time favorite episodes of AoS. In the end, I had to go with the confrontation between these two. The story of Fitz and Simmons has become such an important part of the show and the story. "The distance is our curse." The two actors who play them have a way of stealing the hour, especially when working together. Their work in this scene is simply perfect. The tension before it's revealed who the LMD is, the struggle between the two once all's known, the cold look in LMD Fitz's eyes when Jemma is forced to stab him repeatedly while trying not to fall apart... Heartbreaking, powerful, memorable. One of the show's very best.
Beth:
To say this couple has had obstacles is a massive understatement, but watching this scene was just heartbreaking even though it was not really Fitz. You could tell it killed Jemma to have that gun on Fitz not knowing if it was real. Iain and Elizabeth were amazing as usual.
Emmaline:
Seeing Fitz and Simmons, two characters who have gone to hell and back for each other over the years, suddenly be thrust into a situation where they instantly distrust one another was as enthralling to watch as it was heartbreaking. It's a real testament to the SHIELD writers and to actors Iain De Caestecker and Elizabeth Henstridge that they made this scene into such a must-watch moment in the history of the show.
2. BIG LITTLE LIES - "You Get What You Need" - Bonnie kills Perr
y
Darth Locke:
This obviously climatic moment was just so powerful. The fact that Perry could fight off four other women, before Bonnie came and pushed Perry over was astonishingly satisfactory way to finally show viewers what happened.
Klutzy girl:
Seeing the women come together to support Bonnie after she kills an abusive rapist was incredibly satisfying to watch - moreso now in the wake of everything that's happened this year. I loved seeing these strong women form a bond and the scene was absolutely amazing in so many ways. It was perfect.
1. BROOKLYN NINE-NINE - "HalloVeen" - The Proposal
Justyna:
It was simply a perfect ending for one of the show's best episodes. Completely unexpected, yet worked beautifully with the story and the characters' development. The actors are fantastic and in the end they steal the show with this wonderful surprise.
Laura:
Beautiful. Absolute perfection. I normally don't care about proposals but the way this one was written and seamlessly woven into the heist was everything I would've ever wanted for these two. Andy Samberg and Melissa Fumero knock it out of the park, in a year where I was pretty much only looking at Andre Braugher. Man, I love this show so much.
Beth:
This scene was just pure perfection. The heist being the catalyst was the perfect way to have him pop the question because it is such a staple of B99. I love this couple and this show!
Marko:
HalloVeen was another outstanding outing of B99 and culminated with the perfect ending, Jake proposing to Amy. So well thought through, with the perfect words and stellar performances created one of the strongest scenes this show has produced during its current run.
Honorable mentions for the following shows:
13 Reasons Why, Agents of S.H.I.E.L.D, American Gods, Bates Motel, Better Call Saul, Big Little Lies, Black Sails, BoJack Horseman, Bones, Brooklyn Nine-Nine, Fargo, Feud, Game of Thrones, Godless, Good Behavior, Halt and Catch Fire, Insecure, It's Always Sunny in Philadelphia, Legends of Tomorrow, Legion, Lethal Weapon, Longmire, Madam Secretary, One Day at a Time, Orphan Black, Outlander, Prison Break, Room 104, Runaways, Sense8, Sherlock, Stranger Things, Supergirl, Sweet/Vicious, The Blacklist, The Expanse, The Flash, The Handmaid's Tale, The Leftovers, The Middle, The Originals
These are our picks. Come back in a couple of hours to read SpoilerTV Readers' choices for Best TV Moments of Year 2017! And share your thoughts in the comments below.