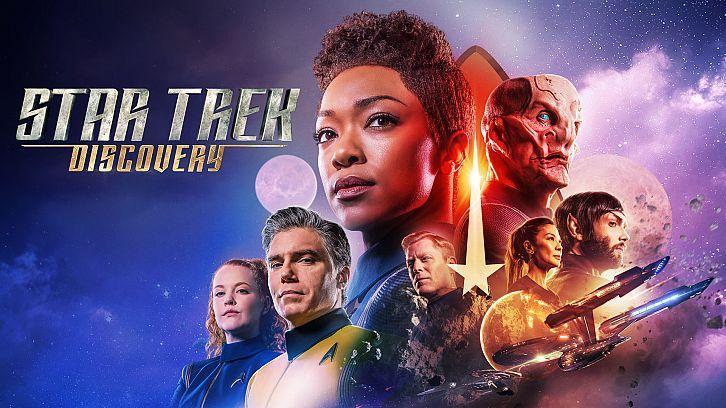 Star Trek Discovery 1.07: "Magic to Make the Sanest Man Go Mad - Review:
Directed by David M. Barrett & Written by Aron Eli Coleite & Jesse Alexander


I love it when shows do
Groundhog Day
-esque episodes. There's a reason why
Supernatural
's Mystery Spot remains one of my favourite episodes of the series, and
Edge of Tomorrow
is one of my favourite sci-fi movies of the 21st century thus so far. The concept of repeating each day over and over again has always been a fascinating one and I was really excited to see
Star Trek: Discovery
tackle it in the latest episode, which featured the return of Harry Mudd, who was left behind by Lorca and Ash in a Klingon Prison Ship, where he had somehow escaped and had negotiated a high-profit deal with the Klingons that would set him up for life. Lorca's ship,
The Discovery
, in exchange for cash.
The Discovery
of course is the only one that can travel through space in the blink of an eye, powered by humans, or more specifically, Stamets.
The episode itself was the first to allow the characters to let loose a little steam, throwing off their normal Starfleet persona in exchange for a more laid-back one that resulted in a party for a section of the ship. This included Tilly, who was already fairly drunk, and Ash. Michael herself isn't exactly embracing the party, despite Tilly's best attempts to hook her up with Ash. Just as Tilly leaves Ash and Michael to converse together, a wounded space whale (space whale!) on the endangered species list is found nearby, in pain. The Discovery naturally decides to bring it aboard, and Michael is sent down to investigate the situation. What she finds is none other than Harry Mudd, who has been hiding inside the space whale, using it as a way to sneak on board the Discovery without detection. Once on board, he's quickly able to hack into the systems, kill Lorca, and do his best to find out what the situation is concerning the Discovery's method of transport. Only he doesn't, and the ship explodes, sending everyone back to where they were seconds before the Discovery was attacked.
Magic to Make the Sanest Man Go Mad
is an episode that is probably my favourite of the show so far, and not just because of the time-loop story, which was done in a way that helped actually put the focus on Michael despite Mudd's main enemy being Lorca (who we got to see being killed off by Mudd over and over again, to the point where even Mudd was beginning to grow tired of his revenge). Michael's feelings and attitude towards love were explored here, as it turned out, she'd never fallen in love with someone in the first place, a secret that Stamets was able to reveal to her to get her to know that what he said about the time loop was real, and believe him. The unexpected friendship between Michael and Stamets that developed here was really something that made for an interesting dynamic, and hopefully we'll see more of them working together closer in future episodes.
There were so many fun things about this episode. The use of Al Green's
Love and Happiness
was much appreciated, and Wyclef Jean's
We Trying to Stay Alive
was a cool addition to the soundtrack in the party scenes. It seems that Captain Kirk is not the only one who is quite happy to listen to what would now be regarded as classical music in the franchise's timeline, with Beastie Boys'
Sabotage
cropping up in both the 2009 reboot and
Star Trek Beyond
(the scene which features
Sabotage
remains one of my favourite movie scenes of 2016, mainly because of how fun it is). It's hard not to love an episode like this, which doesn't take itself too seriously and despite its serious subject matter, remains one of the lighter episodes of the show so far. It's also classic
Star Trek
too, with
The Next Generation
also offering up its own take on the time-loop with
Cause and Effect
. For those who have seen both this episode of
Discovery
and that of
The Next Generation
, which did you prefer?
The decision to avoid the cold open entirely was a nice move as well, almost immediately letting us know we were in for something different and exciting, and
Magic to Make the Sanest Man Go Mad
certainly delivered on that front. The twist on the time loop and how it was functioning also helped separate it from the rest of the bunch, in that rather than being a random incident, it was something that Mudd was employing to his own ends. It was something that had been used before, it was later revealed, by Mudd - and Mudd's bragging about his past events whilst in jail did end up tipping Ash off about how to defeat him. Mudd himself has been a really nice addition to this episode and Rainn Wilson's performance should have been enough to quash any doubts, bringing energy, humour and complexity to his character.
If there is one weak spot however it is the chemistry between Ash and Michael, or lack thereof at this point. It isn't helped by Michael's attitude towards everyone else, but then maybe we'll get to see her soften up a bit in the next few weeks now that she and Ash are at least a bit closer than before after the events of this episode? They're not as close as they got during one of the time loops where they ended up kissing each other, but the show isn't going to establish them as a couple this early in the series. But then again, I wasn't expecting them to do a time-loop episode this early in the series too, so who knows what
Star Trek: Discovery
has in mind going forward.
What did you think of Star Trek: Discovery's latest episode, "Magic to Make the Sanest Man Go Mad"? Let me know in the comments section below and check out the next episode tomorrow on CBS All Access, or the following day on Netflix outside of the US and Canada.