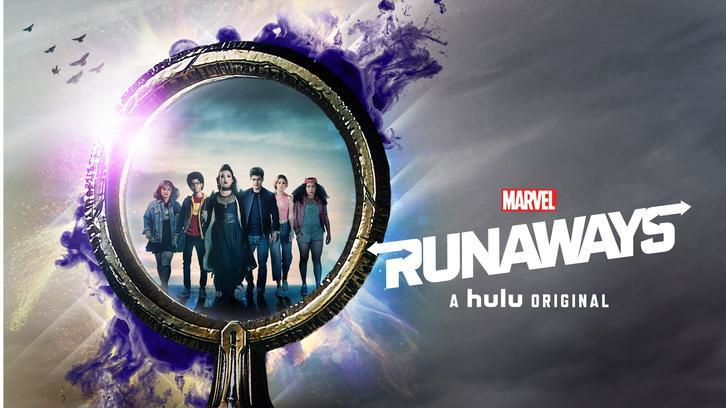 Runaways 1.04 "Fifteen" - Review:
Directed by Ramsey Nickell & Written by Tamara Becher-Wilkinson

Check out the spoiler free advance preview of Fifteen here by Samantha if you haven't seen the episode yet! This is very much a spoiler-heavy review/recap of the latest episode of Runawayswhich aired this Tuesday on Hulu.

After the first three episodes of Runaways left us with the revelation that the kids' parents were up to something, it was going to be interesting to see how long it would take the kids to continue their PI work before being discovered. Like the parents themselves, the kids are too quickly forming different social groups as they each head down their own paths despite their shared experiences, with Gert and Karolina looking to find a shred of evidence that proves their parents innocence as Nico decides that Destiny's murder should be reported to the police as one.


Runaways
is succeeding, exploring the dynamic of the group and the different relationships that the characters share between them. Not everyone is quite in perfect harmony with each other just yet, and there's still tension there. Chase ignores Gert on campus and Gert finds herself enlisted on a mission with Karolina so she can attempt to prove her parents' innocence. Whilst Gert is drawn away from her first meeting of kids looking to tear down the patriarchy, they do find a file on the laptop belonging to Leslie, Karolina's mother. The file is encrypted, but Gert luckily has a R2-D2 memory stick (I love the
Star Wars
references that the show is throwing in so far, we've already had
Star Wars Battlefront
show up this season and I wonder how long it'll be before we get another.) on hand to copy the file across so they can decrypt it at a later date.
Chase meanwhile is facing repercussions from jerks for his decision to stick up for Karolina and ends up getting in another fight with lacrosse players. He ends up quitting the team not long after, and shows up at the house to the continued awkwardness of Chase and Gert. It's quickly becoming apparent that this is
Runaways
' first love triangle, with Gert having a crush on Chase while Chase likes Karolina. Chase himself tells Karolina about the fact that he had been protecting her, and Karolina in return demonstrates her ability to light up by taking off the bracelet. I love how the show is balancing its CGI so far, with this being a highlight of how it's used. This is a big episode for Karolina, and it's all about her losing faith in her parents after standing up for them when half of the group jumped to conclusions. The casting department have so far been spot on with their casting and Virginia Gardner knocked it out of the park here as her life broke down around her.
Spider-Man: Homecoming
, and benefited from good performances by both Gregg Sulkin and James Marsters (Again, the casting department in
Runaways
is on fire). At least for now, Victor is willing to work with Chase on whatever project he's working on, rather than shut him out completely, encouraging him to do better than what he views as child's play.
For a show that uses the
Runaways
comics as its source material, I'll have to admit that when I went into this episode I wasn't expecting the first major characters who attempted to run away would be the parents, with the Yorkes being those who are almost able to put their plan almost into action to the point where they're willing to escape without Old Lace, who has gone missing. They decided to flee from the craziness around them and would have gotten away and would have gotten away with it too, if it hadn't been to the intervention of Tina who wants to know why they missed a pride meeting. With Gert being still so keen to believe her parents' innocence, the escape could have easily incorporated her and Molly, and they could have escaped successfully to the Hernandezes' ranch in the Yucatán. Tina's involvement naturally puts this idea on hold for now, and Tina gets to threaten them about their plan to leave after having them followed earlier. It's Stacey who breaks down as she knows that the seemingly perfect plan is over, and Gert picks the worst time to argue about what just unfolded between them and Tina.
Nico and Alex went down their own path that was mostly separate from Karolina, Chase, Gert and Molly this episode that ended up with them in the biggest trouble yet. After accusations that Alex's dad would have been the most likely to commit the murder of Destiny due to his past as a gang member, Nico decides that they should actually report Destiny's death as a murder and decides to head to the police not realising that the police likely have some connections with the Church as well. The slow, gradual buildup of tension throughout this episode was really well done as you just knew the police wouldn't immediately be able to sort things out for the kids, and ending with Alex's abduction was a great way to push things to a tipping point after the reveal that Leslie's file that Gert had stolen contained plenty of information on the kids who had become Ultras and been declared missing as a result, going back one per year for the past fifteen years. He decided to go with Nico because he believed that she shouldn't have been on his own, and this last, frantic scene of him being kidnapped really makes the wait for next week's episode all the more unbearable. It looks like now that we've had plenty of time to flesh out the characters, the show has decided to take one big leap in plot advancement, and it couldn't have come at a better time now that we're properly invested in them even if the direction leading up to the kidnapping was fairly predictable.
The show itself had a pretty surreal moment this week with Leslie. Her marriage drama with her husband Frank is something that is among the weaker points of the show so far as I don't particularly care for it that much, but the sight of Leslie climbing into bed with the mysterious charred man was disturbing as hell. Frank ends up asking her if she's cheating on him, but Leslie is quick to remind Frank where the real power lies in that relationship, suggesting that it might be time for him to become an Ultra. The two end up getting over this and sharing a moment of happiness together, which makes it all the worse for Karolina witnessing it in the context of the events that she has experienced. She knows that whatever happens from this point forward will never be normal again.
Runaways
has found a delicate balance here, with writer Tamara Becher-Wilkinson (
Iron Fist, Covert Affairs, Shades of Blue
) using these characters well to move the plot whilst fleshing them out at the same time. Hopefully it won't be too long before we get some questions answered too, because it seems they're only piling up by the episode.
What did you think of Fifteen? Who is your favourite character so far? Let me know in the comments below. Be sure to check out episode five which airs next Tuesday on Hulu.