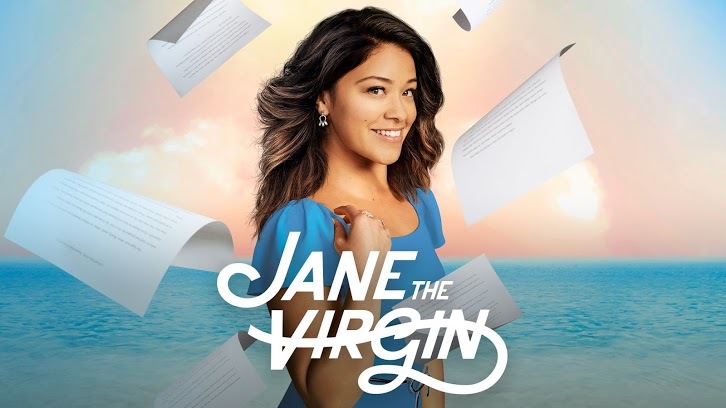 It makes sense that
Jane the Virgin
, "Chapter Sixty-Nine" would have a lot to do with sex. The episode was written by Paul Sciarrotta and was directed by Stuart Gillard. To everyone's relief we find out pretty quickly that Rafael (Justin Baldoni) wasn't injured too severely when Katherine ran him over and we did get the hilarious nod from the Narrator (Anthony Mendez) about "fast and furious" changes! At the center of the episode is the question of labels and self-concept when it comes to sex and relationships, and this is "underscored" by this week's alternative title: Jane the Virgin Heteronormative.
The episode begins with all the labels that Jane (Gina Rodriguez) has had: mother, lover, writer – and best friend! Enter Lina (Diane Guerrero), and I'd missed this dynamic for Jane. We find out that Jane is hosting Lina's bachelor/bachelorette party and that Danny (Joshua Chang) had insisted it be a 1930s Murder Mystery party. Xo (Andrea Navedo) and Jane are disappointed that they can't call their favorite stripper!
Petra (Yael Grobglas) calls to tell Jane about the accident – and that it's not too serious. Rafael is convinced that it was not an accident – well, d'uh! He insists that Katherine is crazy, but he also admits that he'd told her the truth about not really wanting to be in a relationship because it wasn't right to keep lying to her. I loved Petra's reaction: "You've been Villanueved!" She knows Jane's work when she sees it. Petra is still desperate for the deal to go through, but Rafael insists that he doesn't want to be in business with a crazy person.
Meanwhile, Adam (Tyler Posey) comes over where Jane, Lina, and Danny are discussing the party. Lina tells Adam not to mess it up this time – which I thought was a bit bitchy. As it turns out, Danny and Adam kind of knew each other in New York. And that's how Jane finds out that Adam used to date a guy and is bisexual. In her obsession not to be "weird" about it, Jane spends the entire episode being weird about it. Adam is angry with her for letting it be a thing and having to label it, but isn't it better when she just gets to ask her questions – do her research! We know that Jane – like most sane people – just want to understand. It doesn't make it weird or judgmental. I'm not entirely sure that I think the show handled this element particularly well, but I did like the shout out to Posey's time on
Teen Wolf
.
Luisa (Yara Martinez) finds Rafael in Petra's room at the Mirabella and freaks out – she wants him out of the hotel! She also knows that Petra was working with Katherine. Luckily, the twins (Mia and Ella Allan) spill the beans to Alba (Ivonne Coll), who we learn also has many labels: Jorge's (Alfonso DiLuca) girlfriend, customer service, and Captain of Team Rafael: #Albafael #Rafalba! And of course, she insists on bringing Rafael home to recuperate there.
Jane is appalled when she sees just how hurt he is. Rafael lies to Mateo (Elias Janssen) and tells him he was hurt when he forgot to look crossing the street – nice to make a good lesson out of it Raf! Rafael also tells Jane that she was right about Katherine, but also tells her that he doesn't want an "I told you so." Jane then splits between what she fantasizes she'd like to say – that she would never tell him that and that she doesn't understand how they got to this place in their relationship. Rodriguez is fantastic in this scene. And then she takes us back to reality. She simply tells Rafael to let her know if he needs anything.
Before I go any further, I have to say that Justin Baldoni gives one of his best performances on the show in this episode. Jane hears Rafael fall out of bed and rushes in to see if he's ok. She finds him sitting on the floor and joins him. He tells her that he feels lost and doesn't know how he got there – to the point where someone would run him over! He felt like all he was thinking about was the hotel and the money – just like his ex-dad. He tells her that he's lucky to even be alive. And then he tells Jane she shouldn't even be talking to him – because he didn't listen to her and was awful to her. She tells him that he's family, and family show up. She tells him that she loves him – not romantically! Rafael tells her that he thinks that he should just let the hotel go. Jane doesn't pressure him one way or the other, but she stays with him even when he tells her she can go. I just loved this scene.
Meanwhile, Lina is having doubts about her marriage and wants Jane to get to know Danny and tell her what to do. Lina tells Jane that he's kind and great in bed, but so square! And even the party he chose – the murder mystery – she hates it and feels he should know that it's totally not her. Lina's sister - #sistervention – has already planted the seed that Lina and Danny are too different to make a go of marriage. Xo warns Jane to stay out of it, but of course, she can't.
Her first attempt at getting to know Danny is a dismal failure – it gets weird – just like her first attempts to deal with Adam's sexuality. When Lina sees that Jane is hedging about liking Danny, she freaks out even more about the impending wedding. When Danny asks Jane what's up with Lina, Jane confesses what's going on. And of course, Danny proves he knows Lina inside out by how he picked up on the fact that something was bothering her – she ignored a girl's bad highlights! He also reveals that the party idea was partly to please himself, but he knows how much Lina likes surprises and he has a big one planned for the end of the party – strippers, including him!
Jane takes Lina aside at the party and tells her to marry Danny, but Lina admits to Danny that she's having doubts. Naturally, the two best friends end up on the bathroom floor to work out their issues. Lina thinks that she shouldn't have any doubts, and Jane tells her about the list she and Michael made the night before their own wedding. Lina suddenly realizes that she's marrying the male version of Jane and Jane is the longest relationship she's ever been in! And then Jane almost kisses Lina over her own relationship confusion. Jane tells Lina that she's no freaked out about his sexuality, but by the fact that he didn't tell her. But Lina calls bull.
Jane goes to Adam and tells him the truth. She did freak out, but because she has questions that he wouldn't let her ask. Jane worries that she can't give Adam what a man can, but Adam points out that she can't give what another woman can either – it's all about the person you are with at the time.
At the hotel, Luisa is having a temper tantrum and destroying things in her room. Outside Krishna (Shelly Bhalla) tells Petra that she overheard Anezka and Magda (Priscilla Barnes) talking about "Carl." Petra calls Rafael, and he tells Jane that when Luisa went into a psychosis during the stress of medical school, she hallucinated a "Carla." Rafael tells Jane that at that time, he was the only one who could get through to her. Rafael knows it's time for him to show up for Luisa – because she's still his family.
Rafael goes to Luisa to try to convince her that Carl (Graham Sibley) isn't real, but she thinks it's a ploy. However, when she grills Anezka, Anezka finally admits that she didn't see Carl – but didn't want to hurt Luisa. It soon becomes clear that Anezka isn't seeing Carl. Luisa then goes to Rafael and tells him that she's checking into a hospital for treatment. Rafael is just happy that she's getting help. Luisa thanks him for looking out for her – especially after everything – and she tells him that she's giving the hotel shares back to him. Rafael insists that's not why he did it.
Jane, of course, tells him that by doing the right thing, good things happen. However, the good things don't last long as the contract can't be changed because Luisa is incapacitated. Luisa's shares go to Anezka. Annnnd we find out that Carl IS real – but his name is Antoine and he's working for Anezka and Magda!
Finally, Xo has been forgetting to take her birth control pills and wants Rogelio (Jaime Camil) to get a vasectomy. Rogelio freaks out and says absolutely not! I loved the scene in which Alba tells Xo how to get what she wants. She tells Xo that she used to walk around the house without a bra on and brush up against Mateo to get what she wanted! Xo is utterly scandalized – but it's so much fun to see Alba get to loosen up and be one of the girls!
Rogelio is convinced – by a braless Xo – that she's been holding back sexually, so he agrees to the vasectomy. They even get as far as the Doctor (Paul Haitkin) who has done other famous celebrity vasectomies – celebrities exactly as famous as Michael Douglas! But in the end, Rogelio can't go through with it.
At work, Rogelio is having a hard time finding the drama in the homage to Castaway scene in the telenovela. He has to say good bye to the kidney stone that's been keeping him company. In the end, it's Rudy, the PA (Rudy Martinez) who helps Rogelio with the scene. Suddenly, the ups and downs and highs and lows that he's had with the kidney stone are hilarious double entendres! The Director (Norma Maldonado) has to cut the scene, however, to tell Rogelio that it looks like he's talking to his penis!
Xo is furious that Rogelio won't go through with the vasectomy. He finally admits to her that he sees it as one more sign that he's turning into an old man and that's what really scares him. Xo is surprisingly sympathetic about that – it makes sense. I'm still waiting to find out that Xo is once again pregnant…
I thought this was another solid episode with all the elements we've come to expect. Camil gives a particularly good performance, but Justin Baldoni deserves special praise for the work he's done in this episode. What did you think of the episode? Let me know your thoughts in the comments below!