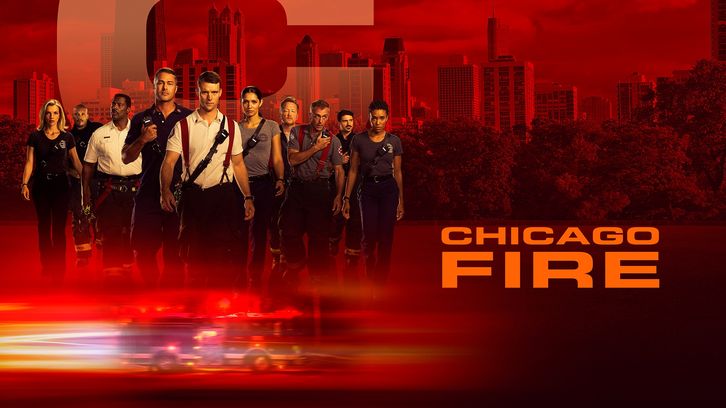 Well that was a finale! Chicago Fire is known for it's crazy fall and season finales, and I don't think this one was any exception. We had closure on the Hope situation, and we were left with the usual cliffhanger.

At the beginning of the episode Firehouse 51 gets called to put out a fire at a restaurant. Stella hears a mother crying for help, and Stella runs in to rescue her. With Casey's help she's able to get the woman and her baby out of the fire. Stella carries the baby in her jacket and gets her to safety. She clearly impressed Casey, and I loved the nod of approval he gave her.

When Stella gets back to the firehouse she is given an envelope from Connie which has transfer papers in it. Stella is being transferred to the Office of Public Relations. She's upset and so is the rest of 51. Boden makes a call but tells her that the transfer is happening next shift. Later in the shift she can't sleep so she goes to the couch and has a talk with Mouch. He tries to cheer her up by telling her she'll be the face of the Chicago Fire Department. It's nice that he tries to make her feel better, but it didn't really work. I did like that we learned why she became a firefighter.

While Stella is upset, Hope uses this as an opportunity to get everyone else to like her. She tells the guys that they have $900 in the petty cash fund and wants to use that money to buy a barbecue grill. She impresses everyone and Herrmann says her energy is appreciated. Then she tries to get Severide to hang out with her, but he declines because he has plans. At least Severide isn't getting pulled into her issues again. Brett sees Hope talking to him and looks a little bothered by their interaction.


That night Stella has too many drinks at Molly's so Severide takes her home. She kisses him, but he stops her because of how intoxicated she is. He says not like this. I'm glad he was a gentleman. The next morning she wakes up on the couch and claims she doesn't remember anything past Molly's. I don't know if I believe her or not.
Stella shows up for her first shift at the Public Relations Office and is given a quick tour. She's thrown into her first press conference and is told to speak about minorities and women in the CFD. Back at the firehouse we meet Stella's replacement and he's a real winner. But he does give Casey an idea. The new guys tells them about his friend who's uncle signs and papers and sends him to the best districts. Casey and Herrmann pay a visit to one of Cindy's friends who show that Chief Mullins signed Stella's transfer papers. Except he really didn't.
Boden calls Hope into a meeting with Casey, Herrmann, and Chief Mullins. Mullins says that the signature isn't his- it's Hope's. She forged his name to get Stella sent away from 51. She tries to come up with an explanation, but they've had enough. Boden fires her and Connie has her stuff all packed up for her. She goes to Brett and tries to explain what happened. She makes up more excuses, but Brett is done.
"Take your excuses, take your lies, take your drama and take it all back to Fallerton."
At 51 everyone is excited to see Stella, and this scene reminded me of when Shay returned to the firehouse after temporarily leaving. I never thought that I would like another person on the show like Shay, but Stella is slowly getting there. Boden welcomes her back, and Brett gives a speech about how sorry she is about bringing Hope to the firehouse. She says she loves all of them and feels terrible. Stella doesn't seem to forgive Brett, and I can't say I blame her. I know Brett wasn't responsible for what Hope did, but until last week she took Hope's side every single time and believed everything she said. Brett is going to have to earn Stella's friendship back. I'm interested to see how this plays out, but mostly I'm just glad Hope is gone!
This week we also had a story about Otis that wasn't ridiculous. He sees that Mac's, a local bar, is closing, and he goes down to introduce himself to the owner and his daughter. Herrmann tells Otis that it's bad luck to profit off of their pain and not to get any supplies from there, but Otis has a different idea. He works hard on a business proposal and thinks they should turn Mac's into Molly's North. After seeing how much effort he put into this, Herrmann and Dawson agree. I liked this story. Otis and the owner's daughter are cute together, and this could give him more responsibility which is something he needs.
Finally, we had to deal with Ramon again this week. He tells Dawson that he plans to meet with his boss to discuss new ideas to improve their workforce. Dawson thinks this is bad idea, and he should keep his head down. Ramon doesn't listen and throws Casey's name around to another alderman. Casey is irritated, and Dawson says she'll handle it. Ramon ends up on probation at work, and Dawson finally stands up for herself. She's tired of her father only thinking about himself.
At the end of the episode, Dawson and Brett get called to the station where some man started screaming at a woman. Another man stepped in and tried to stop him, but he was stabbed. When Dawson and Brett get to the man who was stabbed, they turn him over and discover who it is: Ramon!
I had a bad feeling near the end of the episode because this is Chicago Fire after all. And seeing how the episode showed "Leslie Elizabeth Shay" on the ambo definitely made me worry. I wasn't expecting Ramon to be in danger, though.
What did you think of this episode? Do you think Ramon will live? Are you happy Hope is gone? What do you want to see happen when the show returns in January?