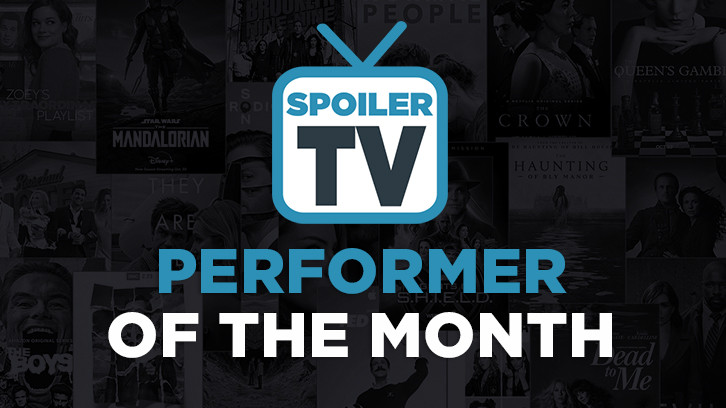 Autumn is in full swing with many festively fall shows in October from which to make your choices for this months nominations. Again, there will be no Staff picks this month so you may see some of us nominating in this section instead.
Please do read through the rules, and as ever we do love to read your comments, so sound off below letting us know who you have nominated and why.
If you are new to this feature, please read the 2023 rules shown below.
January 2023 Winners:
Staff Choice: Nick Offerman (Bill) - The Last of Us
Readers' Choice: Ruby Cruz (Kit Tanthalos) - Willow
February 2023 Winners:
Staff Choice: Bella Ramsey (Ellie) - The Last of Us
Readers' Choice: Danielle Savre (Maya Bishop) - Station 19
March 2023 Winners:
Staff Choice: Harrison Ford (Paul) - Shrinking
Readers' Choice: Stefania Spampinato (Carina DeLuca) - Station 19
April 2023 Winner:
Staff Choice: Steven Yuen (Danny Cho) - Beef
Readers' Choice: Perdita Weeks (Juliet Higgins) - Magnum PI
May 2023 Winner:
Staff Choice: Patrick John Flueger (Adam Ruzek) - Chicago PD
Readers' Choice: Tracy Spiridakos (Hailey Upton) - Chicago PD
June 2023 Winner:
Staff Choice: Ayo Edebiri (Sydney Adamu) - The Bear
Readers' Choice: Misha Collins (Harvey Dent) - Gotham Knights
July 2023 Winner:
Staff Choice: Idris Elba (Sam Nelson) - Hijack
Readers' Choice: JD Pardo (Ez Reyws) - Mayans MC
August 2023 Winner:
Staff Choice: Meryl Streep (Loretta Durkin) - Only Murders in the Building
Readers' Choice: Iñaki Godoy (Monkey D. Luffy) - One Piece
September 2023 Winner:
Readers' Choice: Ncuti Gatwa (Eric Effiong) - Sex Education
Please note that a performer can now only win once per year and a show can only be represented by two winners per year.
No exceptions will be made for any performer or show, so please use thoughtful consideration when making your nominations. You will have to fill out the submission form for each nominee you submit.
You may only submit the document once, and each entry on the form must be for a different performer. Do not send in multiple forms or vote for the same performers more than once, or all of your nominations will be disqualified.
You may be asked to log in before completing the form, this is so you may go back and edit your nominations later if you wish to do so, i.e. After discussion with other fans, you wish to change the episode number for a performer you nominated.
Enter the episode number as 101/410/etc.
The Top 5 most nominated actresses and Top 5 actors will be placed in the poll next week to determine the Readers' Choice Performer of the Month.
After you place your nominations take a moment to use the comments section to discuss your nominees with others. Episode number for the nominees is critically important, so discuss with others why you think a performer deserves to be recognized for a certain performance.
Nominations will run until
11:00PM (ET) on 10th November
. The poll will post at
Noon (ET) 11th November.
A reminder: Performers that won earlier in the year are no longer eligible for the rest of 2023, so please take note of the above list of winners before placing your nominations.