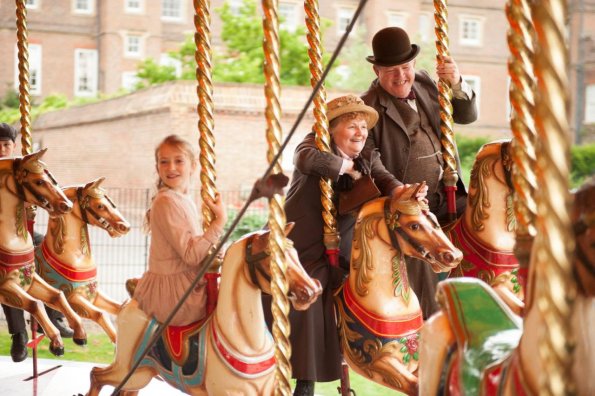 Christmas movies hold a special place in the hearts of many, serving as a cherished tradition that brings families and friends together during the holiday season. Most of them have crazy nostalic feelings, reminding us of simplier times. These films often embody the spirit of Christmas, portraying heartwarming stories of love, generosity, and the magic of the season. Whether it's classics like "It's a Wonderful Life" or contemporary favorites like "Elf" and "Home Alone," Christmas movies have become a nostalgic escape into the enchanting world of holiday joy. The recurring themes of family, togetherness, and the triumph of good over adversity evoke a sense of nostalgia, transporting viewers back to the innocence and wonder of their own holiday experiences.

Then again, if you need to excape your own family experiences, these movies can help with that too.

For many, Christmas movies are more than just cinematic entertainment; they are a portal to a bygone era, a reminder of the simple joys and traditions that define the holiday season. The act of watching these films becomes a shared experience, fostering a sense of unity and connection among generations. Nostalgia plays a pivotal role as viewers reflect on their own holiday memories, drawing parallels between the on-screen festivities and the cherished moments of their past. The characters, settings, and festive atmospheres depicted in these movies tap into a collective memory, creating a comforting and sentimental journey that transcends time. In this way, Christmas movies become a vessel for preserving and reliving the traditions and sentiments that make the holiday season so uniquely special.

Now we know Thanksgiving hasn't even happened yet, but then again it's never to early. Here is a compiled list of Christmas movies based on each streaming service. Comment below on any that we missed. We will add more as they become available.


Netflix Christmas Movies
Klaus
Best. Christmas. Ever.
The Christmas Chronicles
The Christmas Chronicles 2
Christmas in Mistletoe Farm
An Elf's Story
Angela's Christmas
A Trash Truck Christmas
A Boy Called Christmas
The Clause Family
The Clause Family 2
David and the Elves
Spirit | Spirit of Christmas
Jingle Jangle
Elf Pets
Scrooge - A Christmas Carol
Hulu Christmas Movies
Elf
Polar Express
Jack Frost
Home Alone 3
A Christmas Carol
Miracle on 34th Street
National Lampoon's Christmas Vacation
A Cinderella Christmas
All I want for CHristmas
Santa Games
A Merry Christmas Wish
A Country Christmas Story
Disney+ Christmas Movies
The Search for Santa Paws
Home Alone
Home Alone 2
Home Alone 3
Home Alone 4
Noelle
The Santa Clause
Santa Clause 2
Santa Clause 3
Ice Age| A Mammoth Christmas
Mickey Christmas
Prep + Landing
The Nutcracker and the Four Realms
The Nightmare Before Christmas
The Enchanted Christmas
A Christmas Carol
Amazon Prime Christmas Movies
Christmas with the Kranks
A Cinderella Christmas
Holiday Inn
Christmas in the Smokies
Christmas Crush
Christmas in the Heartland
A Prince for Christmas
It's a Wonderful Life
Christmas on the Bayou
The Holiday
The Christmas Lodge
Christmas in Evergreen
12 Dates of Christmas
Surviving Christmas
Furry Little Christmas
A Christmas Story
The Grinch
Polar Express
Arthur Christmas
Beethoven's Christmas Adventure
---