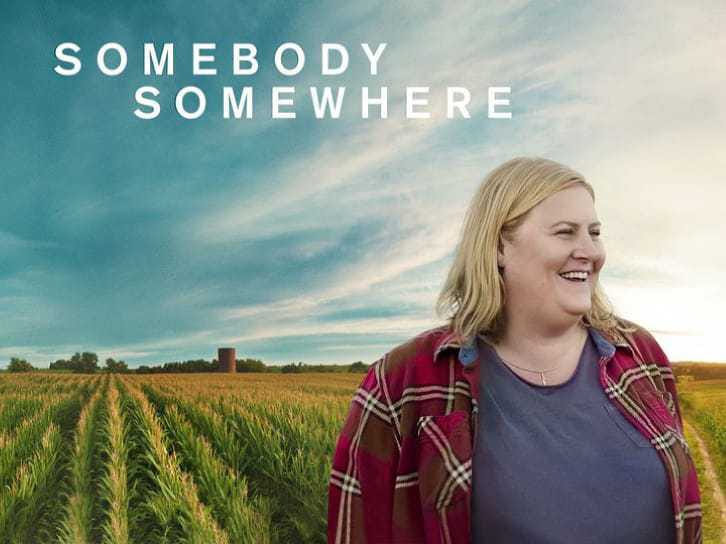 HBO announced today that the critically acclaimed comedy series SOMEBODY SOMEWHERE has been renewed for a third season.
Season 2 logline: From Mighty Mint, Duplass Brothers Productions, and creators and executive producers Hannah Bos and Paul Thureen, the series follows Sam (played by Everett), a true Kansan on the surface, but, beneath it all, struggling to fit the hometown mold. Grappling with loss and acceptance, singing is Sam's saving grace and leads her on a journey to discover herself and a community of outsiders who don't fit in but don't give up, showing that finding your people, and finding your voice, is possible. Anywhere. Somewhere. Season two reminds us that families are hard, even the fun ones. Sam and Joel (Jeff Hiller) have settled into a comfy routine. But nothing stays the same forever.
Season 2 cast: Bridget Everett (Sam), Jeff Hiller (Joel), Mary Catherine Garrison (Tricia), Murray Hill (Fred Rococo), Jane Brody (Mary Jo), Mercedes White (Tiffani), Kailey Albus (Shannon), Meighan Gerachis (Irma), Tim Bagley (Brad), Jennifer Mudge (Susan), and Barbara Robertson (Darlene).
Rolling Stone hailed season two of SOMEBODY SOMEWHERE as "laugh out loud funny" and described Everett's performance as "hypnotizing." The Boston Globe declared the series as a "revelation" that "exudes compassion" with a "nuanced take on the everyday." The Daily Beast called it "TV's sweetest slice of life" with "performances that will break your heart and heal it all over again." Vulture highlighted its "authenticity" and them. called it "quietly powerful." Season one was a "2022 AFI Television Program of the Year" and Peabody Awards nominee.
Amy Gravitt, Executive Vice President HBO and Max Comedy Programming, quote: "We're thrilled to announce the third season of the honest and impactful SOMEBODY SOMEWHERE. Nothing makes us smile quite like this show, which never fails to remind us that life is made up of the small moments, that family can be chosen, and that dreams don't have deadlines."
Season 2 credits: SOMEBODY SOMEWHERE is co-created & executive produced by Hannah Bos & Paul Thureen; starring and executive produced by Bridget Everett; executive produced by Carolyn Strauss for Mighty Mint, Jay Duplass, Mark Duplass and Mel Eslyn for Duplass Brothers Productions, and Tyler Romary; produced by Shuli Harel. The series is written by Hannah Bos, Paul Thureen, Bridget Everett, Rachel Axler and Lisa Kron, and directed by Jay Duplass, Robert Cohen and Lennon Parham.
---