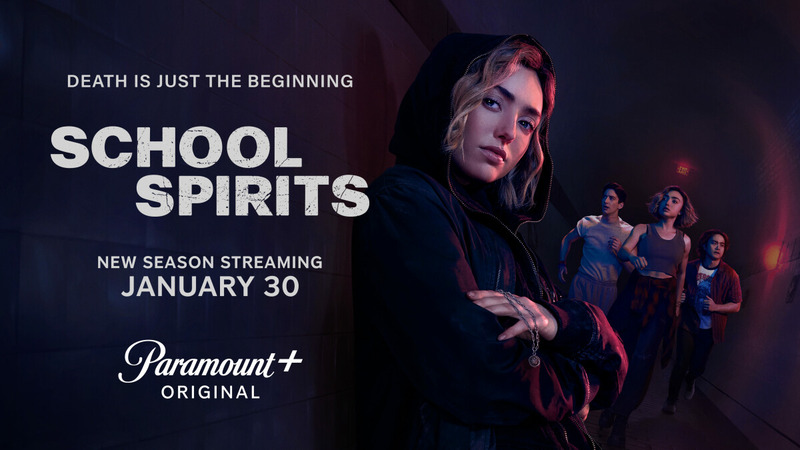 June 20, 2023 - Paramount+ today announced that its hit original YA drama series SCHOOL SPIRITS was renewed for a second season. The eight-episode premiere season debuted earlier this year and ranked as the top YA series on the service during its run. Coming off a major cliffhanger, season two will go into production in 2024 and premiere at a later date exclusively on Paramount+ in the U.S., Canada, Australia, the UK, Latin America, Brazil, Italy, France, Germany, Switzerland, Austria and South Korea.
"SCHOOL SPIRITS has captivated audiences with its gripping storyline, engaging characters and the enigmatic world of high school life, and we are thrilled to bring a second season to this loyal fan base across Paramount+," said Shauna Phelan and Zack Olin, Executive Vice Presidents and Co-Heads at Nickelodeon and Awesomeness live-action series and films. "Maddie's quest to unravel the truth behind her mysterious disappearance has resonated with viewers, and we can't wait to continue this thrilling journey with them."
"SCHOOL SPIRITS developed such a passionate and engaged fan base over the course of its first season, marking one of our most popular new young adult series to date," said Domenic DiMeglio, chief marketing officer and head of data at Paramount Streaming. "The creative minds behind the series – showrunner Oliver Goldstick and creators Nate Trinrud & Megan Trinrud – and the extremely talented cast brought audiences a fresh take on high school – both in the present and in the after-life - and we can't wait to see what happens next at Split River High."
Produced by Awesomeness Studios, season one of SCHOOL SPIRITS is centered around Maddie (Peyton List), a teen stuck in the afterlife investigating her own mysterious disappearance. Maddie goes on a crime-solving journey as she adjusts to high school purgatory, but the closer she gets to discovering the truth, the more secrets and lies she uncovers.
SCHOOL SPIRITS stars Peyton List (Cobra Kai, Bunk'd) as Maddie Nears, and is based on the upcoming graphic novel by Nate Trinrud & Megan Trinrud, and Maria Nguyen, which is scheduled for publication in 2024 by Clarion Books/HarperAlley. Additional cast members in season one include Kristian Ventura (Reboot, The Unbearable Weight of Massive Talent) as Simon Elroy, Spencer MacPherson (Reign, Degrassi: Next Class) as Xavier Baxter, Kiara Pichardo (The Society, Mother/Android) as Nicole Herrera, Sarah Yarkin (Texas Chainsaw Massacre, Happy Death Day 2U) as Rhonda, Nick Pugliese (Dramarama) as Charley, Rainbow Wedell (The Wilds, The Bureau of Magical Things) as Claire Zomer and Milo Manheim (Zombies 3, Prom Pact) as Wally Clark. Josh Zuckerman (The Offer, Oppenheimer) and Maria Dizzia (13 Reasons Why, Orange Is the New Black) have recurring guest star roles as Mr. Martin and Sandra Nears, respectively.
Oliver Goldstick (Pretty Little Liars, Bridgerton) serves as showrunner and executive producer of SCHOOL SPIRITS, along with creators and executive producers Nate Trinrud & Megan Trinrud, who wrote the pilot. Max Winkler (Cruel Summer, Flower, Jungleland) directed and executive produced the first two episodes. List also serves as a producer on the series.
SCHOOL SPIRITS is a part of Paramount+'s growing lineup of young adult content, including series such as WOLF PACK and iCARLY as well as the original films TEEN WOLF: THE MOVIE, THE IN BETWEEN, HONOR SOCIETY and upcoming titles like GOOD BURGER 2 and LOVE IN TAIPEI.
---