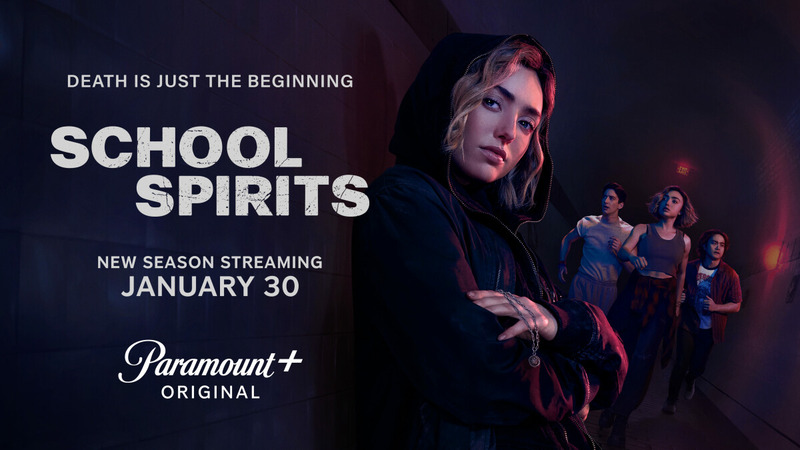 School Spirits is an American supernatural teen-drama television series created by Megan Trinrud and Nate Trinrud. It is an adaptation of the upcoming graphic novel by the Trinruds and Maria Nguyen, having its premiere on Paramount+ in early March 2023. The series stars Peyton List, Kristian Flores, Milo Manheim, and Spencer Macpherson. The plot follows a 16-year-old girl named Maddie, who must investigate her own disappearance after finding herself trapped in a high school purgatory. Her friend Simon searches for answers, learning secrets about those she spent time with before disappearing. Simultaneously, viewers are given insight into Maddie's life and the deaths of the teenage spirits who accompany her.

Watching this series felt like watching an episode of the early 2000s television series, Ghost Whisperer. Not only in plot and theme, but the earthy yet gothic music and images in the introduction. The music throughout the season also gave a nostalgic atmosphere, differing from many shows I've watched recently. I found the characters to be likable with compelling stories and I hope to see more of them. Overall, I believe School Spirits accomplished what it set out to. It's contained, reflective, and has several heart-tubbing scenes. It's consistent with its intended genre and doesn't rely on far-fetched plot twists. The mystery itself is a bit slow-burn but works within the structure of a television series. However, there's an element of predictability that could have been lessened by not stating supposed physical limitations on the spirits. I'm glad this element was absent during the season finale because I definitely didn't see the reveal coming. While I think it could have been wrapped up with non-supernatural answers, what viewers were given makes absolute sense. The reveal sets up a second season which is deserved, but I think there should only be one more.

As of now, a second season for School Spirits has not been announced. Regardless, I believe it's worth the watch if you're a fan of the supernatural genre. It's also binge-worthy because the season has only 8 episodes. It's a charming story of acceptance, identity, and friendship perfect for a Saturday night.