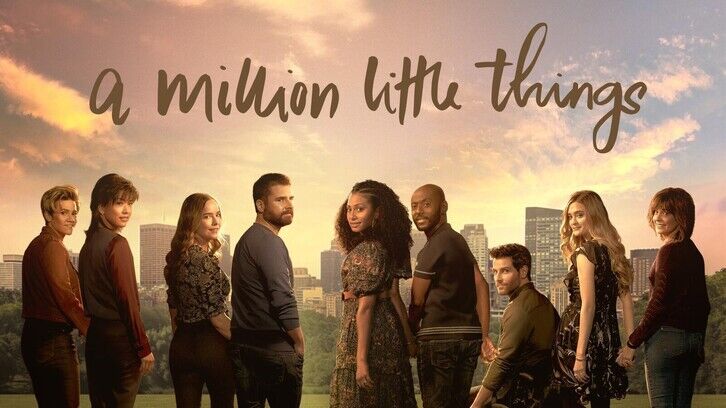 These last two episodes featured visits from three family members - two we haven't see in awhile and one we never met before. A big decision is made within one family while a huge secret is revealed in another. The show is now a full 12 weeks after the birth of baby Javier, so a lot has happened. Let's dive in.

Katherine and Greta - The two women go to visit Greta's parents, who Katherine hasn't seen in decades since high school and she's extremely nervous about them accepting her. Everything appears to be going well until Katherine overhears her future in-laws fighting in the kitchen, but she can't figure out what it's about. Later during the family photo, Greta sees a notification on her dad's phone about him having a new match on a dating app. And that's when a secret comes out - her parents are getting a divorce. Greta is shocked since her parents always seemed like the perfect couple and she starts to have reservations about her and Katherine, but they reassure each other that they'll make this time different.
Rome and Regina
- Regina joins forces with a councilwoman to pass out free food for the homeless. The woman seemed genuine at first, but later it's revealed that she was only there for a positive press outing in an election year. Regina returns home to discover that Walter is missing and so are her car keys. Walter winds up at Rome's school, at first unaware that Rome is now a professor and no longer a student. The two share a sweet conversation and Walter admits that he's proud of Rome.
Rome and Regina come to a very tough decision that it would be best to put Walter in a home, so he has 24 hours surveillance since the two of them aren't home at all times. Just as they are about to discuss it with Walter, Rome's brother Omar makes a surprise visit. After fighting over what's best for their dad and what to do with their family home, the brothers eventually make up and come to an agreement on putting Walter in an assisted living facility and to rent out their family home. Their dad is just so happy to see his two boys getting along and him being alive to see it.
Gary and Maggie
- Baby Javier is at the doctor's for a check up appointment and the nurse, assuming from the baby's name, starts speaking to Gary in Spanish and he's caught off guard. He tried to put that part of him in the past, but it has now been brought back to the forefront, even more so when his aunt Inez shows up to their apartment to pick up a box from his dad. Gary hasn't had a relationship with his aunt since he thought she abandoned him during a time of need after his mom left, but he learns that she only stayed away because she didn't appreciate his decision of changing his name and disassociating from his Mexican heritage. Gary ultimately lets her in and she hears Javi cry and helps him to calm down with her magic touch.
Maggie is apprehensive about leaving Gary alone with the baby as she goes out for a jog with her friend, Claire. But everything is okay and before she knows it, it's time for Maggie to go back to work. Aunt Inez is babysitting Javier due to Gary being out of town at the same time for a work conference. There's some initial tension between Maggie and Inez over a pacifier and her annoying baby voice, but they work through it. On Maggie's first day back to work, she learns that her boss wants to keep Dr. Jessica on the air during the week and move Maggie's show to Saturday mornings. Maggie and Jessica eventually join forces against Colton for deciding to air an advertisement for supplements that they both didn't agree with as a treatment option for their listeners. Maggie only agrees to come back to the radio show if her and Jessica can share the weekly show and while we don't see if it works out, I have a feeling it will because the radio station can't bear to lose both of these powerful ladies.
Eddie
- At the end of the previous episode, Eddie comes to realize how much he misses Charlie, but we never saw him discuss this with Delilah. But to our surprise, Charlie is now back in Boston with her brother Danny and hanging out with Theo and her dad. I did feel like an episode or two was skipped here as there was no set up for Charlie's arrival or why she's here. Also, did Theo age overnight? I swear he looks so much more grown up now and his voice is deeper.
Eddie is starting to hang out with Nicole more and it honestly just feels very weird to me. This is the woman responsible for putting him in a wheelchair and it appears that all of his memories are brought back at the sight of her car. Eddie's professor sees the two of them hanging out and comes to the realization of how he got into her full class and threatens to go to the dean. But Nicole goes to talk to his professor and tells the entire story of how they met and whatever she said worked as Dr. Craft agrees to give Eddie another chance. All seems to be going well when Eddie shows up at Nicole's apartment to thank her and celebrate, but that's brought to a screeching halt when he receives a call from Danny and something is seriously wrong with Charlie. She was very irritated by loud noises earlier in the episode and kept pulling on her ear, so I'm sure it's related to this.
Let me know your thoughts in the comments below about the last two episodes.