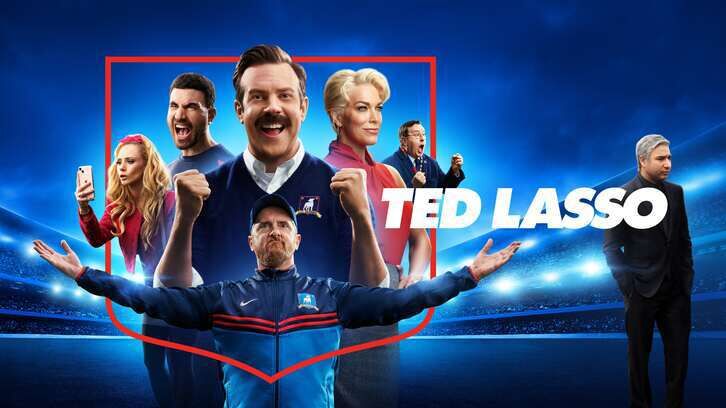 TV's favourite Premier League Coach and his team have officially returned to our screens. Ted Lasso has been back for its third season for a full week now (and don't forget there's already another new episode out! YAY!), and so it's high time we look back on what went on with the show in last week's S3 premiere Smells Like Mean Spirit.

With Richmond back on the Premier League board one would assume our Greyhounds would be in good spirits. Alas as we caught up with everybody the mood instead seems to be kind of a downer. Not really that surprising, when every sports pundit, journalist, fan blogger and even Paddington Bear seem to consider their promotion to be short-lived. As Jan Mas pointed out, any team that does get promoted, statistically speaking, is likely to get relegated again next season.
The fact that West Ham (ie Rupert's new team, under Nate's management no less) seems to be a favourite to win, is definitely a good reason to get Rebecca's blood boiling. Ted being all sad that Henry's visit to London is now over and him in clear funk about their odds in the league, an existential crisis about what he's still doing in London, as well as Nate's betrayal is not at all helping things on that front. Not to mention that with Nate gone, all strategy planning now falls on Roy and Beard, and even though they do seem to have laced up their bootstraps and come up with a plan, the new dynamics of the coaching team seems to have rattled them all a bit on a professional level.
The lads are feeling this too, but thankfully Ted pulls a… well a "Ted" and takes them on an excursion to the London sewers. Using his metaphors, inspiration and belief he does get to somewhat put the guys back on track, and it's lovely to see Jamie being the one who seems to take the lesson to heart the most, and is happy to remind everyone.
Sadly Rebecca is not quite as glad with Ted's approach, seeing as the day trip to London's "poopay" disposal system just gave Nate (and by extension Rupert) more ammo to attack and demean the team. Which Nate is more than happy to fall back on in order to try and fit in with Rupert. Throughout the episode we see him pushing back all the doubt and self reflection, squashing away any slivers left of Nate The Great, and digging himself deeper into the darkness that has been taking over him since season 2. Nothing showcases this more than his first press conference as West Ham's manager, taking every which opportunity to take as many stabs as he can at Ted and Richmond, much to Rupert's glee.
A passionate yet somewhat desperate plea from Rebecca to get Ted to fight back against the ridicule, is what finally pushes our dearest Coach to take action. Still he rises up above it all, refusing to stoop to Nate and Rupert's level, choosing instead to kill everyone with his kindness, using self deprecation masterfully and reminding everyone what makes Ted, Ted and why we do love him.

Elsewhere Keeley, is left to fend a bit on her own, and seems to be a bit overwhelmed and feeling out of place in her own firm, despite Rebecca's constant encouragement. Not helping matters at all is the fact that she and Roy are also dealing with having called things quits, even though neither seems to keen on the prospect. Nothing makes that more evident as when we see they aren't even on the same page about what the status of their relationship is when they break the news to Phoebe. To her credit though the kid seems willing to take the news well, however never one to mince words (she did learn all her best lessons from Uncle Roy after all) she does call out our resident grouch on being stupid. Clearly, Phoebe, much like the rest of our Richmond gang, does seem too happy about how things are starting out this season either.


A good episode overall. With the show's usual tight writing and phenomenal performances it's hard to expect anything less than a "good episode" from Ted Lasso. Having said that I personally came out from the other end of it, feeling a tad underwhelmed.
The show seems to be on pretty solid ground where its characters are concerned, which is comforting seeing as the character work is always where Ted Lasso excels anyway.
However things do feel a bit scattered narratively. In S1 there was the very clear aim to unite the team and not get relegated. In S2 it was all about getting back on the Premier League. And despite the odds being stacked against our heroes in both cases, neither felt entirely unreasonable. Smells Like Mean Spirit absolutely lacked that same sense of purpose. Yes, there is the desire to "win the whole fucking thing". However having everyone and their mother drive the point home of how unachievable that is have placed that endgame on the "wish fulfilment/suspend belief and it might happen only because it's TV" list (and for a show that's never taken the easy route when things get hard I don't how willing I am to believe the Greyhounds will win this out of sheer will).
I guess my point is, something more tangible is missing from the set up of the season long storyline… Some options have been teased: maybe it's about Nate's redemption and bringing him back into the fold. Maybe it's about Ted coming to terms and facing his displacement head on. Maybe it's about finally outing Rupert's true face to the world. Or maybe, I'm simply overthinking this and it is just about the ultimate underdog winning the whole fucking thing… Either way, this is Ted Lasso and I'm certainly happy to stick it out and see what the show has in store for us in the next few weeks.

For now I'll just settle with catching this week's new episode, and then just rewatch it on repeat until 3.03 drops next Wednesday!