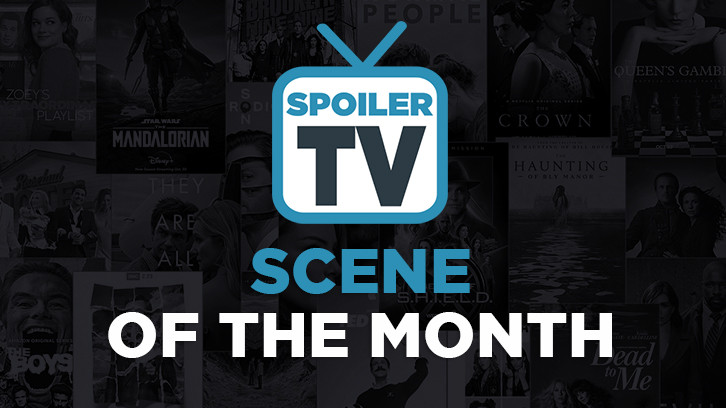 A monthly feature in which we're trying to find the most compelling, best acted, written, directed and just generally great, memorable scenes that we've seen in the past month.
911: LONE STAR, "Human Resources", February 21st, 2023, Actor: Natacha Karam
The Scene: Marjan resigns
Ben L:
An emotional scene after we finally get to see an episode when Marjan and Paul are not just background noise. Marjan chooses her integrity and ultimately the safety of others over blackmail.
A MILLION LITTLE THINGS, "The Last Dance", February 8th, 2023, Actor: James Roday Rodriguez, The Scene: Gary visits a friend of his dad's old war buddy
Lexi F:
In an attempt to tell a funny story about his dad, Gary is overwhelmed with grief and just breaks down and it broke my heart.
ALL AMERICAN, "Time", February 13th, 2023, Actors: Daniel Ezra, Taye Diggs, Karimah Westbrook and more, The Scene: Jordan and Grace break the news that Billy has died
Cristina13:
In one of the most shocking moves on TV, Billy Baker, beloved coach, husband, father and father figure to so many, died. Viewers were blindsided and there was no way to see this coming. In this scene, Spencer, Olivia, Coop, Layla and Laura were at the Baker house awaiting news of the South Crenshaw school bus crash. Last they heard from Billy, everyone had survived with minor injuries. But that was no longer the case. Billy heroically went back into the school bus that was teetering on the edge of a cliff, to save Jbari's life. Grace and Jordan arrive at the house as Spencer is listening to a voice message that Billy had left him, letting him know he had decided to remain at Crenshaw and turn down the GAU job. He also told Spencer he loved him and was hoping to make amends. Viewers watched as everyone in the house reacted to the heart-wrenching news, while Billy's voicemail narrated the scene. The emotion coming from everyone, all of the people who loved Billy the most, was genuine and raw, and so difficult to watch. His death was a shock to me as well, and I broke down and cried as well. It was hard not to as you could feel the sadness emanating through the TV screen. It was such a tragic moment for the characters and for the show. It left viewers speechless and with the feeling that nothing would be the same ever again.
CHICAGO PD, "Trapped", February 22nd, 2023, Actors: Marina Squerciati, Patrick John Flueger, The Scenes: Kim's panic attack on the train & The ending scene with Kim in therapy
Lexi F:
Kim Burgess' second panic attack of the episode on the train - It was such a raw and scary scene and the attack felt different than the first one. Kim was wearing the same color shirt as when she was kidnapped/shot and was covered in blood while laying next to a dead body, which made this one feel all more real to her. Adam Ruzek finds Kim and just grabs a hold of her to calm her down and brings her out of the panic episode. Their on-screen chemistry continues to shine through and this scene highlighted that.
Morgan:
The ending scene with Kim in therapy. I really appreciated how her PTSD was portrayed and explored in this episode, and Kim's acknowledgment of how real this issue has become for her was such a wonderful moment to see. She's been through so much torment, but can finally see the light at the end of the tunnel and I'm hoping she'll get the healing and closure she deserves.
Rianne:
The scene on the subway train where Kim is having a panic attack. It felt so real and raw. Her struggle with helping this kid trying to survive and her own fears and memories taking over her control from when she was kidnapped and shot.
GREY'S ANATOMY, "I'll Follow the Sun", February 23rd, 2023, Actors: Ellen Pompeo, Aniela Gumbs, Caterina Scorsone, The Scenes: Amelia tells her story to a sick child's parents & Meredith reads the book to Zola
Mary F:
Amelia goes to talk to the child's parents, the boy who was born with a malformed heart and tells them her story. About how she gave birth to her first child Christopher knowing he wouldn't survive because there was no cure or surgery for anencephaly. But if there was, she would've done everything in her power to cure him. She says she thinks about Chris a lot these days, especially now that he has a brother - Scout - and she asks herself whom would he be now.
Marko:
Meredith sharing this empowering moment with Zola was a great closure to her arc as a regular. Ellen often spoke out how important Mer's independence is and how annoyed she was by the way they pushed male leads onto her after Patrick's departure. Meredith chose her and her children and couldn't choose someone who wasn't choosing her right of the bat.
HAPPY VALLEY, "Episode Six", February 5th, 2023, Actors: Sarah Lancashire, James Norton
The Scene: Final confrontation between Catherine and Tommy
DarkUFO:
Final confrontation between the two in Catherine's kitchen.
HOW I MET YOUR FATHER, "Universal Therapy", February 28th, 2023, Actors: Hilary Duff and more, The Scene: The group begs Ellen's therapist to take her back as a patient
Marko:
It was a sweet swift scene but so honest and heartwarming. Sophie eventually flipping out and threatening the therapist was perfectly timed and executed by Hilary Duff.
LAW & ORDER: SPECIAL VICTIMS UNIT, "King of the Moon", February 23rd, 2023, Actors: Mariska Hargitay, Peter Scanavino, Bradley Whitford, The Scene: Pence flirts with Olivia
DJRiter:
In one of the finest Law & Order: SVU episodes of this season, guest star Bradley Whitford gives an Emmy-worthy performance of a beautifully and touching script, expertly directed by series star Mariska Hargitay. One of the most touching and stand-out moments comes when Whitford as Pence Humphrey, a noted professor with dementia despondent after thinking he killed his wife, has tried to take his own life and is visited in the hospital by Captain Benson (Hargitay) and Carisi (Scanavino). Clearly touched by Benson's compassion, flirts with her and says, as she and Carisi are leaving, "An ass like the devil and a face like Jayne Mansfield" which is a lovely shout-out to Hargitay's late mother, bombshell Jayne Mansfield.
NOT DEAD YET, "Not Dating Yet", February 22nd, 2023, Actors: Gina Rodriguez, Langston Kerman, The Scene: The reveal that Nell went on a date with a ghost
Marko:
Utterly heartbreaking. After an emotional rollercoaster the episode concluded with pure heartbreak. Nell isn't ready to move on from her fiance but she eventually let her guard down just for her heart to get broken. The realization that Jesse was a ghost caught me by surprise and turned the episode on its head.
SHRINKING, "Woof", February 17th, 2023, Actors: Jason Segel, Harrison Ford, Luke Tennie, The Scene: Paul gets Sean to open up
Folie-lex:
After some hurtful coaxing from Alice, Paul finally steps in to help both Jimmy and Sean out of their rut proving himself to be exactly the powerhouse therapist Jimmy and Gaby look up to, and showing Jimmy the appreciation he has for him. It's a quiet scene that relies on the heart the show has and the phenomenal performances of its cast to more or less encapsulate what Shrinking does best. It has truly been a delight to be reminded how good of an actor Harrison Ford really is when he cares about the material so much.
SO HELP ME TODD, "Psilo-Sibling" & "Wall of Fire", February 2nd & 9th, 2023, Actors: Skylar Astin, Marcia Gay Harden, Inga Schlingmann and more, The Scenes: Lawrence admits how he really feels about his relationship with his brother & Todd tells Susan he's happy for her and Peter
Cristina13:
Lawrence admits how he really feels about his relationship with his brother. Margaret, Todd and Lawrence spend the night at a Psilocybin mushroom farm, to investigate strange occurrences that are happening to Margaret's client. Desperate for her sons to find common ground, Margaret parallels the governor's estranged relationship with her sister to Lawrence and Todd's relationship. Margaret encourages the brothers to mend things while they still can, so that they don't end up estranged after she inevitably passes. Things take a strange turn, when Lawrence begins babbling nonsense. They discover that he drank the Psilocybin tea that was given to them by farmers Sara and Joe. Under the influence of mushrooms, Lawrence lets his guard down and confesses that all he wants is for Todd to like him. All of these years, Todd has believed that Lawrence hates him, when that is far from the truth. Yes, Lawrence is extremely bothered by the fact that Todd continues to get bailed out by his mother, despite the plethora of bad choices that he has made. Underneath the surface, however, all Lawrence wants is the love and acceptance of his brother. This revelation puts things into perspective for Todd, and despite an uncomfortable family dinner with the Governor, the Wrights are in the best place they have been as a family since the beginning of the series.
Folie-lex:
Todd tells Susan he's happy for her and Peter. Many lesser shows would have gone the trite "Peter is a jerk and unworthy of Susan" route. Others would have simply laid out the overplayed "Todd is simply jealous" plot. But So Help Me Todd, in all its delightfulness and heart makes the mature and rare narrative choice to have Todd, more or less "let Susan go" after he meets Peter and realises how absolutely wonderful he is. More shows should take note.
STAR TREK: PICARD, "The Next Generation", February 16th, 2023, Actor: Gates McFadden, The Scene: The return of Beverly Crusher
DJRiter:
The third season of Star Trek: Picard kicks off with the return of everyone's favorite ST: NG doctor, Beverly Crusher, but this isn't the same Beverly we remember. This one, in Gates McFadden's talented hands, is a bad-ass warrior defending her ship and crew from being boarded, and then, despite being wounded, manages to send a cryptic help message to the one person she feels she can still trust, Jean-Luc Picard, a man she hasn't spoken to in 20 years. This sequence gets the series final season off to a rousing start by setting up the return of the beloved crew of the ST: NG Enterprise.
STATION 19, "We Build Then We Break", February 23rd, 2023, Actors: Jaina Lee Ortiz, Barrett Doss, Merle Dandridge, The Scene: Andy, Vic and chief Ross protect an anxious black man from the cops
Rianne:
The scene where Andy, Vic and chief Ross stood in the line of fire from the cops who wanted to bring in an anxious black man who was having panic attacks. While Andy was trying to calm him down, Vic and Chief Ross used their bodies as an human shield to stay between them. Chief Ross taking lead and ordering Andy to check the man's bag when he was calmed down a little. And when everything seemed clear Chief Ross told Dixon he needed to tell his men to stand down. Showing her authority on the scene over him. And all three women working together to help protect this black man from a lot more cops.
THE COMPANY YOU KEEP, "Pilot", February 19th, 2023, Actors: Milo Ventimiglia, Catherine Haena Kim, The Scenes: Charlie shows up at Emma's house & Charlie and Emma spend the night together
Morgan:
The ending scene when Charlie shows up at Emma's house. He knows the kind of life he leads isn't one that includes a fairytale romance — at least not right now — but him wanting to apologize and make things better with Emma, wanting to assure her he does feel something between them, was truly swoon-worthy. And that kiss they shared after his declaration wasn't too bad either.
Marko:
Charlie and Emma spend the night together. Chemistry is such an important part of this show and Milo and Catherine are oozing it. Them spending the night together but not having sex made the scene that much more important and build up closeness between them. Top-notch casting and execution, it sold the show for me.
THE GOOD DOCTOR, "39 Differences", February 13th, 2023, Actors: Freddie Highmore, Richard Schiff, Paige Spara, The Scene: Glassman, Lea and Shaun in front of the old Glassman house
Raquel:
Glassman contemplating the ruins of his house and his old life with Shaun and Lea, realizing that his memories will never go away but that his life and his family are now with the two of them and not in those crumbling walls was a moment that never left my head. I cried.
THE LAST OF US, "Endure and Survive" & "Kin", February 12th & 19th, 2023, Actors: Pedro Pascal, Bella Ramsey, Lamar Johnson and more, The Scenes: The deaths of Sam and Henry & Joel confides in Tommy and asks him to take Ellie to the Fireflies
Justyna:
There's been so many great moments on this show that it feels impossible to choose just one. For a while I was planning to write about Joel protecting Ellie from the infected from a distance, or the tragic end of Henry and Sam. But then came episode "Kin" and I decided to highlight the scene where Joel opens up to his brother and admits how he really feels about Ellie and everything that's happened to them. Joel has been trying so hard to keep his emotions in check since the start of the series. Losing Tess must have been a painful hit, after so many years together, with almost no goodbye, yet he barely let himself grieve her. And then losing Henry and Sam in the most tragic and shocking way, shortly after Joel offers Henry to join him and Ellie on the road, it's another heartbreak to hide and bury. Months later, Joel is finally reunited with his younger brother, Tommy, and after some initial arguments, he eventually decides to tell him the truth about Ellie and their journey. He admits just how weak and vulnerable he feels, how broken. He's scared of getting Ellie killed and earlier in the episode, he freezes when he believes she might get detected by the dog. He doesn't believe he has what is takes to protect her and because he cares about her, because she's important, he needs Tommy to be the one to take her to the Fireflies. It's such a powerful and heartbreaking confession, wonderfully portrayed by the incredible Pedro Pascal. He stole the hour for me in this single moment and broke my heart when Joel admits how much he's struggling, even when he's supposed to be resting. He's just human, getting older and being flooded by his sadness and fears, letting out all his bottled up emotions, after starting to develop panic attacks. He's a protector who worries he lost his strength and will fail again. And he can't lose another daughter. "
I'm failing in my sleep. That's all I do. It's all I've ever done is fail her again and again. And again.
" Such an incredible performance. Kudos to Pedro Pascal and the rest of the cast & crew for all their work on the series.
MariaSol:
Sam gets infected and Henry shoots him. Every week, this series gives us new shocking moments to remember, but this scene definitely stands out. From the night before, when Ellie tries to "heal" Sam from the wound left by the attack using her "immune blood", through her broken promise to take care of him all night, which later makes her feel guilty, until getting to the moment where Henry kills him by seeing him transformed and attacking Ellie, and then shooting himself when he realizes he won't be able to live with what he just did, I think the surprise and drama of the whole scene, including the characters' reactions to all that is happening, make it one of the most memorable, and certainly one of the saddest, of this show.
THE ROOKIE, "Exposed", February 21st, 2023, Actors: Alyssa Diaz, Mekia Cox and more
The Scene: The crew chatter on the radio
Folie-lex:
As the Midwishire gang tackle personal topics over the LAPD airwaves the audience is yet again reminded why we love these characters so much and how well they work together even when they aren't in the same room.
THE WAY HOME, "Building a Mystery", February 26th, 2023, Actors: Chyler Leigh, Remy Smith, The Scene: Kat walks Jacob home
DJRiter:
It was just a simple little scene, but so exquisitely performed that it captured the entire essence of the series and undoubtedly brought everyone watching to tears. In a masterclass performance, Chyler Leigh, as Kat, travels back to 1999 to keep her little brother Jacob from disappearing at the fall carnival. She arrives in time to find him alone, and thinking she's saving him, she offers to walk him home to keep him safe. Watching Leigh and young actor Remy Smith (who exudes innocence) interact during that brief walk was both powerful and emotional. During their short walk, Leigh is mesmerizing to watch as Kat struggles with the emotions that threaten to overwhelm her. She's getting to see and talk to someone she hasn't seen in the 20 years since he disappeared from her life on this same night so long ago. Her body visibly shakes as she fights to keep from reaching out to touch him, to hold his hand like she used to, or to grab him and hug him, as tears glisten in her eyes. She shines this entire episode but this is the moment that elevates it to award-worthy status.
WALKER: INDEPENDENCE, "How We Got Here", February 23rd, 2023, Actors: Matt Barr, Jared Padalecki, The Scene: Hoyt and The Ranger have a standoff
Folie-lex:
It's a silly little scene, sure, but Jared Padalecki with his cameo on the spinoff from his new show proves yet again why he's had a career spanning over 2 decades: He knows how to make an impression by just having fun on camera. Dad jokes and his great rapport with Matt Barr while in Hoyt-Rawlins-mode just made this little scene so much more enjoyable. It was a wonderful cameo by the Walkerverse's executive producer that likely/hopefully/barring the show doesn't get cancelled will lead to another appearance down the line.
YOU, "The Fox and the Hound", February 9th, 2023, Actors: Penn Badgley, Ed Speleers and more, The Scene: Joe comes face to face with the "Eat the Rich" killer
Cristina13:
Sadistic serial killer Joe, tries to start over and live a quiet life in London as Jonathan Moore, but his world is rocked when a stalker who knows his real identity, gets him involved in a murderous web. Joe is forced to insert himself deeper and deeper into the dark life of the British Elite, so that he can figure out who his stalker is and prevent him from revealing his identity. In this scene, Joe is being chased by Roald, who has a shotgun and is out for blood, when Rhys turns up and knocks Roald out, saving Joe. Until now, Rhys had been Joe's only true friend as he was different from the elitist snobs, having worked his way up after being raised in a life of poverty. Joe is stunned when Rhys reveals that he is the Eat the Rich Killer, and he wanted to rid the world of "spoiled, violent little shits." In another shocking move, he locks Roald and Joe in shackles in the secret bowels of Lady Phoebe's country home, and sets it on fire, leaving Joe to try and figure out how to save himself before he goes up in flames. The show has done a brilliant job of writing Joe's character so that viewers actually root for him, even though he's a psychopath. In this moment, viewers desperately wanted Joe to find a way out and save himself and not only did he save himself, but Roald too. Penn Badgley plays Joe in such a charming way, that it is difficult not to like his character. This was an action-packed scene filled with suspense and a perfect way to end part one of the series.