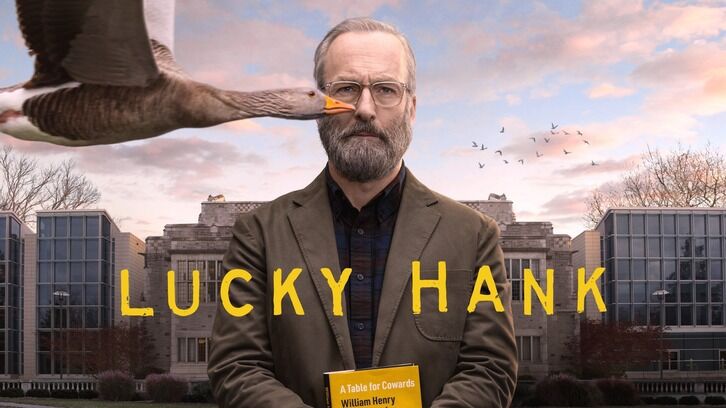 Lucky Hank is AMC's new show based on Richard Russo's 1997 novel Straight Man. Straight Man, whose title comes from the comedic archetype, is the story of William Henry "Hank" Devereaux Jr., a tenured full professor chair of the English department at Railton College. A school that on it's best days aspires to be middle of the road. Hank himself is the son of an academic giant, whom he shares his name with. While Hank has had some success in the academic world being a published writer, he regards his own work as ok at best and ultimately believes in the principle of Occam's Razor which to him states if he was going to be a successful writer he would have been one already.

Hank is going through a midlife crisis, though he himself doesn't think so. Throughout the book Hank deals with the impending arrival of his diminished father, an imminent war between the college administration and the union which he has somehow become the center of, his wife leaving town for a job interview, his own sudden celebrity, his daughter's disintegrating marriage, and his physical discomfort at not being able to urinate which he believes is caused by a kidney stone (as his father had before him).

So far, the show Lucky Hank does seem to have earned the term "based on" rather than being a retelling of. The first episode has a handful of scenes that are similar to the book but also manages to establish itself as it's own entity.

The show begins with Hank half listening to an atrociously written short story by a student, Bartow, who a) seems to believe he will be the next Geoffrey Chaucer, b) is unable to accept any criticism, and c) is surrounded by other students who seem to be afraid to give anything more than positive feedback lest their own shortcomings as writers be exposed. After Bartow and the class insist on feedback Hank gives an honest assessment. Bartow tries to insult Hank by reminding him he's a failed writer to which Hank blows up and declares Bartow is mediocre and the proof is that he's at Railton College.

This, of course, does not go over well with the faculty and administration. An ever-scheming colleague, Gracie DuBois, herself an over the hill former beauty and failed poet, uses the slight to plot to get Hank removed as department chair. While Gracie succeeds in getting Hank recalled she quickly finds herself in the trap of many failed coups, the "where do we go from here" issue as there is no consensus in the ever-divided English department of who will take over. Hank on the other hand, who believes happiness is overrated, finds himself pleased with the possibility that his career in academia might be collapsing around him.
Hank begins to discuss with his wife Lily about the potential of them leaving town if the right job opportunity appears for her. Though as this reality starts to become more possible than fantasy Hank quickly shies away citing the proximity to their daughter and his own mother. Lily herself, is also in academia. She is an assistant principal at a local high school with a much sunnier outlook on life than Hank and shows more of a belief in a goodness of people.
Meanwhile, Hank is disturbed by an article he's seen in a national newspaper which has announced his father (and namesake's) retirement. Hank, who hasn't talked to his father in 15 years, never forgave his father for leaving his mother to become the academic equivalent of a rock star. A call from his father's secretary informing Hank of the dissolution of his father's third marriage and hints that his father's emotional stability maybe be off kilter does little more than annoy Hank.
By the end of the episode Hank ends up being re-elected chair of the department because a) No one in the English department could agree that they wanted anyone else leading the department and b) a combination of spite and mistake. The episode ends with Hank admitting to a friend, fellow professor Tony Conigula, that his father's retirement will ultimately upset the balance of his life.
I read the book Straight Man years ago when I was a teenager and enjoyed the book immensely, much to the surprise of my own father who enjoyed the book partly because he felt he could relate to a middle-aged male character. For my part I simply thought it was a well written story with good subtle humor. I supposed it also helped that even as a teenager I saw enough college departments to understand the English department at Railton college was like many other departments in colleges and universities across the country.
One of the biggest problems with adapting a book to screen is those of us who have already read the book have already gotten a certain feel for the characters and expectations on how they should act in certain situations. While Bob Odenkirk certainly fits the physical description I had expected of William Henry "Hank" Devereaux Jr. his portrayal of the character is somewhat different. In the book Hank is the ultimate comedic straight man, somewhat passive and indifferent to the world while ultimately accepting Occam's Razor explains his life. Odenkirk's version seems to be a little more bitter and angry. The outburst at the beginning of the episode, while very much in the Hank Devereaux Jr. voice, is different than the book in that I would never have expected the book character to have said anything as such directly.
There are two gender swaps in Lucky Hank, one not noticeable and the other surprising. Nancy Robertson plays Billie Quigley in
Lucky Hank
, a hard drinking Irish Catholic family woman approaching retirement age who looks down on her colleagues, other than Hank, for their petty bickering. Her only real concern is that her daughter, Meg (who wasn't in the pilot but will be in future episodes) will end up stuck in Railton like her mother and drink her life away. The only difference between her character and the character in Straight Man is Billy Quigley in Straight Man is male. Otherwise, no change and so far Nancy Robertson is playing the character exactly as I'd expect. On the other hand, Shannon DeVido has been cast as Emma Wheemer, a liberal feminist professor who shows tv shows in her class and thinks literature is overrated (yes, she's an English professor). For anyone who's read the book this ends up being a fairly big surprise. She takes the place of the character Campbell Wheemer who earned the nickname "Orshee" due to his insistence on say "or she" or "or her" any time a colleague uses a masculine pronoun. In the book Orshee is essentially the kind of professor who many US governors would prop up as being what's "wrong with all these damn liberal colleges." In my opinion the gender swap of the character, even of a more or less minor character, is odd considering him being a male ultra-feminist is part of what earns his joke reputation among the English department. It's not a major issue but it still seems like an odd choice.
For the most part though most of the characters haven't really had enough screen time yet for me to make a decent enough comparison to their counterparts on paper. I will say the dean, Jacob Rose, seems a lot more passive than I would have expected and Gracie DuBois while thinner than described in the book is pretty much exactly as expected. I most enjoyed Ellen MacNevin as the department secretary Rachel. In the book Rachel's mannerism are well described. She's an incredibly intelligent and overqualified to be the secretary for a department of burnouts. Her competence allows a maverick like Hank to become an effective administrator. In the book Rachel is painfully shy, so much so that every sentence she says comes out as a question as if she's unsure of what she's saying. While Rachel only had a few seconds of screen time in the episode she did match my imagination exactly. In the book while Hank is devoted to his wife and would never cheat on her, Rachel is one of three women he admits he must work at not falling in love with.
Overall, I do think it's a good start. I have been expecting some adaptation for some time, whether as movie or tv show, of Straight Man and while I can't say this has hit on my expectations, I will say I am not disappointed. That may not sound like a stellar recommendation of the show so I will simply say I am looking forward to the rest of the season in a way that I haven't really felt about looking forward to a show for a little while now.