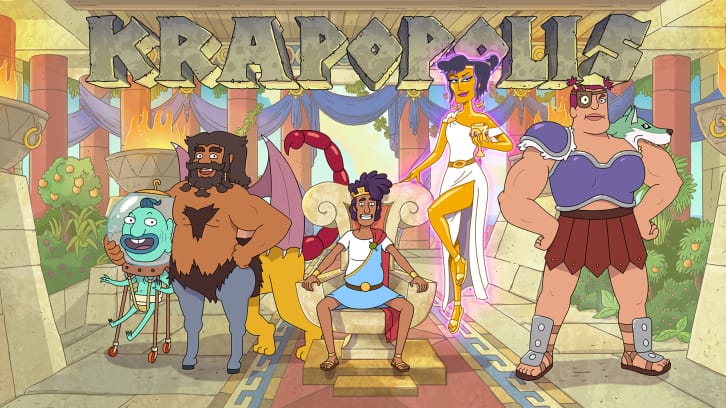 FOX Entertainment and its Emmy-winning animation studio Bento Box Entertainment triple-down on the upcoming animated comedy Krapopolis with a third season renewal it was announced at London Screenings by Michael Thorn, President, Scripted Programming, of FOX Entertainment.
From Emmy Award winner, creator and executive producer Dan Harmon (co-creator of Rick and Morty, creator of Community) and produced by FOX's Bento Box Entertainment, Krapopolis will make its series premiere during the 2023-24 Season. Propelled by early fan response, the series, wholly owned by FOX Entertainment and distributed by its worldwide sales and distribution unit, FOX Entertainment Global, earned a season two renewal last October.
"The 2023-24 Season is the perfect launching pad for this highly-anticipated and very funny animated comedy, complete with multiple seasons of epic laughs for fans," said Thorn. "The more we see from production, the more excited we are about their creativity, story arcs, flawless execution, brilliant voice cast, and ability to pump out episode after episode of astonishing events and outrageous, unexpected hilarity."
Krapopolis is set in mythical ancient Greece and tells the story of a dysfunctional family of humans, gods and monsters that try their hand at running the world's first cities – without trying to kill each other, that is. The series features the voices of Emmy Award winner Hannah Waddingham (Ted Lasso), Richard Ayoade (The IT Crowd), Matt Berry (What We Do in The Shadows), Pam Murphy (Mapleworth Murders) and Duncan Trussell (The Midnight Gospel).
Krapopolis is an outgrowth of Harmon's direct animation deal with FOX Entertainment. In the series, Ayoade voices "Tyrannis," the mortal son of a goddess. He's the benevolent King of Krapopolis, trying to make do in a city that lives up to its name. Waddingham plays "Deliria," Tyrannis' mother, goddess of self-destruction and questionable choices. Within her extended Olympian family – forged in patricide and infidelity – she's known as the trashy one. Berry is "Shlub," Tyrannis' father, a mantitaur (half centaur [horse + human], half manticore [lion + human + scorpion]). He is oversexed and underemployed, claims to be an artist and has literally never paid for anything, in any sense of that word, for his entire life. Murphy voices "Stupendous," Tyrannis' half-sister, daughter of Deliria and a cyclops. Trussell plays "Hippocampus," Tyrannis' half-brother, offspring of Shlub and a mermaid, and, obviously, a hot mess, biologically speaking.
---