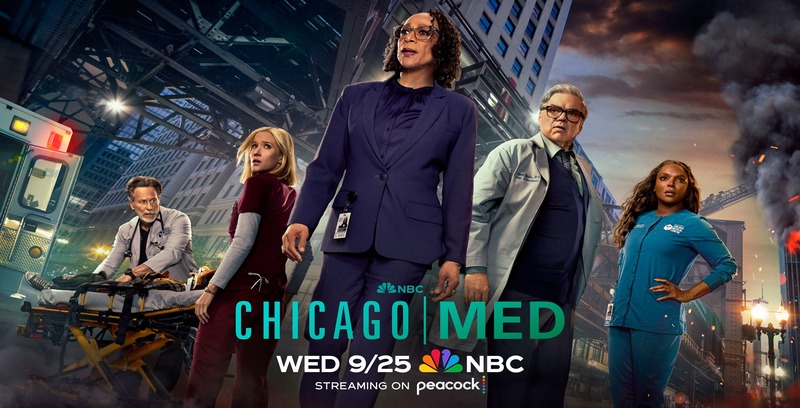 This episode of Chicago Med was one that not only showed the realism of the negative impact from disruptions when any essential team members at the hospital are absent, but also we saw a lot about managing risks, whether fiscal, political, patient and family related or related to personal choice and patient rights.

Dr. Charles, Liliana, Dr. Cuevas and David Sullivan

Dr. Charles is supporting Liliana and the housekeeping staff who are on strike on his day off and picketing. This was such a sweet scene, where you can see that despite his role in the hospital, Daniel wants to be there on his day off to support the person he cares about.


Afterwards, he goes out to see Liliana and she and her friends are going to celebrate the strike being settled and she says he has to go because he is her boyfriend. His reaction to this comment was so adorable, and clearly he is very happy for her to be formalizing their relationship.
Dr. Halstead, Dr. Song, Doris and Walter
Will is talking to Doris when he notices her scratching and he sees a rash on Doris' neck that is the same as Walters, but she says she has been changing beds and turning over rooms and has not been near his patient. Dr. Halstead realized what the rash is and takes a picture to send to Goodwin of eggs from bed bugs in the laundry because the temporary custodial staff are not properly cleaning.
This really shows the importance of the cleaning needed to keep patients safe in the ED, and I personally would be horrified if a situation like this happened at a hospital where I was a patient. Sharon was absolutely correct that the negative impact not only to patient care, but to reputation and potential media issues were absolutely a huge risk when it came to the work disruption at Gaffney.
Dr. Marcel, Maggie and Abby Hawking
Goodwin, Jack Dayton and Dr. George Thomas
It was lovely to see the relationship between Goodwin and Dr. Thomas growing and that he seems to be a really great addition to the Board. And after all she has been through, it would be lovely to perhaps see a little bit of romance blossoming for Sharon in the future too…we will just have to wait and see.
Sean, Dr. Archer, Dr. Cuevas and Deana
Deana has been vomiting and nauseated for a while and also very little appetite and has lost quite a bit of weight. She says she has been stressed out because her daughter Olivia has been staying with her and has been ill for a while. Based on her test results, Dr. Archer has to take her to the OR and removes a huge bezoar from her stomach which is a big ball of hair, and he calls Dr. Cuevas to consult. However Deana absolutely denies that she has been eating her hair and become angry.
Dean goes to see Sean where he is living and tells him about what happened with his mother and how that affected him and that he is sorry that he wasn't there for him. Sean tells him he is there now and they hug. This was such a beautiful scene, as it is so rare until this season to see any true emotion from Dean Archer. Perhaps the new relationship and respect he has developed with Dr. Asher has also allowed him to be able to start to tap into some of his emotions, and now he is able to start to show some of them and know that is okay, and allow him to reconnect with Sean. It will be exciting to see if we will finally start to see a more compassionate and kind Dr. Archer…although we likely need to prepare ourselves for a slow progression based on past experience with Dean. But considering he has been the doctor we have all loved to hate for some time, any positive change would like be welcome.
What did you think of this episode of Chicago Med? Share your thoughts in the comments below.