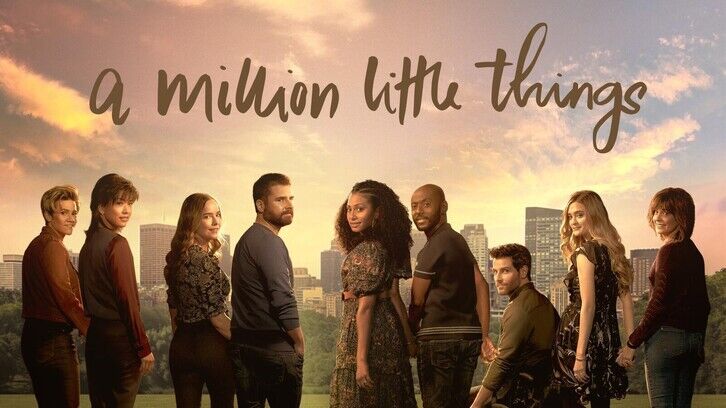 I feel that this final season is off to a slow start and that kind of scares me because what do they have prepared for the back half of the season? I think it might also be due to the anticipation of Maggie and Gary's baby, but it seems like next week's episode will include the birth of the baby. Here's what happened in the last two episodes.
Rome and Regina are on the search for a home caregiver for Walter and it's not going so well. Just when they think they found the perfect match, his dad gets into a disagreement with the guy over golf and now they're back to square one. Rome makes a big decision and ultimately asks his dad to move in with them and Walter accepts.
After Regina learns that Joseph died at the hospital, she decides to make sandwiches to give away to the homeless and runs into a man from her past - Dustin (a regular at her restaurant, Someday). Regina chooses to help Dustin, which puts a strain on her and Rome's relationship as she's not really helping with moving his dad into their apartment. She ends up finding a solution to getting Dustin and his daughter a place to stay by using her airline miles at a hotel.
Greta spends her first morning alone with Theo and it's not going as she hopes. Theo's bird friend dies at the vet, but the day turns around once they're home and find a nest full of eggs. Greta has quickly become one of my favorite characters on this show and I love how quickly she has bonded with Theo.
Eddie is trying to enroll in his first class, but it's full. A face from his past (the woman who hit him with her car) overhears the conversation and decides to help him out by getting him into the class. Eddie gets off on the wrong foot with the professor because he's late and on his phone reading a text from Theo. Later he tries to apologize and the professor gets even more rude and she suggests that he drop the class, but Eddie ignores her request and sticks with it.
Good for you, Eddie!
Maggie and Gary attend birthing classes and encounter some weird people there, but eventually end up making new friends, Claire and Evan. Their new friends reveal that they have decided to have a home birth and this piques Maggie's interest, but Gary is firmly against it. He tries to be open to the idea, but when the midwife visits, Gary is extremely rude and only asks questions about potential things going wrong in a home birth. After she leaves, Gary and Maggie have an argument that blows up, ending with the two of them being on completely opposite sides. Luckily their fight doesn't last long after Gary goes to visit Maggie's doctor and he informs him that "the safest way to give birth is whatever makes the mom most comfortable." However, Maggie does receive bad news from Evan as Claire went into labor at home and something went wrong, but later on that night, she learns that everything is okay. I guess we'll find out next week whether Maggie and Gary's baby will be born at home or in the hospital as Maggie wakes up in the middle of the night with what she thinks are contractions.
My favorite scenes from these past two episodes involved Sophie and Walter after Rome asked her to watch his dad while he and Regina were busy. The two of them bond over music and dating and Walter ends up telling her the sweet story of when he and Renee first met. The scene of Rome and his dad at the end of episode 5 also pulled on my heart strings as Walter is worried about waking up in the middle of the night and not knowing where he is. I just have a feeling that there will be many more tearjerker moments between these two as the season continues.
Let me know your thoughts about these last 2 episodes in the comments below.
What do you think the baby's name is going to be?