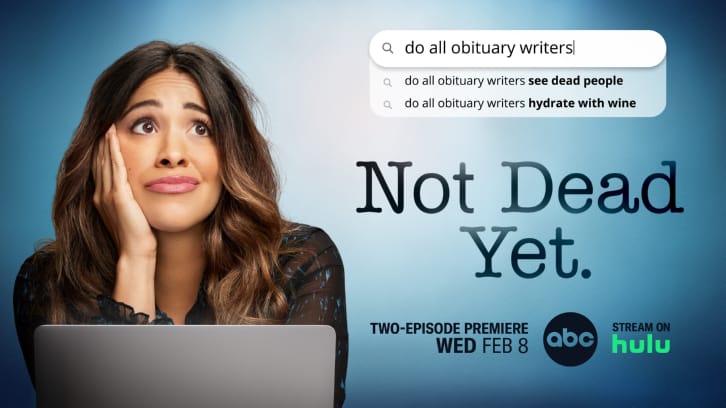 A couple of weeks ago we had the premiere of Not Dead Yet, so it's still time to make a recap about its first episodes.
Pilot
Although at the beginning it can be a little difficult get into the story, and perhaps even more so if you have no idea about what it's about since it could seem like another series about the life and misfortunes of a thirty-year-old, I think it's worth giving it a chance to discover the extra twist it has.
Created by Casey Johnson and David Windsor (This is Us, The Real O'Neals) and based on the book
"Confessions of a Forty-Something F**k Up"
by Alexandra Potter,
Not Dead Yet
introduces us to Nell Serrano (Gina Rodriguez), a journalist who five years ago left her whole life, job and everything to follow a man to the UK and when things didn't work out, she had to go back and try to get her old life back, but the thing is that her old life is no longer the way it was because, for example, her best friend, Sam (Hannah Simone) now has a new best friend who also happens to be someone not very liked by Nell, and who is also now her new boss, the owner of the newspaper she had to return to and in where now she is in charge of the Obituaries section, which does not make her very happy, but it is precisely this situation that will be the main trigger of the plot of the show, because this reporter will have a special help to write those pieces, nothing more and nothing less than the same people she has to write about.
This situation will not only give us some funny moments, but it will also help Nell reflect on her own life and perhaps give her a new perspective about it and help her find her way again, since she feels she has failed after all she's been through.
The first spirit (ghost?) which she has to deal with is Monty (Martin Mull), a musician whose greatest professional merit was to have composed a commercial jingle. At first, as expected, this whole situation puzzles Nell, because she doesn't understand why she sees him everywhere and cannot get rid of him, until she finally decides to accept what is happening. In the end Monty leaves her with good advice for her life and a new friend, because somehow he connects her with his widow, Cricket (Angela E. Gibbs), with whom he lived a good life.
After establishing the general premise and giving us a quick glimpse of the main characters in the first episode, we get to the second one where the story begins to develop a bit more and we see new interactions between the characters, such as Nell's relationship with her roommate Edward (Rick Glassman) and her new friend Cricket, and although at the beginning it seemed that Monty could be a more prominent character in the story, I liked the twist they gave it so he served as an excuse to start Nell's relationship with Cricket which, from what I've read, is an important character in the original book.
Although I would have liked to see one by one the spirits that Nell has to "work" with, at the beginning of the episode we were shown the visit of several of them, which leaves us with the idea that time has passed and that is why the story and the relationships between the characters are already a little more developed.
This time, Nell has to write the obituary of a motivational coach who, although she may seem annoying at first because of the way she is, she ends up helping Nell to be a little more accepting about her current situation.
I liked this episode, but not as much as the first one, because that had a much more emotional touch, which in this case was not felt so much, although there was still a moral at the end.
I like this kind of comedy, which not only makes you laugh but also gives you some emotional and reflective moments, and I think Gina Rodriguez achieves a good balance between the funny and dramatic moments that this character requires.
And although the story may seem a bit predictable, it's a good and enjoyable show, and since it's still in its first episodes, I think it has a chance to improve. And in case you were wondering like I was when I started watching the series, no, in the original book on which it's based, the ghostly apparitions aren't a part of the story, but I think it's a nice twist they added it to give this series something to difference it from others of its kind.
What did you think of Not Dead Yet? Have you read the book it's based on? Share your comments in the section below.