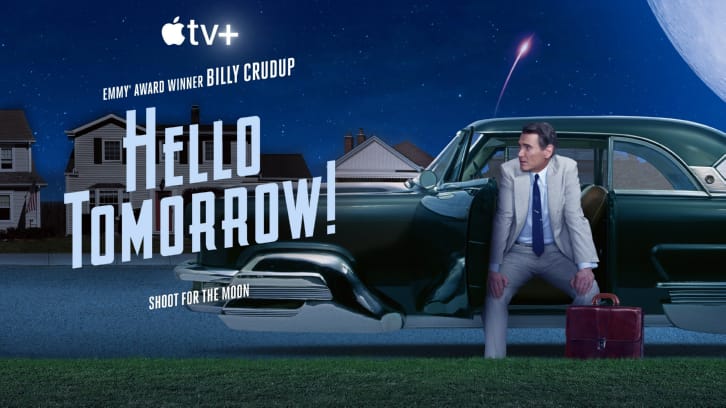 "Hello Tomorrow!" opens in a diner where a down-on-his-luck man's life is given a renewed sense of hope by a charming salesman, Jack Billings (Billy Crudup). Jack's an excellent reader of people and succinctly and accurately describes the problems the man faces, before offering him the opportunity of a lifetime: living on the moon. "Fools, like me and you, we get to dream on a better tomorrow," Jack says.

It's a hell of a sales pitch. So too is the show itself. "Hello Tomorrow!" is set in a retrofuture world – specifically, it looks like the 1950s – where technology is a wonder: there are hovercars driven by black and white cartoon characters, floating prams with a claw to reinsert dummies, robots which walk dogs, a robot mailman, businessmen with jet packs and even automated hairdresser's chairs which double as transportation.

Oh, and rockets that go to a colony on the moon.




Jack leads a group of traveling salesmen for Brightside Lunar Residences, who sell timeshares 243,000 miles above. In the group is cynical gambling debtor Ed Nichols (Hank Azaria, wonderfully gleeful in his chance to be cruel and profane); office glue Shirley Steadman (Haneefah Wood, offering good emotional depth), who's also cheating on her husband with Ed; and personable human-with-robot-mannerisms Herb Porter (Dewshane Williams, absent of any on-screen presence).

Things change for Jack when he's suddenly re-introduced to his estranged son, Joey (Nicholas Podany), whom he hasn't seen since the kid was two years old and to whom he remains anonymous for fear of ruining his life. Joey wants a new life on the moon but ends up recruited by Jack to join the sales team; professional success on Earth will suit him. All Jack wants to do is change lives for the better – whether that's a random stranger dreaming of a lunar home, or his promising son.



There are some good performances here, primarily from Crudup, Azaria and Podany. Anyone who's watched "Brockmire" will know how much fun it is to let Azaria loose, especially when he's allowed to veer into some kind of anger or frustration; like a cross between Moe, Chief Wiggum and Tony Soprano. Podany's rapport with Crudup is terrific, the young man bright-eyed and one of those dreaming fools, but there's a charm to his positivity and newfound enthusiasm. Their relationship is the very core of the series. Crudup's charisma carries all 10 episodes – the whole thing leans on Jack's unshakable faith in the business, and Crudup is excellent at finding the balance between desperation and the confidence which makes him such a successful salesman.

Very little else stands out. The show's joke ratio is low, with its main comedic success coming from Azaria and the sweet, harmless-yet-also-legally-obstructive commercial regulator Lester Costopoulous (Matthew Maher). Lester's arrival, set to whimsical music in a car much too small for him and with a robotic briefcase which follows and finds documents on voice command, sets the tone for his character: serious about his job while lacking the gravitas of any of TV's historical detectives. That's to his benefit, though, and Maher's air of innocence makes him eminently likeable, even as he tries to stop our protagonists from their sales.




Part of the problem is how unlikeable many of the characters are. Jack's over-reaching ambition in the face of all logic becomes tiresome after a while; so too does his hiding of certain truths. Ed's gambling problem threatens to damage his relationship with Shirley, despite their desperation to move to the moon, and while Azaria's off-the-rails rants are entertaining, Ed remains a horrible person for much of the season. Herb's a live-action dummy to his ventriloquist wife, Betty (Susan Heyward). Betty's ambition in life is for her husband to become the very best; Herb's is to follow his wife's ambition. Williams is better than Heyward but neither have much of a personality, and by the end their interactions are like watching a bad skit.

Alison Pill's Myrtle Mayburn, a woman who's convinced into leaving her husband for the miracle of moon-living, drives on the series' plot and, to Pill's credit, she does well to make Mayburn sympathetic in the face of all reasonable assumption. She's left furious after blowing up her own life for the sake of a contract she didn't read and sets out to destroy Brightside's business.




Mayburn gets caught up in the sales pitch: the dream of a brighter tomorrow. It's like the show does too. It looks glamorous, dons a sparkling new suit, speaks with confidence and makes you think you're becoming part of something truly great. But "Hello Tomorrow!" certainly isn't great. It's a mess of a series which sees its occasional moments of heart overshadowed by how lacking its character motivations are, how basic and dull its plot is.

Jack talks a good game, and you might even believe in his pitch. Don't believe in "Hello Tomorrow!" – have a brighter today without it.

The first three episodes of "Hello Tomorrow!" debut on Apple TV+ on Wednesday 15 February, with weekly episodes thereafter. I've seen all 10 episodes of the first season.