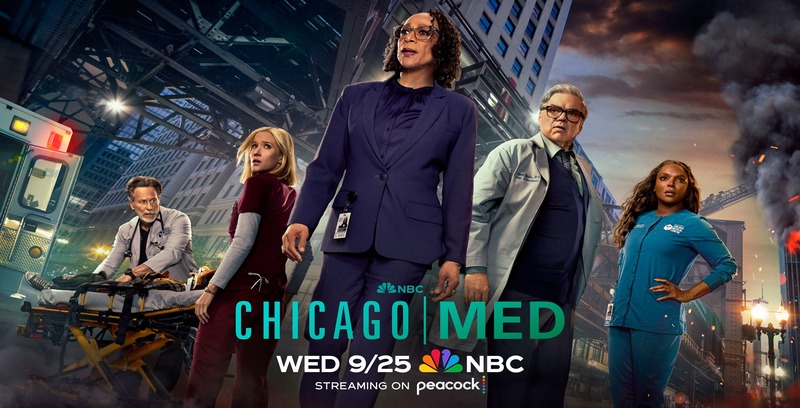 This episode allowed us to really see the passion of our team at Chicago Med, whether it is a passion for excellence in patient care, a passion for technology and new opportunities or a passion for love. And in some cases even a passion for distain for certain things…well, we all have to be passionate about something.

Dr. Charles, Liliana, Dr. Tanaka-Reed and Richard Wyatt

Liliana is nervous for open mic night at the club where they met and Daniel provides her with support and says he will be there to cheer her on right down front. There is no way you cannot love Dr. Charles and how kind and supportive he is, and it is so wonderful to see him in love again. Daniel introduces Liliana to Peter Kalmick. She appears uncomfortable when it seems like people are watching them and heads off to work.


Richard shares with Daniel that the catastrophizing he was experiencing is happening all the time and he is worried what if someone sees him melt down like that in public, and that he will never win a position in office if this gets out. Daniel tells him that over 20% of Americans struggle with anxiety. He shares with him that he was diagnosed with depression and he tells him how to reframe the diagnosis. He tells him he is not crazy, and that he is making assumptions about what other people will think. This was such a touching scene. It is so wonderful how well Dr. Charles's character is written, and that he has the ability to normalize and humanize mental health conditions and people with that diagnosis. If only we could have more physicians like this in the real world!
Maggie, Sharon, Dr. Marcel, Dr. Archer, Rose Howard and Paula Rivera
Jack arrives in the ED and introduces Crockett to Grace Song, who he says is also an incredible surgeon. Crockett asks about training other surgeons on the OR 2.0 and he agrees.
Dr. Archer tells them that he does not believe they need to come up with high tech solutions to problems that do not exist and Dr. Song says it is exciting because they are creating tech that is empowering and does not make people want to pull their hair out.
Sharon comes to pick up Maggie as her car is not working. She tells Sharon that Ben usually takes care of these things but she is trying to give him some space. Sharon reassures her that time is a great healer. There is no way that as a fan of the show you cannot love the friendship between these two women. They really have been there for each other through divorces, illness and times of emotional distress. As they are going to get into the car, they hear an accident and find a woman who has been hit by a car. Sharon and Maggie try to provide help while they wait for an ambulance.
Dr. Marcel meets the ambulance with Dr. Archer and they check out Rose and see she has a good amount of fluid in her belly and also has a pelvic fracture. They take her up to surgery and Dr. Marcel suggests using 2.0 but Archer says it is not time to play with his fancy toys and they will deal with the abdominal bleeding first. It is clear that Dr. Marcel wants Dr. Archer to embrace and try out the technology and that Dean, as only he can do, is ready to protest as it is not a traditional way to do things.
In the car, Paula says it is her fault and that they were arguing and Rose turned to walk away and she tried to grab her and that is when the car came out of nowhere. Paula suddenly has severe difficulty breathing. They ask her if the car hit her too and she says yes but she didn't think it was that bad, but it looks like she has a collapsed lung – Maggie does a needle decompression to her chest and relieves the pressure. The way that Maggie and Sharon are able to stay so calm and do what needs to be done really shows how professional and knowledgeable they are, and how lucky Chicago Med is to have them.
Crockett and Dean are in the OR and get the bleeding under control in Rose's abdomen and then they plan to take her to the ICU, and Crockett wants to take her to the OR 2.0 to use the imaging sensors to rule out an aortic injury, and Dean agrees to take her there after they close. While it seems like he may have been just appeasing Crockett, perhaps our old dog Dean may be intrigued with the new technology in some way.
Dr. Archer and Dr. Marcel take the patient to the OR 2.0 suite and they do the stent for the patient, but Dean hates using the system, as it provides its analysis and critics as they are doing the procedure, and he knocks one of the instrument sensors away. They complete the procedure and Dr. Archer says that the OR 2.0 is a backseat driver, and that he will not abdicate to a machine. Jack Dayton comes along and tells Dean he broke part of the 2.0 on purpose, and even though Crockett tells him it was an accident, Dayton tells Dean that he is fired.
Rose and Paula are reunited and Paula apologizes. Maggie watches and reflects and goes to Ben's school to apologize. She says she can't let a stupid mistake ruin the best thing that has ever happened to her and she is not giving up on them because their love is stronger than this. Ben says nothing in response and Maggie leaves, looking sad. Surely the Chicago Med fandom is hoping to soon see a reconciliation between these two, as their love and relationship has become a "shipper" favorite in the last few seasons, and it would be heartbreaking if they are unable to reconcile. I guess time will tell.
Dr. Halstead, Dr. Song, Jason, Connie and David Robbs
Dr. Asher approaches Jack Dayton about the email she sent him and he says he has not had a chance to read it yet, and tells her she will have to wait a moment while he makes an announcement, and he announces that he realizes he has a lot to learn about medicine and wants to turn to the experts and therefore he has asked Dr. Grace Song to observe in the ED to find ways to make their jobs easier and more efficient, so to feel free to discuss with her any concerns.
Dr. Song uses Dr. Halstead as an example and says he could be dictating his notes instead of typing them out, and Will says after he sees a patient that is how he has always done it. Will says it has not been a problem and allows him to wrap himself around patient histories and lab results and Dr. Song says he could be spending that time with more patients. Dr. Archer tells Will there is a patient waiting for him in Exam room 4. It is clear that both Dr. Halstead and Dr. Archer are not sold on the idea of new technology replacing traditional processes, and it is an interesting dynamic to see them finally agreeing on something, when usually we would find them at odds with each other.
After the initial testing, Will tells the Robbs that he cannot offer any thoughts on a diagnosis yet as Jason's lab work is all normal. Will tells them he is still thinking it is an infection but it may be hiding in his spinal cord or his brain, and he wants to do a CT scan and a spinal tap, when suddenly he starts seizing. They give him Ativan and his seizure stops. His parents are beside themselves as they feel what happened with their first son is happening again, and the terror in the room is palpable.
Dr. Song comes to ask Dr. Halstead why he ordered DNA sequencing on his patient and says it is an unusual order in the ED. Will tells Grace about Axel and reviews that the scan shows epileptic encephalopathy but he has ruled out every other cause other than genetics. Will says it is going to take forever to track down the diagnosis, but Grace offers to construct a neural network using existing DNA databases, but it could give him a highly probably diagnosis much quicker. Will thanks her but says he needs to figure it out the best way he knows how, again showing his distrust of the newer technology.
Jason is in the coma but has another seizure. Dr. Song comes in and has a diagnosis for them and they tell them what the treatment will be and that he will be fine.
Will thanks Grace and asks to be trained on the new system and she says she will be tweaking it, to allow for better patient interaction first. So it seems that Will has learned to be open to new technology, and Grace has reflected on the need to be human and engage with patients and family from Will.
Dr. Asher, Laura Wilson and Jack Dayton
Dr. Asher goes in to see Laura and her husband once Laura is awake and let them know the piece of retained placenta has been removed which should resolve the bleeding. She asks if she will still be able to get pregnant again and Hannah says she should be fine. Laura says she would like to leave but Hannah says she wants to monitor her a bit longer since she had heavy bleeding for 9 days, and her husband says they called the doctor's office about the bleeding and they said it was fine. They discuss that bleeding can be objective and difficult to assess especially over the phone, as Laura said she did feel off but did not know if what she was seeing was normal to the doctors. She suddenly has a gush of blood and asks if she should still be bleeding and Hannah orders some medications and she tells them they will handle it.
Dr. Asher bursts into a meeting with Jack Dayton and tells him she will paraphrase her email. She tells him that there is a new public health program checking on mothers and newborns and they need to join. Dayton says it is too costly now and they can revisit it again in the future. She tells him that it has already proven its worth and tells him she just did a hysterectomy on a 26-year-old who almost died and will now never be able to have more children because she was bleeding so heavily for 9 days and no one saw her. If she would have had this program, she never would have never had to have this happen. Jack Dayton seems stunned, and then agrees to enroll Med in the program. It seems that when physicians show their passion for their patients, it really seems to push the right buttons with Dayton, and that may be something good for the team to know moving forward now that he is in charge.
So as this episode drew to a close, we saw love blossom, love remain strained, and the never ending advocacy at Gaffney continue, whether for a fellow employee, technological advancements or for overall excellence in patient care. I don't know about you, but I cannot wait to see what is next to come!
What did you think of this episode of Chicago Med? Share your thoughts in the comments below.