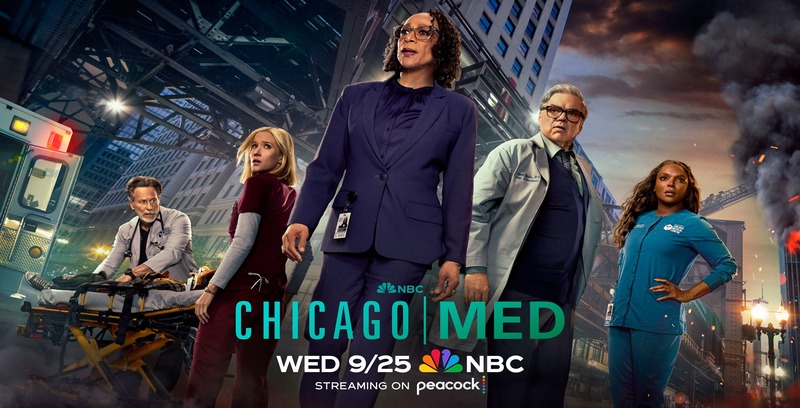 This was such an exciting episode as we see severe weather, and the good and bad sides of people and technology within the Gaffney Hospital.

Dr. Charles, Goodwin, Maggie, Dr. Marcel, Felix and Heidi


Maggie is riddled with guilt for having moved him, and the security team and Jack Dayton want to call a code silver and move everyone out of the hospital until they can identify the assailant, but Goodwin outright refuses, because if they send the people out, they will freeze to death. This was such a classic Goodwin move, trying to balance the critical concerns with what is best for patient outcomes. Honestly, Chicago Med would not be the place it is for patients without this wonderful woman.
In the meantime, Maggie is so upset over not having heard from Ben during the storm and she is exhausted and in typical Dr. Charles style, he tells her to take a rest. As she is walking by a door after calling Ben again, she hears someone outside a door banging. She finds a woman, Heidi, who slipped on the ice, and Maggie helps her down to the ED. However, the woman begins to get upset and says Dr. Hudgins smiling is creeping her out and she suddenly pulls out a knife to try to stab Dr. Hudgins and Maggie jumps in to restrain her. She gets cut on her arm but prevents the woman from stabbing Dr. Hudgins. Afterwards, once she is medicated, Dr. Charles tells them that Heidi has paranoid schizophrenia and has been unmedicated and that Felix would not stop talking and was getting into her personal space in the main lobby so she attacked him. Dr. Charles says that without proper treatment, she could be very dangerous, and everyone is happy to know she is in custody and hopefully she will get the help she needs in the future.
Dr. Archer, Dr. Asher, Dr. Hudgins, Sean Archer, Clint and Katie
Sean arrives at the hospital to bring in his friend Clint, his roommate from the reentry center, who has a facial fracture. Dr. Hudgins consults Dr. Archer and he goes in to see them and Dr. Archer tells Dr. Hudgins to add a toxicology screen. Dean asks Sean what he is doing and Sean says that his friend needed a ride and his truck could make it through and that he couldn't leave his friend in need.
Hannah and the National Guardsman, Corporal Parker, are on the way to the hospital and stop to help a man in a car accident and suddenly the car explodes. The vehicle they are travelling in is damaged. Parker is hit with shrapnel and Hannah has to help him by applying a tourniquet to a big bleed in his leg. The man in the car, Paul, has injured his chest and Hannah gets them both back into the vehicle, but she demonstrates the amazing ED skills she has learned by making a make shift dressing for a collapsed lung with duct tape and a plastic food bag, and also being able to monitor and treat the bleed in Parker's leg. Clearly there is way more to Hannah Asher than just her OBGYN skills and she is ready to flex them when needed.
Katie delivers her baby and she is fine and her baby boy is healthy though small, and goes to the NICU to be evaluated. Dr. Hudgins is so excited after completing his first delivery, and despite Dr. Archer's continued grumpy demeanor, it is so adorable to see the enthusiasm that this young resident brings to learning new skills.
Dean apologizes to Sean and asks him if he would give him a lift home. This was a nice turning point scene, where we get to see Dean show his softer side, which seems to be how he wants to be with his son, but just seems to fail to succeed. Well, hopefully with Hannah's positive influence on his demeanor and attitude, we will continue to see growth and development in Sean and Dean's relationship as the season continues.
Dr. Halstead, Dr. Song, Nina Simmons and Lucas

Considering that this episode showed some polar weather, it seems only fitting that each of our character stories seem to also show some polar opposites. We are definitely being treated to some excellent stories this year from our One Chicago writing team.
What did you think of this episode of Chicago Med? Share your thoughts in the comments below.