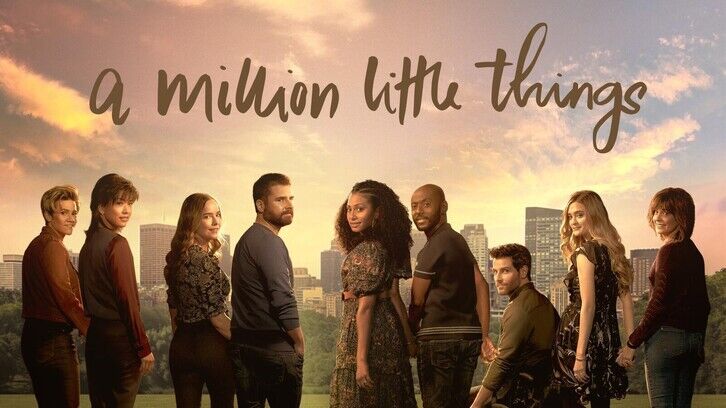 Wednesday night's premiere of A Million Little Things highlighted the friend group we've all come to love over the seasons and set up storylines to come for the characters in this final season. The hour was filled with laughter and of course tears while exploring the strong bonds between parents and their children.

The episode opened with a heartwarming moment between Gary and his dad who was keeping his son company at his chemo treatment. But then it got even better when Rome and Eddie surprised Gary by showing up and making him aware that they found out his secret. While these two showed up for their friend, we also see the women (Regina and Katherine) knocking on Maggie's door.
The show then flashes forward seven months to a funeral and the audience is left scrambling trying to figure out who died. I believe we were supposed to think it was Gary, but I didn't fall for this trap as I'm pretty sure I heard his voice off in the distant background and there were also scenes teased in the trailer of Gary that weren't in previous episodes. It's then revealed that Gary's dad died suddenly and I really think the opening scene was foreshadowing this. Gary tries to deal with his grief through laughter and distractions by proceeding to still give Danny a driving lesson.
Next up is Eddie and to my disappointment, he was still in contact with Anna and even picked her up from prison. But before the end of the episode, Anna decides to leave Boston and says goodbye to Eddie. It will be a fresh start for her and she can escape the judgment she feels from others for what happened in her past. Now will Eddie find love with someone else before the show ends?
In what I feel was one of the most heartbreaking scenes to date on this show, Rome's dad's girlfriend, Florence, reveals to Rome that his dad is experiencing signs of dementia. And while she loves Walter, she can't put herself through this again as she lost her first husband to the same disease.
There was not a lot of Maggie in this episode, but Katherine takes her baby registry shopping and I enjoyed seeing their relationship on display since scenes between just the two of them are rare. At the sight of seeing a father and a daughter, Maggie admits that she's scared about Gary and hopes that she'll be able to experience that with Gary and their baby.
Katherine is still struggling with coming out fully and I think we'll see how this affects her relationship with Greta. Regina and Sophie decide to build a care package for Tyrell and Regina invites Sophie to work with her on the food truck.
One of my favorite relationship dynamics in this series is the one between Gary and Danny and that was displayed strongly in this premiere. Not only does Danny assume the role Gary first did for him years ago when John died, he convinces Gary to shoplift as a way to experience something from his childhood that he missed out on. Gary also takes Danny along with him as he decides to visit the lover (Gene) of his dad's old war buddy who died, something he waited too long to do with his dad. In an attempt to tell a funny story about his dad, Gary is overwhelmed with grief and just breaks down and it broke my heart. In a beautiful moment, Danny thanks Gene for paving the way for him as a gay man and you could sense how much this moment meant to both of them.
In the final scene, the entire group of friends attends Gary's doctor's appointment where he learns good news that his cancer is not advancing, but he will never be fully cured of it. Maggie and Gary also reveal that their baby is a boy and I'm so interested in seeing what they name him.
So the seeds are planted for the final season and I'm looking forward to seeing how everything plays out. What are you most excited about? What do you absolutely need to see happen in this final season?
Let me know your thoughts in the comments below.