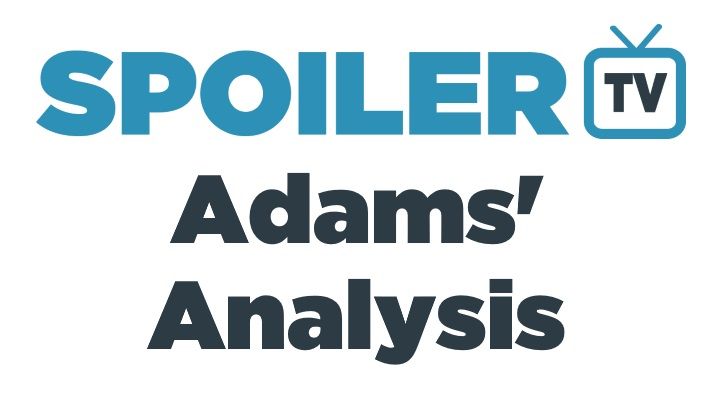 I have a request for the TV-watching public in 2023: let shows end. Please, let them end.

By-and-large, there are two ways a show ends. Cancelled by the network earlier than the creators planned, offering the potential dissatisfaction of an open ending: no resolution, perhaps even a cliffhanger. It has always happened over the years, but within the last decade we've seen a marked increase in fan campaigns to revive those abruptly-cancelled shows. Brooklyn Nine-Nine and Timeless are among those which have succeeded – although I've always remained sceptical about how significant a contribution such campaigns are versus the desire of the production studio.

To be clear, I am not criticising the desire to continue shows in situations such as this. Hell, I wrote columns asking for the renewal of One Day at a Time (which happened) and begrudging the cancellation of Brooklyn Nine-Nine (only for NBC to revive the show barely 36 hours later) – and that's in spite of the fifth season being so clearly written towards a satisfying conclusion should the worst happen.

No, my grudge here is with those who call for the return in some form of a show ended on the creator's terms, in a way which appeased fans (or at least some of them) and which complete the narrative journey.

No more of that. Please.

Unless a show kills every single character, there's always room to bring something back. Questions over how Character X will go on living their life after the events of Finale Y. How will they cope? What will they do now? Will there be more entertaining hijinks for them to experience?

Of course, there are answers for these questions, and they could be provided. But for how long can it be sustained? How many shows outlive their worth with fans reflecting that it should have ended years before?

I have two recent examples, one of which inspired this column. The first, and the inspiration, is The Americans – FX's Russian spy thriller which deserves its place in the pantheon of the greatest shows ever made. The second is Better Call Saul, Breaking Bad's masterpiece spin-off which arguably surpassed the quality of the original series.

(Note that there will be some spoilers about both series finales, so skip the next two paragraphs – falling between the two images – if you don't want to read those.)




With Saul, its mere existence was a huge risk to the legacy of Breaking Bad, which had struck gold for AMC and was rightly touted in the same greatest of all time circles as The Sopranos and The Wire. Saul is at the very least on par with its mothership, but there was a big element of luck: first that James McGill was too fascinating a character to shift to Saul Goodman after one season, as was originally the plan, and then that Rhea Seehorn proved to be the generational star she is as a beautifully compelling Kim Wexler. Cut to six seasons later and a stunning finale, where you could easily wonder what Kim will do after the potential civil suit looming against her; or we could delve back to the earlier years and watch more of Gus and Mike's cartel antics. But why?

The Americans' finale was perfection, start to finish. Yet over the weekend I read a comment wanting to know what happened after the finale: what came next for Philip and Elizabeth in Mother Russia? Did he get to see Martha again? What did Henry and Paige do as effective orphans? Was Stan's girlfriend Renee a KGB agent?




In particular, around that The Americans comment, was a suggestion that they should consider continuing "this magnificent franchise." This, in particular, is a source of frustration.

We seem to live now in a world where everything is a franchise, whether it is or not. Marvel's endless stream of content is a franchise. Star Wars is a franchise. Shows and movies that exist on their own are not franchises, and we as a media-consuming public should not ever consider them such. Doing so devalues each independent production as something which can or should only exist as part of some wider media; that failing to do so makes it lesser in some way. Creatives should be allowed to design something that stands alone from anything else on the market, without pressure or expectation to expand it further.

The desire to see shows return in some capacity after fulfilling endings, whether with more seasons of the show as known, or as a spin-off featuring key players – or in some cases a mix of the two – is damaging to the industry. Friends is one of the most successful shows of all time; spin-off Joey was panned by critics and pulled from the air midway through its second and ultimately final season. Trying to catch lightning in a bottle is extremely difficult – the Friends/Breaking Bad contrast show us that.

Then there is something like CSI: Vegas. I grew up watching plenty of the three original entries in the CSI franchise (Crime Scene Investigation, Miami, New York), which later introduced the pitiful Cyber. Though the spin-off/follow-up/partial revival of the Las Vegas-based original series, which started it all in 2000, features characters reprising their roles, at what point does it lose the value of its attachment to the franchise? A conglomerate like Marvel flexing its several thousand characters could, in theory, roll on forever. Original TV shows do not have this luxury and should not consider that they do.

Let us also consider the viewing impact of endless intertwining. Do too much beyond the original run of a show and you risk potential new fans – those who can, like you, revere shows for many years beyond the need to worry about viewer ratings – deciding that they can't commit to the whole thing. Anyone with a job, education and/or social life would need at least a year to watch from scratch every product in the Marvel Cinematic Universe.

It is said that if you love something, then let it go. In the case of scripted media, it's fitting. Shows that end on the right terms and in ways you love should be let go. No pushing for needless revivals or reunions or spin-offs. Let them live on through the passion of the fans who champion them years after their conclusion, who tirelessly tell their friends and anyone else who will listen that they must watch them. There will always be something new to fall in love with – but only one misstep can tarnish the legacy of something you already adore.