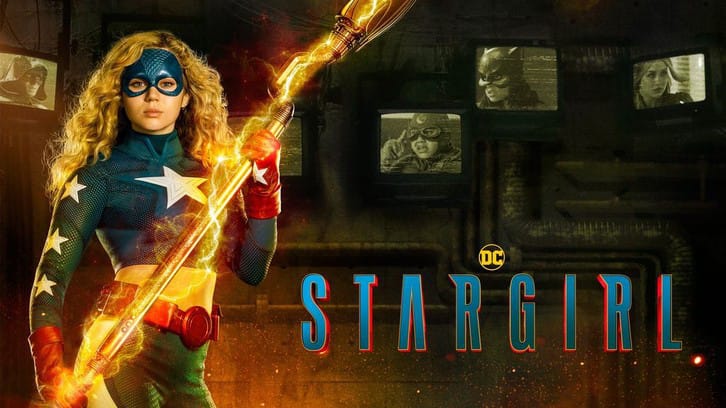 Beware of spoilers for the episode in the article. Please do not continue reading if you haven't watched the episode yet and you are not okay with being spoiled.
The last few episodes of this season have all been bangers.
Ultra-humanite :
This episode was an excellent character study into Ultra-humanite (the seasons real big bad villain). The episode opened with a black and white deep dive into who Dolores Winters was or rather who she was when the Ultra-humanite was in control of her body. The Ultra-humanite jumps from body to body by transferring his brain and for this moment in time he was in the body of the Oscar winning actress Dolores Winters.
I knew Mr Standish's fate was sealed the moment he said to Dolores paraphrased "when he looks into her eyes he sees an actor always acting". He saw right through her and he asked her to show him who she truly was and she did. Dolores bludgeoned him to death with her Oscar award. The character is a commentary on actors always hiding away their true selves and giving the public likable personas that are far from who they truly are.
Dragon King showed up at the end of her murder of Mr Standish and she told him she needed a new identity because the JSA was getting too close to finding out who she was. We also witnessed a much more human Dragon King before he fully became the green scaled dragon which parallels what Cindy is currently going through. Dolores got her brain implanted into a albino gorilla " a body strong enough to destroy the entire JSA ". When the Ultra-humanite goes in on playing a role she goes all in.
Cindy :
Cindy opening up to the All Stars about her father after Jakeem told her they only wanted to help her since they were a team was a great character development moment. Season 1 Cindy would have never opened up that much to anyone , she probably would have killed Jakeem and Mike. Deep down all Cindy wants is real friends and a family , something she has never truly had. She sought validation from her father for the longest time.
The Plot Twists :
Sylvester Pemberton has felt off this entire season. Good sometimes, a little unhinged in others. I originally felt that was due to him coming back to life but I wasn't prepared to actually find out that Sylvester has been the Ultra-humanite this entire time. I also assumed that if he would be bad he would be getting mind controlled by whoever brought him back to life but he was the main villain of the season all along. It was a brilliant twist that tied back all the way to season 1. The fact Geoff Johns managed to pull off a three season setup twist , was brilliant.
Sylvester as the Ultra-humanite treated Pat awfully because of his reaserch about their awful relationship, he was really hammering on Sylvesters old treatment of Pat so as not to make Pat suspicious this entire time. I'm glad Courtney finally saw him for what he was and realized that Pat has been with her every time she needed him. Pat is her real hero.
The Ultra-humanite is unhinged so what we witnessed at some moments particularly during his scenes with Pat is probably some of his true personality coming through. Even the real Sylvester was never that unhinged but we saw it earlier with Dolores and that's clearly always been the Ultra-humanites craziness seeping through. Sylvester-humanite has been building his connection to the staff this entire time , playing the long game.
He knew that Pat would follow him into his trap if he damaged Stripsy under the impression that Sylvester was trying to protect him and pushing him away. The Ultra-humanite really took method acting to a whole new level. Pat predictably just as Sylvester-humanite planned, went after Sylvester to help him fight Jordan with a flame thrower and that was probably the biggest mistake Pat made. Sylvester-humanite knocked him over the head and buried Pat alive. Pat tried to plead to Sylvester's residual memories but it didn't work , Sylvester is long gone.
Sylvester-humanites memories :
The impression given by the show was that the Ultra-humanite doesn't have the memories of the bodies he takes over but he pieces together information he needs by researching hosts. Pat calling Sylvester before he died is clearly something that would only be known by the two of them , so it seems he may have some of those memories (or simply asked people who Pat had confided in). Sylvester-humanite also knew about how to access certain powers of the stuff even Courtney wasn't yet aware off (and we had seen Starman use on screen) and he wasn't really awkward with using the staff. He used it just like Sylvester did in the past. So the question would be how does he know that information , he mentioned Sylvester getting the staff from Ted Knight. Is Ted Knight alive ? Did he talk to him ?
Dragon King :
Jakeem made a wish for the Thunderbolt to take the All Stars to Cindy's Dad's hideout with the stuff they needed and the wish took them right to the Dragon King whose brain is now in the Ultra-humanites gorilla body. Dragon King calling Cindy his greatest experiment is really messed up. I'm glad Cindy and the boys were able to escape.
Sylvester-humanites well constructed plan :
Sylvester delivered a brilliant monologue that connected all the dots of his nefarious season long plan to the audience ,
His Motive:
The Ultra-humanite missed the glory being Dolores brought to him so he took over Sylvester's life to get that glory again. To be a hero. He talked to almost everyone Pat knew to research him. Talk about taking method acting to a whole new level. He planned his attack with Jordan and Dragon King to remove him as a suspect from being connected to the Gamblers murder.
His plan to execute his endgame after spending months doing his research :
1. Bonding with the JSA , Courtney and the cosmic staff. Having fully bonded with the staff he no longer had any use for keeping up the ruse with Pat.
2. Telling Artemis to live the life her parents wanted to get her out of the way for the final battle.
3. Using Yolanda to alienate Cindy from the team because he knew she would see through his act eventually. He was probably informed by her father Cindy would be smart enough to see through him.
4. Urging Beth to cut off her parents to keep her distracted.
5. Getting Rick hooked on the hourglasses full power without using a limiter was probably going to either get Rick killed , hurt or at least keep the JSAs powerhouse distracted.
6. Telling Mike to prove he could do what Pat told him he couldn't do. Using Pats unintentional terrible parenting with Mike against him to distract the boys and JSA by putting them in danger.
Additional Notes :
1. I thought this season would end with Courtney vs Sylvester for the staff and I was right but I didn't expect it to happen this way.
2. This season was truly a murder mystery but not the way we thought. That twist changes everything about this season. It was actually about the murder of Starman all along.
3. This was probably one of the most memorable episodes of the show and an episode I won't forget. This show should be saved by some miracle, it's simply way too good to end at this point in time.
4. Cosmo was resisting for a bit when Sylvester-humanite was burying Pat, before Sylvester powered him down. I hope that means Cosmo will eventually choose Courtney when push comes to shove.
5. The show gave us a glimpse of Sylvester and Courtney using more of the staffs powers so I hope their final battle delivers when they come face to face. I wish next week was a two hour finale ,there is still so much ground to cover.
6. Stargirl has always delivered on the villain front with some of the most interesting villains I've ever seen on a CW superhero show.
7. The stories with Jade , Todd and the Helix institute were clearly set up for a future season, it's unfortunate we may not get to see those plans come to fruition.
8. When Cameron discovers what his Dad is doing he will probably end up siding with the JSA.
Join me weekly for more reviews of Stargirl season 3 on the CW.
"What did you think about the Sylvester-humanite twist? "
"What are your thoughts going into the series finale next week ? "
Let us know in the comments below.