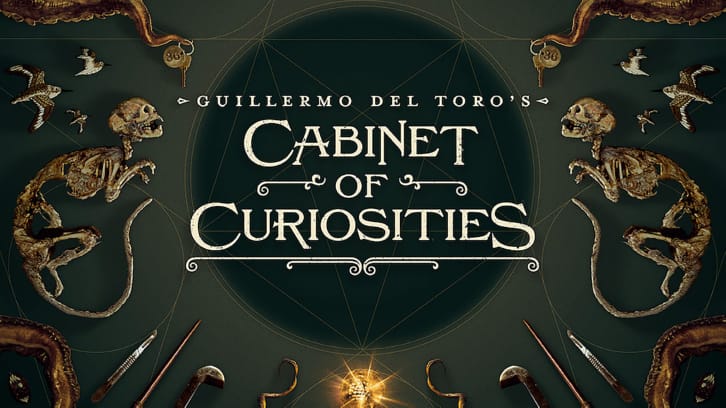 Guillermo del Toro's Cabinet of Curiosities is the best horror anthology I've seen in years! It delivers on all fronts, and I love that del Toro – who introduces every episode a la Hitchcock or Rod Serling – is particularly interested in showcasing his directors. I loved the use of the cabinet in the intro – and the opening credits. In addition, the cast of the series is also nothing to sneeze at nor are the writers! Definitely the complete package. If you haven't yet watched, what are you waiting for?!? Rather than do an extensive review of each episode, I'm going to do a quick summary and list each episode from my least favorite to my most favorite. To be clear, #8 for me was pretty bad, but really, the rest of the episodes are really good and #7-#3 are actually all pretty close in order for me… Each episode slots pretty neatly into either monster, ghost, supernatural, or alien horror story – or a combination of them. Overall, the effects are what you would expect (excellent) from a high-profile streaming anthology.
At number 8 is "The Viewing." The episode was written by Panos Cosmatos and Aaron Stewart-Ahn (
Mandy
) and was directed by Panos Cosmatos (
Mandy,
Beyond the Black Rainbow
– writer and director). The episode had plenty of star power: Peter Weller (Lionel Lassiter), Charlyne Yi (Charlotte Xie), Eric Andre (Randall Roth), Steve Agee (Guy Landon), Sofia Boutella (Dr Zahra), and Michael Therriault (Targ Reinhhard). Wealthy weirdo Lassiter invites extraterrestrial scientist Xie, musician Roth, author Landon, and psychic Reinhhard) to his home to view what turns out to be a monster – but only after sitting around in a painfully 70s setting – the orange pretty much gave me a headache – taking drugs and drinking. The entire thing was a 70s fever dream – and I hated 70s cinema music in the 70s and have never gained an appreciation for it. I found this episode badly paced and even fell asleep. The fast-paced action and gore at the end wasn't enough to save this one for me.
Next for me was "The Outside" which was based on a webcomic by Emily Carroll with a teleplay by Haley Z Boston. I adore Emily Carroll's work, but it often plays with negative space and thus can feel like there's something missing. The episode was directed by Ana Lily Amirpour (
The Twilight Zone
,
Castle Rock
). The story plays on the pressure to conform to society's definition of beautiful. Stacey (Kate Micucci) does taxidermy as a hobby – yep, that's super creepy – and works at a bank where she isn't very popular with the "in" crowd lead by Gina (Kylee Evans). Her husband Keith (Martin Starr) is a police officer and seems reasonably supportive – and really undeserving of her murdering him! Gina invites Stacey to a Christmas party at which she gives everyone Alo Glo – a skin lotion that Stacey is allergic to. However, the Alo Glo Man (Dan Stevens!) convinces her to buy more of it and smother herself in it – by talking to her through the tv… Eventually the lotion completely overtakes her and transforms her – into the most popular person at the bank! Meanwhile, she has stuffed Keith (of course, who didn't see that coming!) and propped him in front of the tv… In the end, this was a morality tale about peer pressure.
I would actually put "Graveyard Rats" in a tie with "The Outside." "Graveyard Rats" was directed by Vincenzo Natali (
Splice
,
Hannibal
,
The Strain
,
Westworld
,
The Peripheral
) who also wrote the teleplay based on a short story by Henry Kuttner. The story centres on Masson (David Hewlett) the custodian of the local cemetery who also has a gambling problem and must resort to grave robbing. He visits his friend Dooley (played by the always wonderful Julian Richings) who it the coroner/undertaker to try to get some corpses that haven't been stolen by rats. There is a wealthy man who is having a lot of gold buried with him. By the time Masson can get to the grave – the rats are in the process of stealing the body. Masson gives chase and ends up awakening an eldritch god – and a giant mother rat. This one rather lost me with the over-the-top moments and the rather poorly done giant rat. Still, the sting in the tail of Masson ending up in the rich guy's coffin at the end was pretty good!
Numbers 5, 4, and 3 are really pretty much also tied. "Dreams in the Witch House" was based on a short story by HP Lovecraft with the teleplay by Mika Watkins (
Origin
,
Dixi
) and was directed by Catherine Hardwicke (
This is Us
,
Don't Look Deeper
). One of the big draws for me was that this episode stars Rupert Grint as Walter Gilman. Gilman lost his twin sister when they were both still children and has been searching for her ever since after seeing her dragged into the Forest of Lost Souls. He eventually takes an indigenous drug to enter the forest and goes to stay at the former home of an executed witch – Keziah Mason (Lize Johnston). Walter is able to eventually bring Epperley (Daphne Hoskins) back with him, but they also bring Mason. The witch effects in this episode were really good. Epperley kills Keziah, but her familiar, Jenkins Brown (DJ Qualls) manages to kill and then possess Walter. The episode also features Ismael Cruz Cordova (Frank Elwood) – who we last saw in The Rings of Power! Grint is really good in the episode, and it was a fun shoutout to his
Harry Potter
days that he was fighting a witch.
"Pickman's Model" was also based on a short story by HP Lovecraft with a teleplay by Lee Patterson (
Colony
) and was directed by Keith Thomas (
Firestarter
(2022),
The Vigil
). Like the previous episode also based on a Lovecraft story, the action takes place early in the twentieth century, lending that 'old world' ambiance. The cast is also superb in this episode as talented and outgoing art student William Thurber (Ben Barnes) befriends new, odd, and older art student Richard Upton Pickman (Crispin Glover). Glover, of course, has made a career out of quirky, outsider characters and delivers here. There are monsters, supernatural goings on, and gore galore in this one!
"Lot 36" is based on a short story by Guillermo del Toro who also wrote the teleplay with Regina Corrado (
Deadwood
,
The Strain
,
Sons of Anarchy
), and the episode was directed by Guillermo Navarro, whose directing credits include
Hannibal
,
Preacher
and
Luke Cage
. Navarro was also the cinematographer on del Toro's
Pan's Labyrinth
and
Pacific Rim
. The episode is beautifully atmospheric, but also totally reminded me of
Storage Wars
! The episode features down-on-his luck – ie into loan sharks – Nick Appleton (Tim Blake Nelson) – who buys storage units when they are put up for auction after being abandoned by their owners in hopes of a windfall. Eddie (Demetrius Grosse) runs the storage facility. Nick is a vet – and clearly a racist given his treatment of Emilia (Elpidia Carrillo) a woman who owned a unit that Nick bought because she was late with her payment. She begs him to let her look for personal items of no value to him in the unit and he refuses her – which is a nice parallel to her later refusing to listen to his pleas! Naturally, there is something evil in the unit he buys and he enlists the help of Roland (Sebastian Roché) to help him discover its worth. Things end badly with a terrific monster…
"The Murmuring" is also based on a short story by Guillermo del Toro with the teleplay by Jennifer Kent (
The Babadook
,
The Nightingale
) who also directed. This one is definitely a cut above the others, and I've seen it as a lot of people's number 1. The entire episode is a real shoutout to Hitchcock's
The Birds
. However, this one is a psychological/supernatural thriller. Once again, this episode features a killer cast – Andrew Lincoln plays Edgar Bradley and Essie Davis plays Nancy Bradley. The two are married and ornithologists who study bird mumurations. The two go on a research trip to try to reconnect and escape their grief after losing their daughter. Lincoln delivers some fantastically emotional and comedic scenes as he tries to reconnect with his wife and get her to confront her grief. Davis is fantastic as Nancy who is almost paralyzed emotionally by her grief. She finds release in her obsession over the house on a remote Cape Breton island that is haunted. Like all good ghost stories, she is the only one to see the ghosts, but manages to release the tortured ghosts, thus releasing her own tortured ghost.
Finally, my number one choice is "The Autopsy." This episode was based on a short story by Michael Shea (the novelette won a Hugo award in 1981) with the teleplay by David S Goyer (
The Dark Knight
,
The Sandman
) and was directed by David Prior (
The Empty Man
,
Voir
). Having F. Murray Abraham playing the lead as Dr Carl Winters definitely helped this episode shoot to the top of my list. He's joined by Glynn Turman as Sheriff Nate Craven and Luke Roberts as Joe Allen. The writing, acting, directing and effects all combine to make this alien story terrific. Winters is called in by the Sherriff Craven to perform a number of autopsies after there is an incident at the local mine. It turns out that Winters is dying of cancer. Because being surrounded by dead bodies in an old warehouse, set up as a morgue isn't creepy enough, Craven leaves Winters alone over night to get to work. Winters records his work – only for Craven as he'll write up the official report. I loved how the details are all significant here. It turns out that Joe Allen – who reanimates in a particularly creepy sequence – didn't set off a bomb in the mine but exploded his alien spaceship… The alien – complete with Lovecraftian tentacles – is going to body swap and take over Winters. However, the alien needs to use Winters' senses to do so, so Winters blinds himself and deafens himself – putting out his eyes and eardrums with a scalpel – also delightfully gruesome! Craven returns in the morning to find Winters on the ground and scrawled in blood on his chest: 'listen to the tape. Burn the body.'
This was a fantastic anthology series, taking up the mantle of classic Twilight Zone and Alfred Hitchcock Presents. Every episode was just so much better than any episode of Creepshow or Two Sentence Horror Stories. I really hope we'll see del Toro carve out some more time to do another series, and hopefully, he'll be able to direct one himself next time. For this series, the pandemic played havoc with his schedule and he wasn't able to. It's easy to see why actors want to be involved in the project – and the quality of these episodes should ensure that there is another great slate of actors lining up for more! What did you think of the series? Want more? What was your favorite episode? Let me know your thoughts in the comments below!