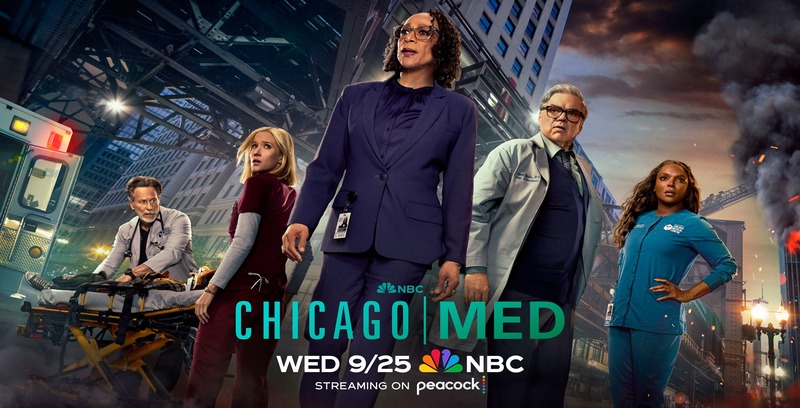 In this episode, we were able to see how the global outcomes of the pandemic, including all the supply chain and staffing issues, are creating challenges in so many different ways with many different demographics of patients. We also have an opportunity to see the emotional, physical and long term outcomes of COVID and the strains to the system that will take far longer for the system to recover from. It is so commendable that our Wolf writing team is working so diligently to show all the effects that this pandemic has had, both to patients and families, but also to the system as a whole.

Dr. Halstead and Dr. Taylor


They are called in to meet with Peter Kalmick (legal team) and Sharon Goodwin and the CPD detectives. Peter and Sharon are angry at the liability they have opened the hospital up to, and Sharon tells them that they are to fully cooperate with the police. Maggie is upset at Will and says he better not get Vanessa into trouble with his disregard for rules. It is interesting that Maggie is wearing rose colored glasses when it comes to Vanessa and jumps to blame Will, especially when she helped Vanessa with her urine drug test in the past. It appears that her Mama Bear instincts are quick to action, and she is not giving Will the benefit of the doubt and considering that some of the blame may be on Vanessa. I do hope though that this reaction by Maggie will not affect her friendship with Will, which has been such a wonderful longstanding relationship in the ED.
Dr. Asher, Dr. Archer, Dr. Hudgins and Devan
Dr. Archer is sent for scans and he has a dislocated jaw and fractured ribs. Dr. Hudgins states he is available to help but Dean will not let him relocate his jaw and has Dr. Asher do it. She orders him pain medications, but a small dose and Dr. Archer gets very upset at her. Afterwards she apologizes, and says she was projecting as she wants to protect others from the same issues she had, but surprisingly he also apologizes and she helps him out to his car.
Dr. Marcel, Jack Dayton and the conductor Nathaniel
They build the machine and are able to improve the lungs. Dr. Marcel is able to complete the transplant. The new lungs are working well and Goodwin and Dayton tell Dr. Marcel to get ready for fame. Dr. Marcel's response to the situation was such a treat, because it really shows how he has changed as a person from the doctor we met years ago. He seems to be only concerned with the care of the patient and not the fame and recognition that may bring him. It will be curious to see what happens with his newfound fame and his relationship with Dr. Tanaka-Reid, who is consumed with being seen as all knowing, and hopefully he will be able to learn not only from Dr. Marcel's medical expertise, but also from his ability to be humble.
Dr. Choi and April and Brock
Ethan tells April that from his travel and vaccination history he knows he is a soldier and asks if he is AWOL. He tells her he is not going to call the MPs but whether he decides to go back or not, he will need a good lawyer and sends her the name of a good military attorney. April apologizes as she assumed he would turn him in if he knew, and Ethan says lots of things have changed since his accident, and the world is not so black and white anymore.
After work, April goes to meet the staff at a club and Ethan is there and they begin to dance. And we can hear all the Chexton fans cheer! Will the romance reunite with these two characters…I guess only time will tell, but I know that it seems all the Chicago Med fans are just glad to have April Sexton back in Chicago.
Dr. Charles, Dr. Cuevas, Harris and Eleanor

At the same time, Eleanor Whipple is waiting for medical transport and there seems to be a huge delay. She approaches Dr. Charles, who gets Maggie to try to help expedite the process.
Maggie also assigns them a new case. A man came in with amnesia, and Dr. Charles and Dr. Cuevas begin to assess him. They work him up for a possible mini stroke and bloodwork, which do not show anything. After some IV hydration, he remembers who he is and his name is Harris Bevel. He seems worried about being out of his home and he tells them he has not been sleeping. Dr. Charles and Dr. Cuevas collect more history and it appears he has PTSD related to a recent shooting trauma that occurred near his home and Dr. Cuevas feels he has PTSD and depression. Dr. Charles is able to arrange a bed on the psychiatric unit for him and as they speak with him, Nellie seems to make a connection with him, but then he leaves suddenly when no one is looking.
At the end of the day, Harris returns and asks to speak to Dr. Cuevas. Dr. Charles tells her good work making a connection with her patient and helping him. It is so wonderful to begin to understand where the lack of confidence and focus on clinical best practices might be stemming from for Dr. Cuevas, and to see Dr. Charles be able to mentor her about what really is their role, and the importance of making connections with patients. It is also wonderful for Dr. Charles to show her how sometimes in our system, as we are clearly seeing in the health system right now, it can feel like you are fighting against impossible odds, and so it is important to celebrate the wins when they come.
Overall, this was such an enjoyable episode that allowed us to see further strengthening of relationships both old and new, and to see such an accurate depiction of the ongoing stress that our global pandemic is having on the health system as a whole. Way to go Chicago Med creative team for continuing to deliver such real and engaging content!
What did you think of this episode of Chicago Med? Share your thoughts in the comments below.